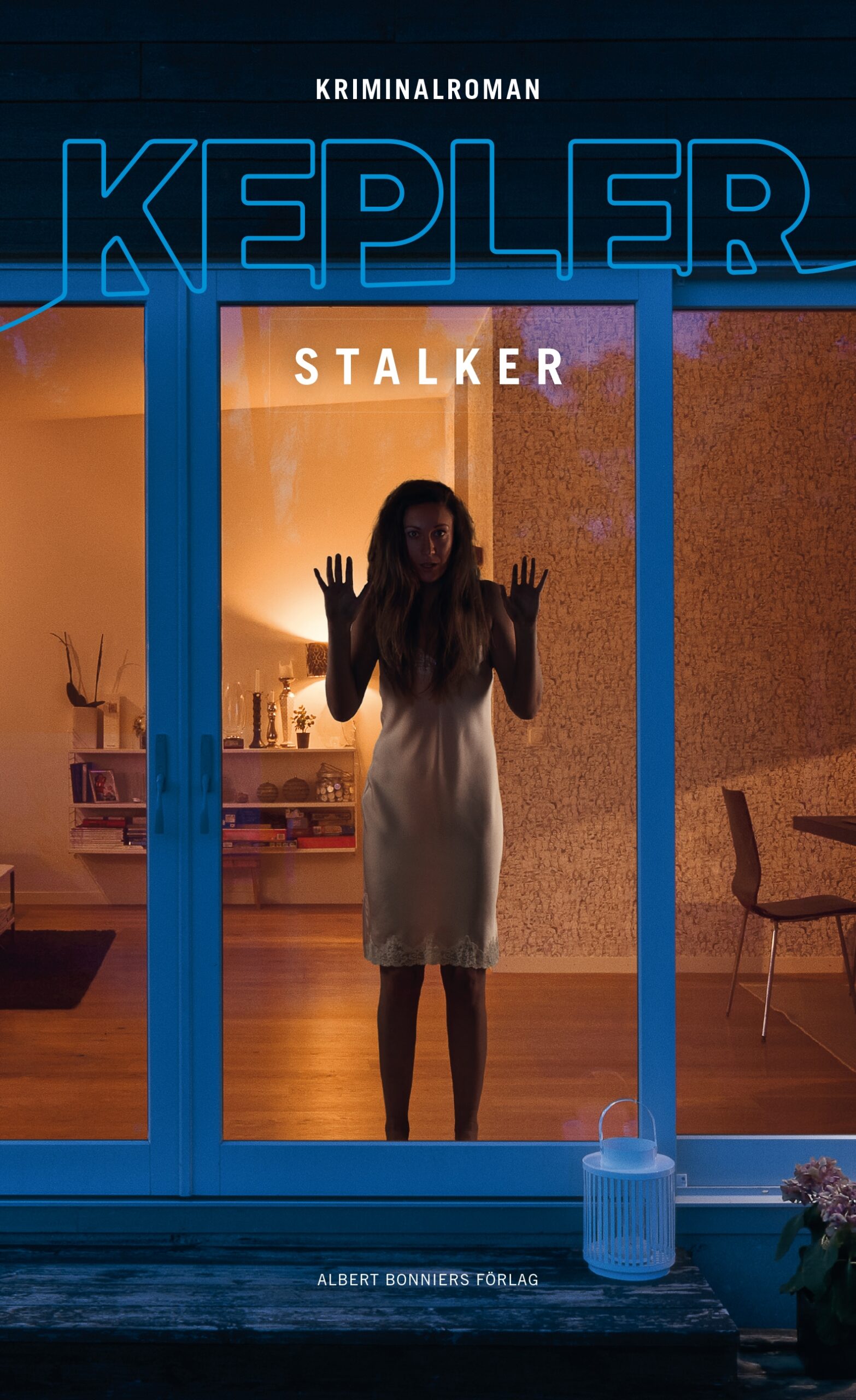 Stalker
Stalker
Joona Linna #5
The Stockholm Police are sent a video of a woman being candidly filmed through her window. They conclude that in order to make the film, its creator must have been standing in the garden just outside. The next day the woman is found dead in her home, and the viciousness of her killing shocks even the most seasoned of the investigators called to the scene.
A few days later, another clip is sent to the police. There is no way of identifying the woman before she, too, falls victim to a brutal attack. When the woman's husband finds her, he is so traumatized that in a state of panic, he starts scrubbing away the evidence of the violence that has invaded his home. Even washing the blood from his wife's body, he quietly puts her to bed, as if she were only sleeping. Chance is he has seen a clue vital to finding the killer, but the extreme shock has triggered a short-term memory loss and the police are unable to fully question him.
Criminal psychiatrist and hypnotist Dr. Erik Maria Bark is called in to hypnotize the husband, hoping to unlock his memories of the murder scene. But what Dr. Bark uncovers in his sessions has him deciding to hide the truth from the police.
It grows increasingly clear that the case cannot be solved without the help of Detective Inspector Joona Linna, the man who has been missing for more than a year and is presumed dead.
Stalker has topped countless international bestseller charts and been hailed as a masterpiece by both national and foreign press. The novel is the fifth installment in the No. 1 internationally bestselling series about Detective Inspector Joona Linna.
The most sold book in Sweden of 2014.
"Dark, complex, and chillingly intelligent, Stalker hooks you on page one and never relents. Lars Kepler's vivid, visceral thriller had me holding my breath to the last page."
–Meg Gardiner
"An intricate plot and escalating tension set the stage for this tense, clever, pulse-pounding thriller. A must for fans of Stieg Larsson."
–J.D. Barker
Reviews
"[Lars Kepler has] a taste for the macabre and a surefire recipe for the lurid serial-killer thriller. /…/ This is not a book for anyone on heart medication. Kepler is a virtuoso at delivering scenes of suspense."

"Stalker is another well-written addition to the series by husband-and-wife team Alexandra Coelho Ahndoril and Alexander Ahndoril. /…/ It features the sort of tight writing style the Ahndorils have been refining as they go along, including trademark one-sentence descriptive images that set the tone for many of their scenes. /…/ One can't wait to see what happens next in this remarkable series."

"Kepler's stellar fifth Joona Linna novel /…/ Kepler (the pen name for the husband-and-wife writing team of Alexander and Alexandra Ahndoril) does a masterly job of elevating the serial killer thriller beyond genre clichés and tropes."

"Kepler delivers a page-turning hunt for an expertly camouflaged killer that draws shocking connections between the hallowed halls of the Karolinska Institute, Stockholm's prostitution and drug scene, and Sweden's rural churches. The author's dark, complex procedurals are must-reads for readers drawn to Stieg Larsson, Mons Kallentoft, and Michael Connelly."

"As in the other books in the superb Joona Linna series, credited to Lars Kepler, a pseudonym of the wife-and-husband team Alexandra Coelho Ahndoril and Alexander Ahndoril, there's not an ounce of flab on Stalker despite its heft, which accommodates both scrupulous character development and elaborate scenes of derring-do. /…/ First-rate."

"Lars Kepler, the pseudonym for the seamless collaboration of spouses Alexandra and Alexander Ahndoril, brings — with a sparkling translation by Neil Smith — the same elements to this novel that they have to their previous four featuring Stockholm Detective Inspector Joona Linna: short chapters, nightmarish murders and a tantalizing, suspenseful mystery. /…/ These books are the best legal drug you could possibly ask for."

"Gripping /…/ the fast-paced chapters and devious plot twists left me hypnotized and eager to find the stalker's identity."

"Stalker by Lars Kepler is the most frightening novel I have encountered in years. /…/ The final showdown with the perpetrator is utterly ingenious and is guaranteed to induce nightmares. Don't read this book late at night."

"As noted, The Sandman no doubt prepared a great many readers for the basics of literary aerobics Lars Kepler provides in thriller fiction. Those readers, and the newcomers Stalker will likely attract, will find the same nail-gun precision in these pages. The good news is that the reading will be hypnotically easy. The bad news is that thrillers by other writers might begin to look a bit sedate."

"Stalker is terrifying yet hugely enjoyable to read but be warned, it may take you a while to sleep after you finish it."

"The story is incredibly dark and the reader will be caught between wanting to turn the page to read on and being too scared to do so."

"Lars Kepler's novels are always tense and graphically violent. Stalker is no exception. /…/ Stalker is darkly vivid, as Kepler creates nightmares with words."

"The book is long, but the telling remains tight and well-controlled throughout, with short chapters adding to the tension, and an exciting finale"

"It is wild and raw, devilishly scary and devilishly well written."

"Lars Kepler had the Berlingske reviewer in a cold sweat thanks to their elegant Stalker."

"It is impossible not to get goose bumps when you read the new Lars Kepler. /…/ a 615 page compulsive, gruesome page turner. /…/ a pretty possessive book on possessiveness."

"Well-formed crime thriller that doesn't let up for a second. /…/ Kepler delivers the goods yet again."

"After reading this you will be closing the curtains when darkness falls…"

"Just like the previous books about Joona Linna, Stalker is a thriller that keeps you up all night. It just keeps on. The intense pace, the fast turns, and the shifts of perspective carries the reader through the plot."

"This book is packed with suspense and drama. There is not one single dead moment in this thriller."

"[Stalker is] unbearably gripping and virtually impossible to put down once you have started to read."

"Stalker is a masterpiece in the thriller genre, I cannot think of any other way to label this book. The husband and wife team of Ahndoril-Coelho Ahndoril seem to inspire each other to greater heights when they write together. The storyline is pretty complicated… but you have no trouble keeping up with all the twists and turns. Certain passages are so infernally breath taking, that I had to put the down the book to let everything sink in."
Author

Lars Kepler

Published

2014

Genre

Pages

602

Reading material

Swedish edition

English edition

Rights sold

Brazil, Alfaguara

Bulgaria, Enthusiast

Canada, McClelland & Stewart

Catalonia, Ara

China, Modern Press (Simplified Chinese)

Croatia, Fraktura

Czech Republic, Host

Denmark, Gyldendal

Estonia, Pegasus

Finland, Tammi

France, Actes Sud

Germany, Lübbe

Greece, Patakis

Hungary, Animus

Iceland, Forlagid

Israel, Modan

Italy, Longanesi

Japan, Fusosha

Korea, Bookplaza

Lithuania, Lectio Divina

Netherlands, Cargo

North Macedonia, Matica

Norway, Cappelen Damm

Poland, Czarne

Portugal, Porto

Russia, Corpus

Serbia, Vulkan

Slovakia, Ikar

Spain, Penguin Random House

Sweden, Albert Bonniers

Türkiye, Dogan Egmont

UK, HarperCollins

Ukraine, KM Books

US, Knopf

Film rights sold

US, Hardy, Son & Baker / Apple TV+