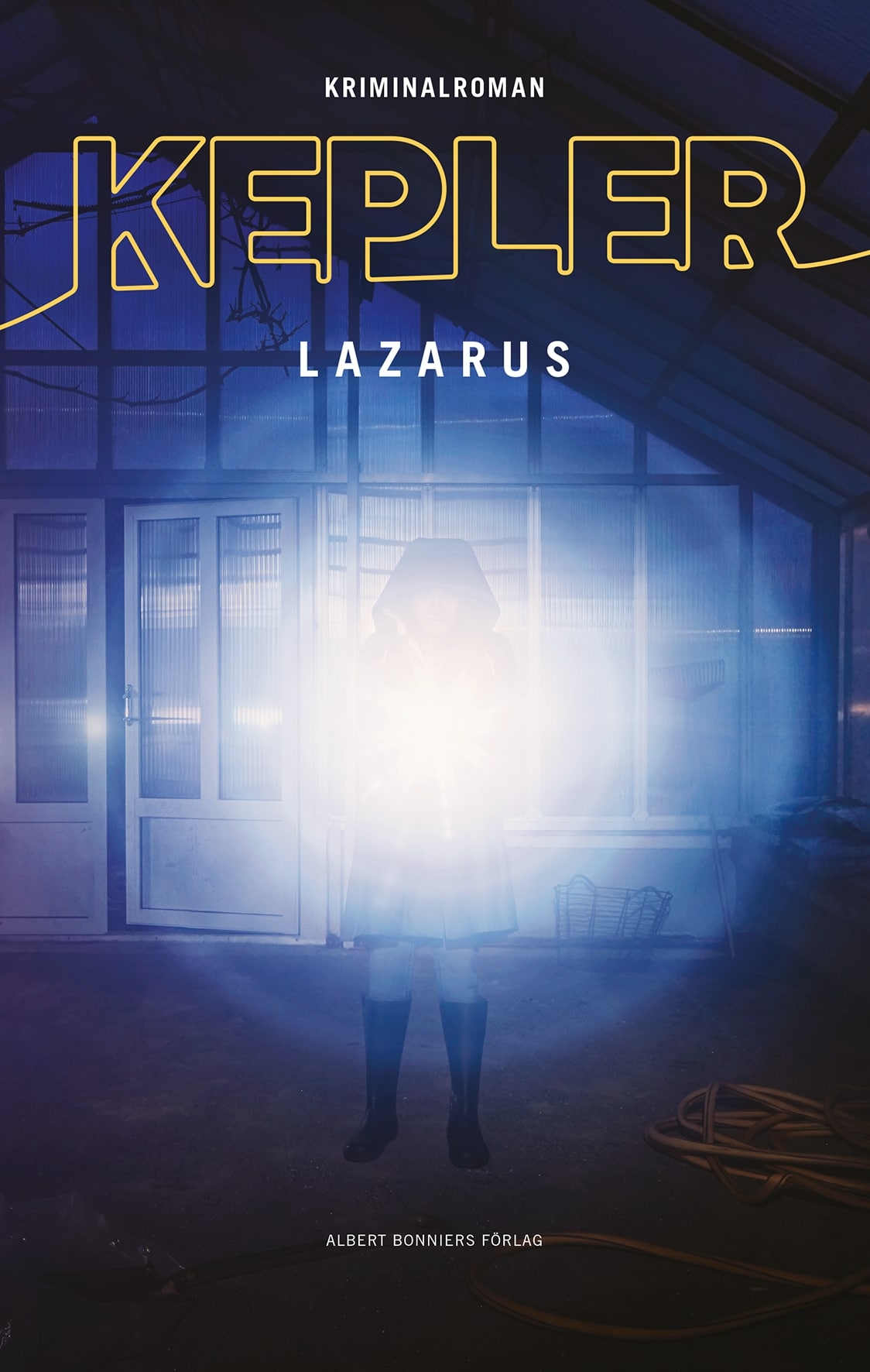 Lazarus
Lazarus
Joona Linna #7
A dead man is found in an apartment in Oslo. The victim transpires to be an unknown grave defiler and trophy collector, and when the police open his kitchen freezer, they make a terrible discovery. A few days later, Joona Linna is contacted by a German police detective who asks for his help with a murder outside Rostock. Joona understands that the pattern he's starting to see is insane, but at the same time it's impossible to ignore.
Some would call it a miracle if someone returned from the dead – others would call it a nightmare.
Lazarus was the most sold novel in Sweden of 2018.
"From the opening line, Kepler sets an ominous tone, cold and heavy with a taught sense of anticipation that will keep readers flying through the pages despite their fear of what might come next. Absolutely terrifying and beautifully written. I'm a fan for life!"
—Tami Hoag, #1 New York Times best-selling author of The Boy
"One of the best thrillers of the year! Kepler treats us readers to a nonstop roller coaster of suspense, taking us deep into the hearts and minds of perfectly realized characters. And, oh, what a villain! Lazarus is the definition of a one-sitting read!"
—Jeffery Deaver, #1 New York Times best-selling author of The Goodbye Man
"Kepler's characters, particularly Joona Linna, are always drawn sharp and deep, like scalpel cuts. Kepler's prose unrolls as smoothly as a loop of razor wire. But it's Kepler's storytelling that really draws blood. Lazarus is as literate as peak Michael Connelly and as addictive as David Baldacci."
—A. J. Finn, #1 New York Times best-selling author of The Woman in the Window
A CrimeReads "10 Novels You Should Read This December"
A Novel Suspects "Nine December New Releases to Look Forward To"
A Publishers Weekly "PW Starred Reviews Releasing This Week"
A Crime by the Book "Most-Anticipated December Releases"
Reviews
"Lazarus is a thriller par excellence, though it's advisable to read it in small increments, for the accumulation of too much horror at one time will definitely lead to sleepless nights, continuous checking of locks, and an increase in one's lighting bill."

"[An] intricate, smart and extremely suspenseful book. /…/ Lazarus presents a conundrum of sorts. One cannot read it fast enough, yet the intensity of the suspense, which Kepler ratchets up well past 11, requires anyone with a pulse to intermittently pause and take a break. The plotting is airtight, and the writing more so. Instructors at writers' workshops often admonish the students to write the slow parts fast and the fast parts slow. Lazarus is a textbook example of this. Mix in the element of surprise (the book is shot through with plenty of surprises), and you have the makings of cardiac arrest of the best kind. And while Kepler does an excellent job of filling in what has occurred previously, save some time after you have read it to catch up on the backlist."

"The Kepler duo are unmatched in their ability to crank up the tension, murder by murder, to an almost unbearable degree."

"In what may likely be their most gritty and violent book so far, Lars Kepler has given Detective Joona Linna a pulse-pounding and heart-breaking case that will have the reader audibly gasping on more than one occasion. /…/ This is a ride you will not forget."

"Kepler combines explosive action with masterfully developed tension. Readers already on board with this standout series will find a bar-raising entry here, and reassurance that the door is open for Joona's return. Strongly recommended for fans of Nicci French, Stieg Larsson, and Jussi Adler-Olsen."

"Relentlessly grim /…/ Kepler maintains an almost unbearable level of tension throughout and does an outstanding job of making readers fear that anyone could die a horrible death at any time. Fans of serial killer fiction won't want to miss this one."

"Lazarus is written in the fast and furiously paced present in short, bitty chapters that move quickly between characters and scenes to ramp up tension. This gives them an intense, cinematic feel. Characters, even minor ones, are well-developed and credibly flawed with painful pasts. The plot is pretty twisty too, so why these books haven't been turned into mainstream movies or a TV boxed set is anyone's guess. Surely Scandi noir hasn't had its day quite yet? While Lazarus can be read as a standalone, it's more enjoyable when read as a sequel to The Sandman. But be warned: it's pretty bloodthirsty. I lapped it up."

"There's a great deal of pleasure to be found in Lazarus. /…/ Remarkably bloody from start to finish. "

"Lars Kepler, pseudonym of husband-and-wife crime-writing team Alexandra Coelho Ahndoril and Alexander Ahndoril, was Sweden's best-selling author of the 2010s, across all genres and in any language. Seven novels down the line, their amalgam of Jo Nesbo's Harry Hole series and Stieg Larsson's bloody gothic mayhem is also gripping international audiences. Their knack is to sketch believable characters while the plot clatters along like an out-of-control roller-coaster. This tale of a series of elaborate murders across Scandinavia is linked to past novels featuring Kepler's most barbaric villain, Jurek Walter. The result is savage but irresistible."

"[T]his is deeply visceral stuff, largely keeps cliché at bay and is handled with a casual assurance that makes it unputdownable."

"Very suspenseful until the last page."

"The seventh installment about Police Detective Joona Linna is insanely thrilling, intense and frightfully well-composed. All the dramatic arcs are ruptured in this chilling thriller. /…/ What a thriller, what a plot – I'm lucky I can still breathe! /…/ Joona Linna is back in great form. /…/ With alternating point of views, the authors cleverly intertwine the threads and allow the pace and plot to weave together with high intensity, ending it all with a nerve-racking crescendo. The craftsmanship is exceptional, making you feel as if you can rest safe in the hands of Lars Kepler, who knows how to construct an atmospheric thriller. Lazarus is written with an almost cinematic precision that lets scenes blend together into a perfect whole. The modern language forms images, creates life and dynamism, and holds the reader in a grip of frightening suspense that increases page by page. "

"Lazarus is, just like the earlier novels, cleverly narrated and extremely cinematic. A scene is drawn with just a few sentences and character portraits are continuously delivered in the same effective way. /…/ Fans of Lars Kepler won't be disappointed."

"[Lars Kepler] goes all out in this thriller wherein Joona Linna's worst nightmare becomes reality. /…/ It's non-stop suspense for the one brave enough to read on and journey into the heart of darkness."

"Lazarus is well-written and suspenseful with a fast pace, lots of action and extreme violence."

"A raging journey through Kepler's elevated world. /…/ The engine of the novel kick-starts right away, with a whole lot of horsepower. /…/ When I finish the last sentence of the novel I can't help but let out a 'phew'. /…/ This author duo undoubtedly writes considerably better than most in the genre. They establish an elevated, dark, fictional world – and they know how to swiftly and stylishly outline even peripheral characters to make them come to life."
Author

Lars Kepler

Published

2018

Genre

Pages

543

Reading material

Swedish edition

English edition

Rights sold

Brazil, Alfaguara

Bulgaria, Enthusiast

Canada, McClelland & Stewart

China, Modern Press (Simplified Chinese)

Croatia, Fraktura

Czech Republic, Host

Denmark, Gyldendal

Estonia, Pegasus

Finland, Tammi

France, Actes Sud

Germany, Lübbe

Greece, Patakis

Hungary, Animus

Iceland, Forlagid

Italy, Longanesi

Japan, Fusosha

Latvia, Zvaigzne ABC

Lithuania, Lectio Divina

Netherlands, Cargo

North Macedonia, Matica

Norway, Cappelen Damm

Poland, Dolnoslaskie

Portugal, Porto

Russia, Corpus

Serbia, Vulkan

Slovakia, Ikar

Spain, Penguin Random House

Sweden, Albert Bonniers

UK, HarperCollins

Ukraine, KM Books

US, Knopf

Film rights sold

US, Hardy, Son & Baker / Apple TV+