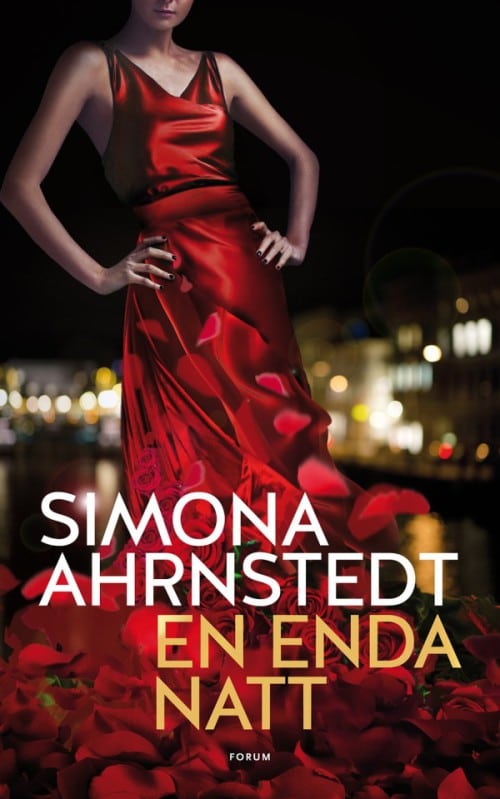 En enda natt
All In
High Stakes #1
No one knows the cutthroat world of Sweden's financial elite better than David Hammar. He's ruthless, famous for all the wrong reasons, and set on getting his hands on the ultimate prize: Investum. After years of planning, all of the game pieces are in finally place, and David needs just one more thing to realize his plans: an ally within the family who owns Investum.
Cue Natalia De la Grip. Hailed as an up-and-coming genius in finance, Natalia has worked hard to gain her father's recognition and a place on the company board. An unexpected lunch invitation from David makes all her alarm bells ring, but Natalia is intrigued. If there's anything she knows, it's high-stake games and business.
Simona Ahrnstedt's All In is the first installment in the High Stakes series, a trilogy of stand-alone titles by the pioneer of Swedish women's fiction.
"A compelling story that has heat and heart."
–Sandra Brown
"I've been searching for this feeling all year: this book left me absolutely breathless."
–Christina Lauren
"Everything a reader could want!"
–Eloisa James
"Sexy, smart, and completely unputdownable. Breathtaking, from start to finish."
–Tessa Dare
"Fast-paced, sexy and smart!"
–Lori Foster
Reviews
"Ahrnstedt neatly balances lusty romance and the tension of corporate scheming at the highest level. Fans of strong women and powerful men will gladly buy stock in this story."

"The author's ability to skillfully fuse a luxurious lifestyle, a refreshingly different Swedish setting, a plot riddled with revenge and financial intrigue, and plenty of steamy romance means All In will be the must-have leisure read everywhere this summer."

"A stylish tale of corruption, revenge, and hard-won love."

"Trailblazing Swedish author Ahrnstedt offers readers a satisfying game of high-stakes corporate intrigue and scandalously illicit passion. The romance between her strong, well-matched protagonists is engaging. /…/ There is plenty to enjoy here, particularly in the subplots, and fan interest will surely remain high for the rest of this trilogy."

"All In is a well-written story, where you can tell that attention has been paid to the details. The character descriptions are both well developed and believable, which gives even more depth to the content. Her narrative is easy and free-flowing, at the same time as it retains an excellent frame, which gives the text a crisp freshness. /… / Simona Ahrnstedt raises her already high standard and delivers her best book yet. It is a well-written, nuanced and smart story, spiced with steamy eroticism and a longing for love. Romance when it is at its very best. Brilliant, Ahrnstedt!"

"Although it is set in the world of finance, about upper-class games and revenge, this is first and foremost a book about romance, a relatively new genre in Sweden, where love is the main ingredient. And Ahrnstedt dominates. /…/ This is a book I really enjoyed."

"The plot is of course hot, in more ways than one. Ahrnstedt knows her genre; it's tight and well-written. Neither does she shy away from showing what she thinks about upper-class manners. This gives the book edge."

"[Simona Ahrnstedt] knows the genre's expectations like the back of her hand and she fulfills them skillfully and entertainingly with a flirtatious twinkle in her eye. The pace is high, the intrigues are riveting."

"Perfect for readers looking to shake up their usual romance reads."

"One of the most exciting new projects."
Author

Simona Ahrnstedt

Published

2014

Genre

Pages

400

Reading material

Swedish edition

English edition

Rights sold

Bulgaria, Egmont

Czech Republic, Metafora

Denmark, Gyldendal

Estonia, Hea Lugu

Finland, WSOY

France, Robert Laffont

Germany, Bastei Lübbe/Lyx

Iceland, Ugla

Israel, Kinneret-Zmora

Norway, Vigmostad & Bjørke

Poland, Sonia Draga

Portugal, Asa

Slovenia, Ucila

Spain, Plaza & Janés

Sweden, Forum

UK, Little, Brown/Piatkus

US, Kensington Publishing