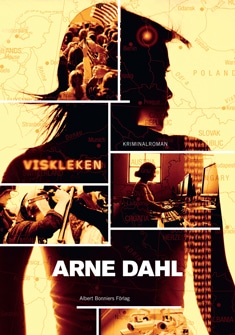 Viskleken
Chinese Whispers
Opcop #1
A new and top-secret Operative Unit of Europol has just been established. Its members call it the Opcop group and Police Superintendent Paul Hjelm from Sweden is at the helm. Based in The Hague with connections and national units spread all over Europe, its mandate is to fight international crime. But although information about the Opcop group is strictly confidential, there has been a leak. The body of a dead woman is found in a London park arranged in a bizarre position, and inside the body a message addressed to "The Operative Unit, Europol" is discovered. At the same time, a furniture manufacturer in Stockholm is doing business with the infamous Calabrian mafia; an American investment bank is moving unfathomable sums of money; the workers in a Chinese furniture factory are growing ill; and during a G20 summit in London, a dying man whispers a strange phrase in Arto Söderstedt's ear. Somehow, it's all connected. The Opcop group heads out into a world where the Internet, social media, and the fluidity of national borders has globalized crime. The human greed, corruption and craving for power is the same. It has just found a larger arena.
Chinese Whispers is the first installment in Opcop, a quartet about contemporary, international crime – and the controversial Europol unit that is there to fight it.
Click here to watch a book trailer on Chinese Whispers made by Arne Dahl's Swedish publisher Albert Bonniers.
Awards
Shortlisted for the Danish Academy of Crime Writers' Award

(Best Crime Novel of the Year) Denmark
2012

Shortlisted for the Glass Key

(Best Nordic Crime Novel of the Year) The Nordic Countries
2012

The Swedish Academy of Crime Writers' Award

(Best Swedish Crime Novel) Sweden
2011
Close award list
Reviews
"Suspenseful? Definitely! [Dahl] is a superb writer of literary fiction."

"This is a novel you'll read in a jiffy. Dahl's prose is frightfully effective."

"Jan Arnald's crime fiction, published under the pen name Arne Dahl, is restlessly expansive. /…/ Like a shark, Chinese Whispers never stops swimming…"

"The scope and edifice are reminiscent of Dan Brown's – in a good way, that is. /…/ In short, the book is very enjoyable, and I'm happy to know that three more are in the works. Thanks."

"Chinese Whispers is a deftly executed piece of crime fiction, elevated by its intensity, literary innovation and effluent generosity."

"He is an author who knows what he's doing. And with great generosity he provides even the smaller parts with minutely chiseled portraits that rarely fall into the archetypal traps that are unfortunately ubiquitous within the genre. /…/ Dahl is not a 'serious' author who 'stoops' to the level of crime fiction; he's just as much of an author regardless of the genre."

"Arne Dahl spins an intricate plot, complete with an extensive intertextuality. Where one is used to seeing Swedish crime writers perfunctorily descend the list of subjects one by one, allowing each to span the lenght of a book, Arne Dahl yokes them all together. The intrigue becomes a harsh metaphor for our time's boundless crime. The conspiratory worldview is cranked up ad absurdium. /…/ It's always fun to read the novels of Arne Dahl."

"Only two [Swedish crime writers] qualify for the literary Champion's League play offs – Leif GW Persson and Arne Dahl. /…/ Still, [Dahl's] endeavor as a novelist to grapple with current global tableaux – wherein mobsters and suits stripe each others jackets with ever-lessening scruples – is worthy of all praise and encouragement. I know of no other contemporary Swedish writer bold enough to bite off such a cumbersome chunk of the moment, hold it and shake it with a growl."

"As a voracious reader of crime fiction – particularly that of Anglo-Saxon and Swedish writers – I was immediately struck by the pseudomyn Arne Dahl, and found myself wondering who the profoundly skilled writer hiding behind it was. /…/ He's not shy of taking to irate words when describing the Swedish financial attitude towards the tiny, newly liberated nation across the Baltic. I know of no social criticism aimed at Swedish neo-imperialism as scathing as Dahl's. /…/ Chinese Whispers is probably Arne Dahl's most political novel to date. Perhaps the darkest. Definitely the best. With a certain impatience, I eagerly await the next."

"Once again, Arne Dahl shows that he is an astonishing storyteller. /…/ His social criticism is clear and caustic. /…/ Arne Dahl carries the legacy of Sjöwall & Wahlöö into the 2010s. Chinese Whispers is a clear example of this."

"However, if there's one person qualified to supervise the seemingly unmanageable web, it's Arne Dahl. The reader can relax – or, rather continue to barrel through the pages with the same frenzy – with the assurance that the ride will offer remarkable astuteness, effective and well composed entertainment, as well as a mirror for a corrupt world."

"Dramatic and full of surprising twists – Arne Dahl is in great shape."

"With Chinese Whispers Dahl manages to re-create Dante's Divine Comedy within the field of crime novels."

"Suspenseful, intelligent and realistic."

"An utterly well rounded crime novel and a haunting portrait of a world in which hope is, literally, a lot to ask for."

"Arne Dahl worships the bombastic, but never flouts suspense. Here, eeriness lurks in something other than blood and bestial serial killers – it is extensive and pacey, violent and tender at the same time."

"If you can keep your wits about you, there is a reward at the center of the labyrinth. On the way there you can, as usual, enjoy Dahl's ingenious composition and stylistic mastery."

"Once again Dahl's narrative bewitches and shocks us, with its combination of crystal-clear coldness, analytical acerbity, poetic exquisiteness, an apocalyptic keynote and a sometimes exaggeratedly laconic style."

"Dahl tackles global tasks, and he does it like no one else."

"Chinese Whispers is a new masterpiece within the Swedish crime genre."

"Chinese Whispers is unbearably exciting, extremely clever, and well written: a thoroughly well-conceived thriller about international financial criminality, with many complex ramifications. /…/ A top notch thriller. Hats off!"

"With Chinese Whispers Arne Dahl has produced a technically brilliant and occasionally terrifyingly true to life thriller."

"Arne Dahl is rightfully a star among crime writers and he builds his incredibly complex tale in a breathtaking manner."

"Dahl manages to keep his readers in a hair-raising state of suspense until the very last page. We impatiently await the continuation of his new series."

"A highly explosive and shatteringly realistic thriller!"

"Chinese Whispers is not only a world-encompassing and breathtaking story about financial crimes. The ten investigators in Paul Hjelm's group also give scope for a deeper and totally cliché-free description of the characters. We look forward with great expectation to the second criminal case in the series."

"A suspenseful story that takes place in a variety of European settings. It gives you food for thought and contains a lot of action scenes that give you goose bumps."

"With Chinese Whispers the Swedish crime novel beats the world. Arne Dahl has written a masterpiece."
Author

Arne Dahl

Published

2011

Genre

Pages

504

Reading material

Swedish edition

German edition

Rights sold

Denmark, Modtryk

France, Actes Sud

Germany, Piper

Greece, Metaixmio

Italy, Marsilio

Netherlands, De Geus

Norway, Cappelen Damm

Poland, Czarna Owca

Sweden, Albert Bonniers

Film rights sold

Sweden, Filmlance International