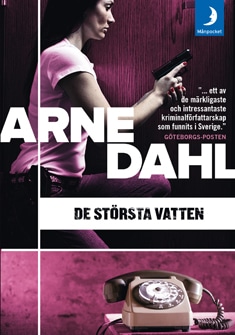 De största vatten
Many Waters
Intercrime #5
Perhaps Arne Dahl's most personal novel, Many Waters places detective Kerstin Holm at the boundaries of what is humanly endurable. It's a story of love gone extremely sour, and the dangers of emotional extremes. Kerstin Holm's ex-fiancé, a fellow police officer, stands accused of shooting an unarmed refugee trying to escape deportation. It turns out that Holm's ex is involved in a self-appointed biblical crusade of righteousness. His twisted game pries open the darkest corners of Kerstin Holm's life and emotions, and compels the entire A Unit to study the most disturbing parts of the Holy Scriptures in their hunt for a killer who will let nothing stand in his way.
Many Waters is a taut, disturbing psychological thriller by the writer regarded as the master of Swedish crime fiction, and the fifth installment in the Intercrime series.
Many Waters was No. 1 on the German KrimiWelt-Bestenliste in May 2006. In addition, it was shortlisted for the Swedish Academy of Crime Writers' Award for 'Best Swedish Crime Novel of the Year' in 2006.
Awards
Shortlisted for the Swedish Academy of Crime Writers' Award

(Best Swedish Crime Novel of the Year) Sweden
2006
Close award list
Reviews
"With his fifth book, Many Waters, Arne Dahl takes the lead in the Swedish literary elite."

"Arne Dahl is phenomenal. /…/ Few Swedish crime novelists, if any, can get the reader to rush through each page like Dahl. Furthermore, he is truly well attuned to the various nuances in the language and knows how to utilize them effectively."

"It's extraordinarily easy to become mighty impressed by this ingenious and devious plot, presented in an appealing and intellectual prose; Dahl writes like a man but thinks like a woman in the most positive sense. It's easy to ponder these things when one begins to imagine what kind of creative mind it is that can accomplish such a vigorous tale, using such an incredible force in both revolutionary and psychological developments. The reflection of a part of present-day Sweden overwhelms the reader's heart."

"Another top-notch work."

"Dahl succeeds in weaving a fine web of human tragedies. That he furthermore deftly toys with the typical pattern of a crime novel, in placing a great deal of weight on realistic dialogue, inversions of perspective, as well as a rich depiction of the characters and their surroundings, bolsters the notion that this is one of the most notable and interesting crime novelists we've ever had in Sweden."

"This is the best Swedish crime writer around today!"

"Sweden's most interesting crime novelist."

"He outshines such revered names as Åke Edwardson, Håkan Nesser and Henning Mankell. /…/ We haven't seen anyone as successful as this, since the era of Sjöwall/Wahlöö."

"Arne Dahl writes some of the best detective novels published in Sweden today. They are greatly stimulating and realistic accounts with a variety of characters that are psychologically convincing. /…/ Many Waters is Arne Dahl's best work so far. Don't let it pass you by!"

"I often think of opera while reading this work, or some other form of art in which you speak your mind, simply let it all out and pass it on. It's exciting, it's demanding, and at times almost beautiful."

"Arne Dahl's new crime novel is a real tour de force composed of elaborate elements of suspense with exceptionally elegant police work. /…/ Many Waters, Arne Dahl's latest thriller about the Intercrime team, translated into Danish, is an extremely well written novel and a stroke of genius, composed of elaborate and complicated elements of suspense. Once the reader takes on this lengthy novel, he won't easily let go of it . /…/ All of it is described by an author who is omniscient like the God of the Jews in The Old Testament. /…/ It is elaborately and elegantly written. /…/ Simply put, Arne Dahl has once again written a brilliant and unique novel that still is true to its genre; a story in which Umberto Eco and Maj Sjöwall reminisce about Per Wahlöö over a meal of meatballs in central Stockholm."

"Actually one need only repeat what's already been said – that Arne Dahl once again has written a simply delightful detective novel with Many Waters. Let's shortly summarize it: the resolute development of the plot in which layer after layer and one footprint after another are brilliantly put together to create a complete image of a society in the midst of an identity crisis; the playful use of language that so rarely is seen in crime literature, sparks with humorous elements of the darkest kind; the topical and historical importance of the subject matter – police brutality, illegal immigration, South Africa's need for cheap HIV-vaccine, not to speak of repressed motherhood and fundamentalism as well as a murderously desperate reconciliation; and, last but not least, the opposite end of the scale – the so called Intercrime team (short for "The National Police Special Division for International Crime") with its seven members, who through their individual, colorful natures and vigorous development form a kind of modern "arch" that can be seen as the human potential for resistance. And add the evident, ever-present meta-consciousness, discretely referring to the text's own form – that it isn't any type of inexplainable impression of the world, but rather an image of a world with a language better than our own, more capable of comprehending the diversity and the possibilities that surround us."

"Dahl is superb. /…/ He writes in a sardonic and provoking way, which at other times is delicate, almost lyrical, making the reading in itself a grand experience. Naturally, he also knows how to construct a good plot that is full of suspense from beginning to end. The Swedish author Arne Dahl, and his detective story about the Intercrime team, is one of the best in Scandinavian crime literature. /…/ The story is ingeniously composed and, as as one can expect from Arne Dahl, it is executed in his top-notch style of writing."

"A new triumph in Swedish crime literature. /…/ It isn't surprising that Arne Dahl ranks as high as he does among both Swedish as well as international crime writers."

"Arne Dahl is perhaps the finest among Swedish detective novelists. /…/ All of Dahl's accounts are exciting as well as realistic. The way the characters are portrayed is first-rate and also psychologically believable, and the depicted settings are convincing. The dialogue is well-formed and the language is of unusually high literary quality. /…/ Not since Sjöwall/Wahlöö have we had a Swedish detective novelist of this caliber – one who writes with such finesse and a touch of humour. At the same time these gruesome acts of crime make the suspense utterly real."

"Arne Dahl is today a unique in Swedish crime literature. /…/ The prose is swift and convincing in its form, the train of thought direct, and the plot is fast-paced and unwaveringly propelled."

"One of this year's best detective novels."

"This is one of the year's most interesting detective novels/thrillers, truly worth reading. /…/ To those of you that still haven't discovered Arne Dahl – you have an incredible reading experience ahead of you."

"For Arne Dahl writes with an intellectual and literary energy not found among the more established writers in Swedish crime literature; the same writers with whom he often is compared."

"The master of mysteries… Arne Dahl is simply an enthralling storyteller."
Author

Arne Dahl

Published

2002

Genre

Pages

341

Reading material

Swedish edition

German edition

Rights sold

Czech Republic, Mladá Fronta

Denmark, Modtryk

Estonia, Eesti Raamat

Finland, Otava

France, Seuil

Germany, Piper

Greece, Metaixmio

Italy, Marsilio

Netherlands, De Geus

Norway, Cappelen Damm

Poland, Czarna Owca

Sweden, Albert Bonniers

Film rights sold

Sweden, Filmlance International