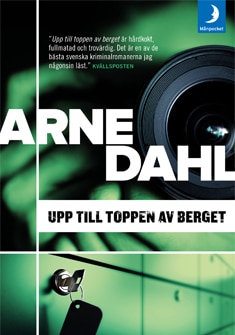 Upp till toppen av berget
To the Top of the Mountain
Intercrime #3
A young football fan is beaten down with a beer mug and dies on the floor of a popular pub in Stockholm. It's a meaningless crime, far from those of the A Unit's prime – a group that's since been dissolved. Paul Hjelm and Kerstin Holm are assigned the case. As they question the witnesses, Hjelm and Holm gradually realize there were things going on behind the murder scene. These things seem to be connected to far more gruesome crimes in Sweden this summer. And somewhere in the near future, a terrorist attack looms. The case proves to be the ultimate challenge for the A Unit, at last giving the team a second chance.
To the Top of the Mountain is the third installment in the Intercrime series.
With To the Top of the Mountain, the Swedish crime novel has reached a new level.
Awards
German Crime Writing Award

Germany
2005

The German Crime Fiction Award

(Best International Crime Writer) Germany
2005
Close award list
Reviews
"Obliterates every known cliché with a clear-cut prose never before seen in the crime novel genre. His protagonists are utterly possessed combatants; bloody heros much like those ofJames Ellroy´s Cops – and, at the same time, sentimental revealers of truth and righteous fanatics. /…/ Keep turning those pages! Dahl is writing the best crime novels of our time."

"Swedish author Arne Dahl, born in 1963, writes detective stories that are social chronicles throughout, much like those of Mankell or Per Wahlöö – just not as melancholic and seemingly hopeless. His protagonists are very modern-day, his intrigues brutal. /…/ Sensational!"

"To the Top of the Mountain is a hard-boiled, rich and highly believable work. It´s one of the best Swedish detective novels I´ve ever read."

"Something of the most suspenseful, rich and riveting one can come across in the crime genre."

"A Swedish crime novel that unites the best elements of Nordic- and American police thrillers."

"If you´re looking for a book with a well thought-out plot, an eloquent style of writing spiced with social satire and, last but not least, a book with no boring side to it – one in which even the police interrogations are interesting – you won´t find much better than this."

"This book is both chilling and highly suspenseful. Dahl won´t disappoint anyone. It´s a must on any true thriller fanatic's wish list."

"The story is swift and full of suspense – you won´t want to put this book down even when it's past your bedtime. Arne Dahl has established himself as one of the country´s leading suspense novelists within this genre – the contemporary police novel. To the Top of the Mountain is the most clever of his novels yet. The plot is convincing and well-constructed and the characters are captivating. Because of this the suspense factor is high and the presence of our own contemporary time is remarkable, without making the at times prevailing satire feel constrained or artificial."

"The many loose threads are skilfully woven together to create a believable crime story. It´s a story that in turn relies on, but also acts as a commentary on, the developments in contemporary Swedish society."

"Arne Dahl sure knows how to raise the level of suspense in a crime novel to unbearable heights."

"A truly rich and intense detective novel, all the way from the first to the last page."

"Top-notch suspense. /…/ Already after his first novel, Misterioso, Dahl became fully known to the readers of crime novels. Now, with his third work,To the Top of the Mountain, the author hasn't grown boring. It's just the other way around. He is a lambent example in a series of superb Nordic detective novelists."

"As the title suggests, To the Top of the Mountain is a crime novel of immense magnitude. [Dahl] is very direct and withholds nothing when it comes to gruesome depictions of violence. The novel is characterized by a heated milieu; it's a sensual atmosphere in which the brutal and the intense lead up to a tough resolution. /…/ Fortunately, there are more to come."

"Rough, captivating, unswerving and enthralling crime novel with a completely unique set of rules. Dahl will become huge!"

"Dahl's plotting is deft, his action scenes thrilling and his characterisation brilliant"

"A complex plot. Hard-hitting"
Author

Arne Dahl

Published

2000

Genre

Pages

354

Reading material

Swedish edition

German edition

French edition

Rights sold

Czech Republic, Mladá Fronta

Denmark, Modtryk

Estonia, Eesti Raamat

Finland, Otava

France, Seuil

Germany, Piper

Greece, Metaixmio

Italy, Marsilio

Netherlands, De Geus

Norway, Cappelen Damm

Poland, Muza

Slovakia, Priroda

Spain, Destino

Sweden, Albert Bonniers

UK, Harvill Secker

US, Vintage

Film rights sold

Sweden, Filmlance International