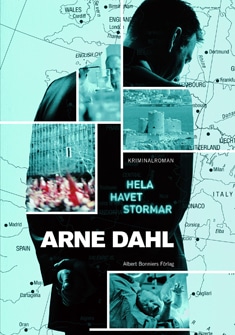 Hela havet stormar
Musical Chairs
Opcop #2
Over the course of just a few days three alarming deaths occur in different places in Europe. A plastic surgeon that supervised a secret EU project is found dead in his home in Belgium. An Albanian arms dealer is shot to death at a bar in Stockholm, and shortly thereafter, the body of a Czech MEP is found on a prison island off Tuscany's coast, stabbed to death. Although there's no apparent link between the deaths, Paul Hjelm and his colleagues in the Opcop group suspect a connection… And that there will be still more deaths.
The Opcop group, still distraught after the murders of two of its members, takes up the hunt for one, or possibly several, killers. But nothing is as simple as it seems and the traces all point in different directions. The only strong lead is that it all seems related to a notorious prison island where prisoners were abandoned without food and subjected to horrific scientific experiments.
Musical Chairs is the second stand-alone installment in the Opcop quartet.
Click here to watch a book trailer on Musical Chairs made by Arne Dahl's Swedish publisher Albert Bonniers.
Reviews
"A series that is just excellent. /…/ This novel is top entertainment, while it can also be read as a contribution to the debate on genetic manipulation, the showdown against former and current communists and stalinists, vigilantes, and Big Brother society. It can't really be done any better."

"Gripping thriller from the Swedish bestselling author."

"Musical Chairs is an extremely suspenseful thriller, and very difficult to put down."

"Dahl is certainly not the first to write about the downside of the new global order and to use the crime genre to express social criticism, but he remains one of the few who manages to do it with a stylistic and narrative playfulness that provides new perspectives on the often-brutal content."

"Three of the heavyweights in the suspense genre – English Mark Billingham, Scottish Ian Rankin and Swedish Arne Dahl – once again deliver their wares in three new releases. The first one is good, the second one a little better, while Dahl is the best one. /…/ The fact that Dahl is slightly better, is not so much due to that his plot is more skillfully crafted or that he manages to create greater suspense. In both aspects, he is terribly good. In addition, his exceptional prose and brazenly poetic reflections is significantly better than many other crime writers and separates him from the majority. /…/ Everything is gradually braided together in a beautiful, disturbing and from the first page catchy setup that is so frightening that it seems exaggerated, but which nevertheless gives you something to think about. In short, it's damn good!"

"With his books about the A Unit, Arne Dahl placed himself with the frontrunners among Scandinavian crime writers. Now, with his two books about the Op Cop group, he has taken the lead. No one weaves as tight plots as Dahl and no one does it with such literary brilliance. There are literary equilibrists among Scandinavian crime authors, but none of them achieve so much psychological suspense AND physical action as Dahl. From now on he will be, in my reckoning, incomparable with everyone but the very best crime and thrillers writers in the world. /…/ As usual, Arne Dahl's book holds a high intellectual class. This combination of everyday banality and brilliant thinking in some of the characters is one of those things that make Arne Dahl's novels so incredibly fascinating and so difficult to put down."

"A deadly serious game. [Dahl] is certainly not the first to write about the underbelly of the new global order or to use the genre as a vehicle for social criticism, but he is one of the few who manages to do it with a stylistic and narrative playfulness that strengthens and adds a perspective to the often-brutal content. /…/ The multi-faceted plot is upheld by a strong but never pretentious pathos. What happened to humanism, empathy, and the dream of an equal society? It is an impressive feat that Dahl doesn't let the reader forget these challenging questions in a novel that is simultaneously intensely suspenseful in a way that few crime writers achieve. /…/ [The Op Cop series] is more expansive when it comes to content and more restrained when it comes to form. Either way, it is brilliant."

"Very sophisticated and entertaining."

"Reading Arne Dahl is always a pleasure and provides suspenseful and unexpected revelations in both language and plot… Exceptional reading."

"Ingenious, urgent plots and deft style."

"Arne Dahl has, in all of his books, demonstrated that he can maintain a balance between passing on his knowledge about how the world works and playfully entertaining the readers with crime genre formula. /…/ In addition to the suspense and the chance to learn more about our age, I enjoy reading Dahl for his excellent use of language. He is one of the very best in the genre when it comes to handling words and it is a pure joy to read."

"When it comes to language [Dahl] is on a higher level. He is both playful and serious in his expression. The dialogues are intelligent and there is an elegant flow in his storytelling… His story is brutal and frightening. But he still wants to make us reflect on what kind of society we should strive to achieve."

"Arne Dahl works incredibly systematically with the unraveling, the conclusions… It has been said that Arne Dahl has revitalized the crime genre. When it comes to language, this is obvious; there are entire episodes in Musical Chairs that are almost poetic. Not to mention funny."

"I would be very surprised if Musical Chairs isn't awarded in some way or another when the crime fiction year of 2012 is summarized. The more playful and inventive Arne Dahl gets, the better he is."

"Fabulous plot. /…/ I don't think many others than Arne Dahl can get away with mixing Dumas' The Count of Monte Cristo with some Mary Shelley classics, add a little Greek tragedy, prime it up with grim stories from the 20th century's rich horror cabinet of social experiments, add the Cold War, and last but not least, pour a good deal of contemporary criticism of the savage, ruthless jungle-liberalism on top. And then he serves it as a fast-paced thriller with a tight and well-composed plot with room for seriousness and sharp irony… Musical Chairs is an excellent crime novel"

"As usual, Arne Dahl has written a clever and effective suspense novel with a strong and enthusiastic sense of language diversity, not least sarcastic effects. And sometimes you'll catch a glimpse of his true identity, the academic Jan Arnald, which adds subtle postmodern features to the regular suspense story, most evident in the presence of Alexander Dumas' The Count of Monte Cristo, which Musical Chairs plays with."

"Dahl [ties it all together] with his usual elegance and literary references both to The Count of Monte Cristo and Greek mythology. The pace is fast… Dahl has done his research and moves with equal fluency in the U.S., Siberia or Sicily"

"To start reading a new Arne Dahl thriller is like stepping onto ice: first carefully, searching, and with your full attention on density and capacity, hidden cracks, and something to hold on to. But when you find your balance and surrender to Paul Hjelm, Arto Söderstedt and the rest of the OpCop team you are in good hands with Arne Dahl – you slide away, as elegant as an ice princess, tough and rhythmic as a sprinter, brutal and fast as ice-hockey. /…/ As always, Dahl delivers a clever crime novel with an excellent plot, quivering tension, a fabulous cast of characters, intense detail and grand afterthought. You can easily read the series out of order but on the other hand there is no reason to miss out on Chinese Whispers from last year. Dahl's stories about the OpCop team are as addictive as his previous ones in the Intercrime series. Quite simply one of the best in Scandinavian crime fiction."

"One of Sweden's best crime writers… The plot is clever, topical and encourages reflection. /…/ Just as Arne Dahl's other novels, Musical Chairs has a warm and understated humor that makes you chuckle, rather than laugh out loud. A bit of that humor can be found in Leif GW Persson's novels as well. The language is playful and evocative… I highly recommend this well-written and clever crime novel."

"Dahl writes with great energy, and he is also tremendously funny."
Author

Arne Dahl

Published

2012

Genre

Pages

480

Reading material

Swedish edition

German edition

Rights sold

Denmark, Modtryk

France, Actes Sud

Germany, Piper

Greece, Metaixmio

Italy, Marsilio

Netherlands, De Geus

Norway, Cappelen Damm

Poland, Czarna Owca

Sweden, Albert Bonniers

Film rights sold

Sweden, Filmlance International