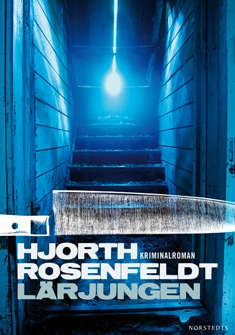 Lärjungen
The Man Who Watched Women
Sebastian Bergman #2
A series of women are found brutally murdered in Stockholm and the Criminal Investigation Department, led by Torkel Höglund, is getting nowhere.
The murders are identical to those committed by Edward Hinde, the serial killer whom psychological profiler Sebastian Bergman put behind bars fifteen years ago. And there Hinde has remained, inside Lövhaga maximum security prison.
Meanwhile, Sebastian himself has found something to cling onto in life since he learned he has a biological daughter. But even if he wants nothing more than to tell her the truth, he knows it could very well ruin her life and destroy whatever shred of a relationship they have already.
Although he has left his work with the police, Sebastian forces his way into the investigation. Before long, he comes to realise that the murders are connected in a way he could never have imagined.
The Man Who Watched Women is the second installment of the Sebastian Bergman series.
Reviews
"One of the best Swedish serial killer thrillers ever."

"I'm counting the days until the next book."

"Perfect nerve-teasing entertainment."

"Well written and exciting."

"A relentlessly exciting and intelligent thriller."

"An exciting play of cat-and-mouse."

"What's remarkable is that the novel not only follows the police team's work, but that we also delve into the feelings (perverse, of course) of the monstrous killer and witness his rituals right from the start. The reader always knows more than the police, which in no way reduces our interest, but instead gives rise to a special kind of tension."

"Crime novels simply do not get any better."

"Even more thrilling than their successful debut. A real page-turner that leaves the reader desperately waiting for the third Bergman case."

"The Swedish writer duo stay on course for further success with their second crime novel. Hjorth and Rosenfeldt are able to create suspense and maintain it over hundreds of pages. Their luminous characters evolve, their settings are developed with precision. They always manage to create yet another unexpected twist."

"Captivating until the surprising end."

"One of the best thrillers to come out of Sweden in recent years."
Author

Hjorth & Rosenfeldt

Published

2011

Genre

Pages

494

Reading material

Swedish edition

German edition

English edition

Rights sold

Albania, Dudaj

Arab World, Al Arabi

Australia, Murdoch

Bulgaria, ERA

Catalonia, Columna

Czech Republic, Host

Denmark, Hr Ferdinand

Estonia, Helios

Finland, Bazar

France, Prisma

Germany, Rowohlt

Hungary, Animus

Israel, Kinneret

Italy, Einaudi

Japan, Tokyo Sogensha

Netherlands, Cargo

North Macedonia, Matica

Norway, Aschehoug

Poland, Czarna Owca

Portugal, Suma de Letras

Russia, AST

Serbia, Vulkan

Slovakia, Ikar

Spain, Planeta

Sweden, Norstedts

Taiwan, Global Group (Complex Chinese)

UK, Century

Vietnam, Tre Publishing