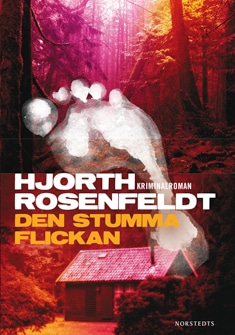 Den stumma flickan
The Silent Girl
Sebastian Bergman #4
An entire family is found brutally murdered in their own home and the Criminal Investigation Department is called in. The case quickly becomes more difficult when the main suspect is discovered dead, killed with the same weapon.
To make matters worse, there is only one witness: ten-year-old Nicole, whose footsteps lead into the large forest behind the house. The police have to find her – before the murderer realizes that someone saw what happened.
Nicole is found, but the trauma of what she saw has left her totally mute, communicating only through pen and paper. Although the girl refuses to utter a single word, her drawings reveal one compelling and inescapable fact: she saw the murderer.
Psychological profiler Sebastian Bergman becomes obsessed with the challenge of breaking through Nicole's wall of silence. Meanwhile, the murderer, now aware of the girl's existence, is planning to make sure she stays silent.
The Silent Girl is the fourth installment in the Sebastian Bergman series.
Awards
Shortlisted for the Swedish Academy of Crime Writers' Award

(Best Swedish Crime Novel) Sweden
2014
Close award list
Reviews
"The plot of this fourth – and, in my opinion, best – of the books in the series focuses on the extremely brutal murder of a young family, and how the Criminal Investigation Department try to get the help of the only witness, as well as protecting her. Despite the brutal murder there is not a great deal of violence in the book, but on the other hand it is enormously exciting and effective in its combination of psychological thriller and detective novel."

"Hjorth and Rosenfeldt's work is very reminiscent of both Sjöwall & Wahlöö and Henning Mankell's way of constructing crime novels. […] Hjorth and Rosenfeldt bring in surprising moments and details that feel fresh, and steer clear of the most common crime-writing clichés."

"The plot is almost unbelievably well-constructed, where the reader almost loses track of the investigation several times. A couple of huge surprises drive you to read on even though your eyes are feeling physically tired."

"High tension penned by the successful Swedish duo!"

"Michael Hjorth and Hans Rosenfeldt at their peak. Powerful characters, perfect plot and round about 600 pages of the utmost tension."

"We are impatiently waiting for book five."

"Skillfully crafted with numerous electrifying elements; the series has come so far that the characters are starting to appear real."

"A near perfectly constructed crime story from talented Swedes. /…/ there is reason to be impressed by the plot of this book, with absolutely brilliant and surprising twists. /…/ a lovely piece of professional craftsmanship from two writers who really know what they're doing."

"High quality Scandinavian crime that keeps us longing for more."

"A world-class author duo from Sweden."

"Again a well-deserved success: fascinating, ambitious and full of unexpected twists."

"Hjorth & Rosenfeldt at their best: strong characters and a great plot in 600 extremely thrilling pages."

"A fast-paced novel which doesn't shy away from the heavy emotional cost of guilt and loss."
Author

Hjorth & Rosenfeldt

Published

2014

Genre

Pages

445

Reading material

Swedish edition

German edition

Rights sold

Bulgaria, Era

Catalonia, Columna

Czech Republic, Host

Denmark, Hr Ferdinand

Estonia, Helios

Finland, Bazar

France, Actes Sud

Germany, Rowohlt

Hungary, Animus

Italy, Einaudi

Japan, Tokyo Sogensha

Netherlands, Cargo

North Macedonia, Matica

Norway, Aschehoug

Poland, Czarna Owca

Portugal, Suma de Letras

Russia, AST

Serbia, Vulkan

Slovakia, Ikar

Spain, Planeta

Sweden, Norstedts

UK, Century