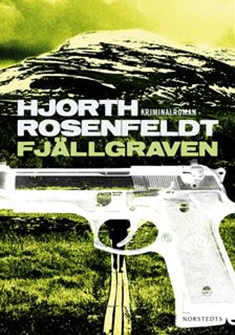 Fjällgraven
The Man Who Wasn't There
Sebastian Bergman #3
When two women veer off-route on their hiking trip in the mountains they make a terrible discovery. Buried in shallow graves on a riverbank are six bodies, two of them children.
The Criminal Investigation Department – including psychological profiler Sebastian Bergman, who is now a more or less permanent member of the team – is called in. They head out into the countryside and begin the difficult task of identifying the bodies.
Among the dead is a Dutch couple reported missing in the autumn of 2003. The others, a family, seem impossible to identify, despite the fact that all six bodies appear to have been buried at the same time. With each alarming new discovery, the police seem to take one step forward and two back. The case turns out to be a puzzle far more complex and intricate than they could ever have imagined.
The Man Who Wasn't There is the third installment in Hjorth & Rosenfeldt's series about Sebastian Bergman.
Reviews
"The Man Who Wasn't There sticks out from the mass of thrillers, because its language is so compelling, because the narrative advances so skilfully. The interwoven plotlines carry the reader forward, each one of them strong enough to stand on its own. […] But what I like most about The Man Who Wasn't There is that it has a sense of humour. There are plenty of characters, each one lovingly and insightfully depicted. They may not be hideous, but they're fairly rough and a bit unkind. The way we all are, perhaps."

"The Man Who Wasn't There is an ingenious story with an intricately plotted narrative, well drawn characters and a tempo that gradually builds up. The depictions of bureaucracy, technology and geography feel very well researched and thought through. Along the way The Man Who Wasn't There also succeeds in portraying a divided country where the rules look different depending on where you're from. It could have felt horribly forced, but it works here. Not only that: the story holds together right to the end. The best Swedish crime novel/thriller of the year, up there with Nesser, Kepler and Åsa Larsson."

"Those who have read the earlier novels will rush to the nearest bookstore to get the third book. Once again, it's impossible to put down."

"Already one of the best crime novels this year."

"A very good crime novel in an excellent series."

"Intriguing crime from Sweden."

"An exciting and compelling crime novel, featuring the troublesome and traumatized Sebastian Bergman."

"Authentic Swedish highland horror /…/ A shrewd entertainment novel."

"Hjorth & Rosenfeldt's stunning new novel, The Man Who Wasn't There /…/ [The authors] have an impressive pedigree: Michael Hjorth is a screenwriter and producer, while Hans Rosenfeldt created the hit television series The Bridge. [Sebastian Bergman] is a brilliant creation, displaying none of the redeeming features we have come to expect from even the most depressed Nordic investigator; his appalling behaviour contrasts with the grief of the other characters, including an Afghan refugee whose husband has vanished. This is a complex and compelling novel that invites comparisons with Stieg Larsson's Millennium trilogy."
Author

Hjorth & Rosenfeldt

Published

2012

Genre

Pages

424

Reading material

Swedish edition

German edition

English edition

Rights sold

Bulgaria, Era

Catalonia, Columna

Czech Republic, Host

Denmark, Hr Ferdinand

Estonia, Helios

Finland, Bazar

France, Prisma

Germany, Rowohlt

Hungary, Animus

Israel, Kinneret

Italy, Einaudi

Japan, Tokyo Sogensha

Netherlands, Cargo

North Macedonia, Matica

Norway, Aschehoug

Poland, Czarna Owca

Portugal, Suma de Letras

Russia, AST

Serbia, Vulkan

Slovakia, Ikar

Spain, Planeta

Sweden, Norstedts

UK, Century