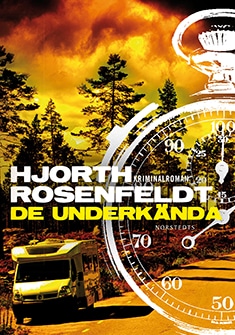 De underkända
Those Who Failed
Sebastian Bergman #5
A reality TV star is found murdered in an abandoned school building, shot in the head with a bolt gun. Tied to a classroom chair, he's been positioned facing a corner of the room with a dunce cap on his head. A several pages long exam paper has been nailed to the back of the chair. Judging by the number of wrong answers, the victim failed the most important test of his life.
The murder proves to be the first in a series of killings targeting various media personalities, and the Criminal Investigation Department is called in. They struggle to find evidence, but Sebastian Bergman discovers clues in chat rooms and anonymous letters published in newspapers. The writer of the letters rails against the lack of education among the new generation's role models, lingering just a bit too long on the murders. Sebastian challenges the anonymous chatter, and it soon becomes clear that his faceless opponent has information about the murders no one but the police – and the murderer – have access to.
In Those Who Failed, the fifth book in Hjorth & Rosenfeldt's internationally bestselling series about Sebastian Bergman, Sebastian and his team are faced with a complex and devious serial killer that will threaten the very existence of the team.
Reviews
"That the authors know their profession is evident. /…/ They are experts at creating suspense and allowing the reader to be surprised by new events and clues in the police investigation."

"[Those Who Failed] is the best in the series. All the characters at Homicide evolve, and the plot is well composed and credible in all its madness. /…/ This is really good and as usual there's a remarkable cliffhanger at the end."

"A riveting contemporary thriller. Once you have started, you cannot stop reading."

"Skillfully composed and filled with suspense /…/ Those Who Failed ends with a real cliffhanger. I can hardly wait until the next one"

"This novel is not only a Sebastian Bergman crime story, but a thorough and very well-written reportage of professional investigative work primed with surprising shifts and developments in the Criminal Investigation Department's internal dynamics"

"[Those Who Failed] might very well be the crime hit of the spring! The author duo stands for guaranteed quality."

"With their fifth novel about psychological profiler Sebastian Bergman, Those Who Failed, Michael Hjorth and Hans Rosenfeldt prove that they can do more than just entertain, and that they have the ability to embrace their characters so that they become whole people with good and bad sides, which is rare in the crime fiction universe. These two authors, who both have written scripts to Wallander and The Bridge, are adept at building tension and tearing down vacuous everyday generalizations. Although each chapter ends (deliberately?) abrupt, their writing is tight and they deliver intense and effective suspense with dedication and insight."

"A brilliant and tremendously addictive series, thanks to a mix of ingeniously plotted stories and realistic characters."

"[It's] amazing how the Northerners find all these good authors. And Hjorth & Rosenfeldt are currently the most interesting of them all."

"The two Swedish authors Hjorth & Rosenfeldt are once again on their way to do something magnificent, and that with a bang!"

"The Bergman-series is totally addictive."

"Cleverly designed and thrillingly told."
Author

Hjorth & Rosenfeldt

Published

2015

Genre

Pages

402

Reading material

Swedish edition

Rights sold

Bulgaria, Era

Czech Republic, Host

Denmark, Hr Ferdinand

Estonia, Helios

Finland, Otava

France, Actes Sud

Germany, Rowohlt

Hungary, Animus

Italy, Einaudi

Macedonia, Matica

Netherlands, Cargo

Norway, Aschehoug

Poland, Czarna Owca

Portugal, Suma de Letras

Russia, AST

Serbia, Vulkan

Slovakia, Ikar

Spain, Planeta

Sweden, Norstedts