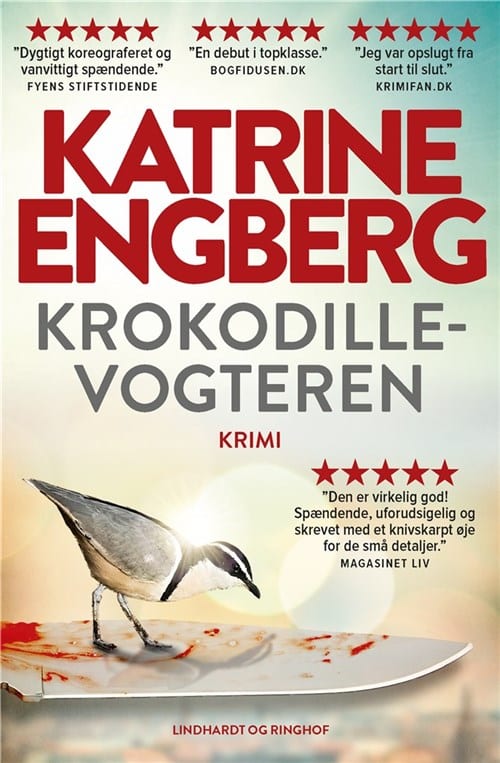 Krokodillevogteren
The Tenant
The Copenhagen series #1
A young woman is discovered brutally murdered in her home, a pattern carved into her face. Police Sergeants Jeppe Kørner and Anette Werner of the Copenhagen Police are assigned to the case. A link is quickly established between the murder victim – Julie Stender – and her landlady, Esther de Laurenti. Seeing in Julie a shade of her own carefully hidden past, the older woman has used Julie as a character in her still unfinished mystery novel. Something that resulted in the young woman's death both on and off paper.
But when the evidence points to Esther being the focus of a game of vengeance rather than the killer, Police Sergeants Jeppe and Anette must go back into the two women's pasts to uncover the secret that made them targets of not only a killer bent on revenge, but the puppet-master who has been pulling his strings all along.
Katrine Engberg's debut novel The Tenant is a finely wrought work of chilling suspense, full of sinister twists and sensitively portrayed human fates. The novel is the first in a series featuring the Police Sergeants Jeppe Kørner and Anette Werner.
"What a fantastic debut! I love the characters, the sparkling prose and the depiction of Copenhagen. Katrine Engberg is an absolute star!"
–Camilla Läckberg
"It's not often that a debut novel is such a home-run."
–Sara Blædel
"A stunning debut. Katrine Engberg's unforgettable characters and brilliant plot twists will captivate readers of suspense fiction."
–#1 New York Times bestselling author Kathy Reichs
Reviews
"[A] fast-moving first novel. /…/ Engberg's sparkling cast and palpable evocation of a society U.S. readers will find similar yet foreign keep the pages turning pleasurably."

"Engberg's English language debut promises a gritty, unflinching procedural series, and will leave readers craving the translation of Kørner and Werner's next adventure."

"Everyone has secrets, and some secrets are lies. Engberg's debut novel, a sleeper hit in her native Denmark, is sure to attract comparisons to other Scandinavian thrillers. /…/ Layered, character-driven suspense from authors including Erin Kelly and Ruth Ware may prove to be more apt read-alike suggestions."

"Engberg's fast-paced narrative is bolstered by an interesting and quirky cast as well as an intriguing setting. /…/ A lot of fun."

"Gripping addition to the Scandinavian crime fiction pantheon."

"Engberg's debut features dark family secrets—and a smorgasbord of surprises."

"Another feather in the plumed cap of Scandinavian noir. Engberg's plotting is dexterous, and her character-centered storytelling aligns nicely with her unhurried descriptions of Copenhagen."

"It's hard to believe this is [Katrine Engberg's] first book, so assured is the writing. Her characters are fully realized /…/ The story is as complex as the characters. /…/ The Tenant is Engberg's first book to be translated into English, but it's unlikely to be the last."

"[A] brilliant first novel. /…/ Engberg is excellent at building character and she builds suspense at the same time. The plotline is solid police work, as hallmark of good Danish crime fiction. /…/ While the police work will remind readers of Jo Nesbø, the cultural mileu is far closer to the elegant novels of Peter Hoeg or the Department Q books. Very Danish. Very good."

"The Tenant offers a mix of suspense, humor and tragedy."

"A nicely realized police procedural."

"An utterly breathtaking debut."

"[Katrine Engberg] mixes fiction and reality in her suspenseful thriller. /…/ The Nordic crime scene is one author richer. /…/ Thrilling detective stories with a finely constructed plot."

"Well-narrated Danish entertainment."

"A classic Scandinavian crime novel with surprising twists and tons of wild action."

"Katrine Engberg is definitely the discovery of the year and she most definitely deserves a spot on the bookshelf."

"It's a great debut! With her first novel, [Katrine Engberg] delivers a suspenseful thriller. /…/ A multilayered novel full of depth. /…/ With the two investigators Jeppe and Anette, [Engberg] has created an interesting duo that you'll want to continue to follow."

"Engberg's acclaimed debut goes deep into the abyss of the human soul. /…/ As a reader you are rewarded with a convincing build-up and well-written story that goes way beyond the average Scandinavian crime novel."

"[A] strikingly changing narrative."

"There are books that grab ahold of you – from the first to the last page. [The Tenant] by the Danish author Katrine Engberg is such a book."

"Successful debut from a writer who knows the depths of the human soul."

"There is nothing beginner-like about Katrine Engberg's debut novel."

"A captivating puzzle game. Excellent!"

"Suspense on a high level."

"The author builds the tension in a clear-cut, logical and also amazing way."

"The Tenant is a literary puzzle game, a hair-raising Scandinavian thriller."

"Katrine Engberg tells an enjoyably story about odd, lonely people and unexpected friendships in a Copenhagen full of eerie, abandoned places."

"Katrine Engberg's Copenhagen crime novel breaks the mould. /…/ Engberg writes with liveliness. She establishes a literary world with consistency and detail. Is it thrilling? Absolutely."

"Action, lovely milieu depictions, insightful character descriptions and a complex plot that has children's vulnerability as a lead motif and results in an unexpected conclusion. A page-turner."

"A charming blend of a police procedural with a whodunit. /…/ A thrilling and well-written narrative framed by vividly depicted milieus."

"It's always a pleasure when there comes along a crime fiction debutant that writes so assuredly, refreshingly and playfully, and has created intriguing and colorful characters. If you add a well-constructed plot with a lush scenery to that, you have a crime novel well worth reading."

"This crime fiction debut is skillfully choreographed and gripping beyond belief /…/ Engberg's debut is successful for several reasons. The genre's 'mandatory' clichés have been suppressed, the plot is skillfully choreographed, and the clues given to the reader are original. /…/ The whole thing is simply inconceivably thrilling."

"Let it be said at once: Engberg is both focused and a good weaver – the web she spins for her readers is finely meshed and gripping. /…/ One will in other words get one's money's worth with Engberg's successful crime novel about betrayal, revenge, and lost children. She writes superbly, and has crafted an ingenious plot that promises good things for any possible continuation. The many threads in the web of the story she's spun, hold all the way to the end. /…/ The Danish crime fiction scene has a new champion plot weaver."

"This crime novel isn't just another by-the-book crime novel from a new authorship. It's truly amazing! Thrilling, unpredictable, and written with a knife-edge sharp eye for the little details that make characters full-bodied, extremely human – and, well, real."

"The suspense lasts from start till finish in Katrine Engberg's crime fiction debut."

"A crime fiction piece with an ingeniously thought-out plot."

"If you like thrillers and are looking for a new favorite writer, this could very well be the place to start. The Danish author Katrine Engberg makes her debut as a crime writer with the original and spine-tingling story The Tenant."

"Katrine Engberg's pen is light, fluid and detailed. /…/ Artfully crafted plot and a beautiful prose."

"Director and choreographer Katrine Engberg debuts with a thrilling crime novel with an artfully planned plot. /…/ One can clearly sense the author's in-depth knowledge of that part of the theatre world which the audience never gets to see. "
Author

Katrine Engberg

Published

2016

Genre

Pages

368

Reading material

Danish edition

English translation

Rights sold

Arab World, Al Ahlia

Bulgaria, Hermes

Canada, Simon & Schuster

Czech Republic, Albatros/Motto

Denmark, Lindhardt og Ringhof

Estonia, Eesti Raamat

Finland, Otava

France, Fleuve Noir

Germany, Diogenes

Greece, Dioptra

Hungary, Alexandra

Iceland, Ugla

Italy, Marsilio

Lithuania, Baltos Lankos

Netherlands, Bruna

North Macedonia, Sakam Knigi

Norway, Bonnier Norsk

Poland, Zysk

Portugal, Minotauro

Romania, Crime Scene Press

Russia, AST

Serbia, Dokaz

Spain, Maeva

Sweden, Forum

Türkiye, The Kitap

UK, Hodder & Stoughton

US, Scout Press