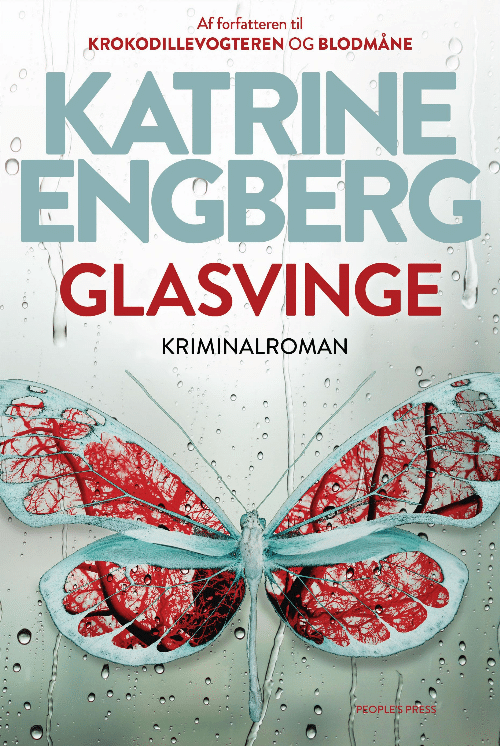 Glasvinge
The Butterfly House
The Copenhagen series #3
Saturday, October 14th. The coronary care unit at Rigshospitalet in Copenhagen. A nurse fills a syringe with an overdose of heart medication and enters the room of an older male patient.
Monday, six days earlier. A deliveryman is doing his rounds in central Copenhagen when he makes a macabre find: the naked body of a dead woman in a fountain on the main pedestrian street. Bizarre, symmetrical cuts cover her skin. The cause of death appears to be exsanguination.
Police Sergeant Jeppe Kørner is assigned to the case, but this time he doesn't have his partner Anette Werner by his side. Werner is on maternity leave – or should be, rather. The investigation takes Kørner, his new partner, and Werner into the heart of the healthcare system. It's a world where great empathy and care is shown, but ambitions fester under the surface.
Meanwhile, Esther de Laurenti ought to be writing on her novel but is suffering from a case of writer's block. And what could be depression, as well. As her friend is suddenly admitted to Rigshospitalet's coronary care unit, Esther seeks help from a psychiatrist who unbeknownst to her has ties to the ongoing murder case. Esther and her friend are now both at the mercy of a system in decay that's hiding a killer, and the hours till the next death have started ticking.
The noose tightens, but around whose throat will it close?
The Butterfly House is the third novel about the Police Sergeants Jeppe Kørner and Anette Werner.
"Katrine Engberg follows up on her successful debut novel The Tenant with a captivating story that one simply cannot stop reading."
–Anders de la Motte
A Times "Best thriller and crime novels of 2021"
Reviews
"Well-crafted. /…/ By addressing the issue of society's treatment of the mentally ill, Engberg brings the complexities of life into this superior Danish police procedural. Fans of Scandinavian noir will hope this series has a long run."

"A second engrossing piece of Nordic noir, after the best-selling The Tenant (2020), from Engberg, who brings skills acquired as a dancer and choreographer to her writing. There is not one misstep, not one moment or movement out of sync. /…/ Once again, Engberg's two detectives are impeccably defined, especially postpartum Anette, and a host of supporting characters are also sensitively portrayed. The theme is troubling yet timely."

"Satisfying. /…/ [The Butterfly House] will please fans of police procedural."

"The most impressive element of the book is the mystery that forms its red-hot core. /…/ It is my fervent wish that Katrine Engberg continues to write and never stops."

"Engberg has crafted a fine police procedural. She is an author to look out for, one who will be cited years hence as a key player in Nordic noir."

"Katrine Engberg made a big splash last year with her impressive debut novel, The Tenant, which introduced no-nonsense detective Anette Werner and her more thoughtful partner, Jeppe Kørner (yes, they rhyme). The Butterfly House picks up soon after where its predecessor left off. /…/ Engberg isn't sentimental or preachy — Tara Chace's translation keeps the tone lively and colloquial — but she is insightful about why people act as they do, making this an unusually rich police procedural."

"The Butterfly House is an original and absorbing piece of work. /…/ Engberg's novels are bestsellers in Denmark and she is a name to look out for."

"Brazen and original. /…/ What adds to the narrative appeal is the oddball but winning nature of the two top cops on the case. Anette Werner has come late and grumpily to motherhood while Jeppe Kerner has trouble holding a relationship together, all the while being nagged by his pushy mother. Nothing domestic keeps either cop from stellar sleuthing."

"Many authors write smashing first novels and then completely crash on the second. This is one reason reviewers prefer to wait until book three before telling readers to buy in, but I love tipping people off to new and exciting writers, and when it pays off, it's pure pleasure. That's the case with Katrine Engberg /…/ Engberg's strength is her careful revealing of the clues and backdrop to the crimes. /…/ Werner and Korner are obviously scheduled to return, and, reader, I for one can't wait."

"The Butterfly House is impossible to put down. /…/ My highest compliments; I really liked the previous novel Blood Moon, but this one is even better."

"With The Butterfly House, Katrine Engberg has written a phenomenal crime novel."

"The Butterfly House is an absurdly good crime novel with a warm and touching crime story. Engberg's prose is as sharp as her husband's kitchen knives, a language that insists on constantly being enjoyable."

"Remarkable Engberg. A solid performance!"

"The Butterfly House is murder with a purpose. This will certainly advance the crime fiction genre and give reading a purpose."

"A real page-turner, horrifying and thrilling. The plot is well-constructed and the entertainment level high."

"The third bulls-eye from Engberg. Intensely suspenseful from the first till the last page."

"Katrine Engberg's The Butterfly House resembles a magic trick. It's elegantly executed. Nothing more will be revealed here. Read for yourself."

"Engberg writes with a great momentum and an idiomatic language that excels in sporadically flowering, almost poetic descriptions and an understated, edgy humor. /…/ As a plot maker, she is as solid as an old oak, and linguistically she is as light and playful as a – deadly – butterfly."
Author

Katrine Engberg

Published

2018

Genre

Pages

350

Reading material

Danish edition

Rights sold

Arab World, Al Ahlia

Bulgaria, Hermes

Canada, Simon & Schuster

Denmark, People's

Estonia, Eesti Raamat

Finland, Otava

France, Fleuve Noir

Germany, Diogenes

Greece, Dioptra

Hungary, Alexandra

Iceland, Ugla

Italy, Marsilio

Lithuania, Baltos Lankos

Netherlands, Bruna

Norway, Bonnier Norsk

Poland, Zysk

Portugal, Minotauro

Romania, Crime Scene Press

Russia, AST

Serbia, Dokaz

Spain, Maeva

Sweden, Forum

Türkiye, The Kitap

UK, Hodder & Stoughton

US, Scout Press