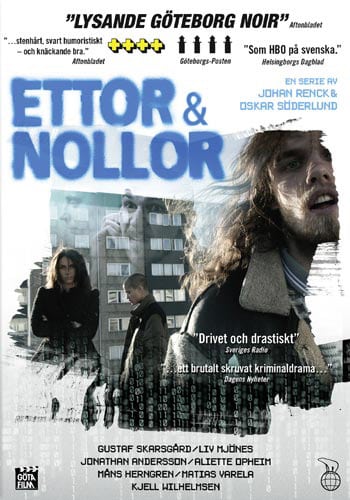 Ettor och nollor
The Fat and the Angry
A pair of young lovers witness a violent explosion with burning body parts flying all over the place. They have no idea that this horrible incident is the beginning of one of the most bizarre police investigations in the dark underworld of Gothenburg. The police soon connects a young man to the explosion but it is not as simple as it seems and soon the multi faceted truth unfolds involving high-end thieves, brutal criminals and corrupt politicians. The story, inspired by actual events, reveals a part of society nobody wishes to be involved in. It is the story of one of the world's largest credit card frauds, a world-wide scam which ended up in the hands of the FBI.
The two-part series is based on true events and depicts a gigantic credit card fraud taking place in Gothenburg, Sweden. It was aired on Swedish Television (SVT) in 2014.
Original idea and screenplay by Oskar Söderlund. Directed by Johan Renck. Starring Gustav Skarsgård and others.
Awards
Prix Europa Nominee

( Best TV Fiction)
2014

Seoul International Drama Awards

(Silver Bird Prize) South Korea
2014

C21 International Drama Awards

(Best non-English Language Drama Series) UK
2014
Close award list
Reviews
"Brilliant Gothenburg Noir /…/ The result is ice cold, filled with black humor – like a punch in the gut. The Gothenburg noir you didn't know you've always wanted to see."

"No need to see Johan Renck's two-part drama series The Fat and the Angry to realize that something is rotten in the city of Gothenburg. But it helps. Significantly. /…/ The social criticism is stinging. /…/ The fast tempo which grasps you from the start escalates in the final part and the cast is very impressive…"

"An un-Swedish and suggestive gangster drama. The Swedish welfare state is completly demolished in SVT's new series The Fat and the Angry /…/ For screenwriter Oscar Söderlund the series is in many ways a portrait of Gothenburg where the twisted crime story is inspired by real events. /…/ Among the gray and shaded facades, he [Johan Renck] has given life to characters who both are exaggerated, twisted and cynical. It generates an enjoyable entertainment to follow Gustaf Skarsgård who plays the uncrowned gangster king Karl Nilsson."
Screenwriter

Oskar Söderlund

Premiere

2014

Genre