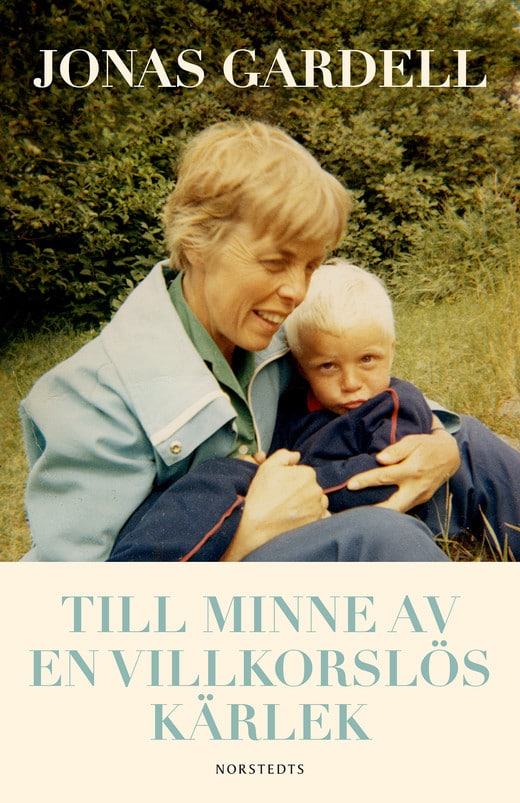 Till minne av en villkorslös kärlek
In Memory of an Unconditional Love
In Memory of an Unconditional Love is the story of the (in fiction) late author Jonas Gardell and his family. A family that is much like any other, except perhaps for the creative way in which it handles weakness. In the Gardell family, secrets and unwanted truths have a tendency to change shape, transforming into legends that – much like a skillfully executed magic trick – dazzle the eye with a prettier truth.
The best teller of such legends was without a doubt Ingegärd Rasmussen, Jonas' loving mother. The eccentric Free Church-raised Ingegärd, born in the not-so-roaring Swedish twenties, was a woman surrounded on all sides by obstacles dictating what a woman should be. The intrepid Ingegärd took on these ideas, and indeed the world, with the fierce battle cry, "I must be free!"
Ingegärd joins forces with Bertil, a man of the future. Together the two dreamers will face twentieth century Sweden, a rapidly changing nation. But their life together nearly comes to an end when Ingegärd almost dies while giving birth to their youngest child, Jonas. Looking down at the helpless bundle in her arms, she realizes that she must survive for the poor child's sake. Then and there, mother and son form a pact that's never to be broken.
In Memory of an Unconditional Love is a novel of epic love, solidarity and betrayal as much as it is a portrait of a bewildering yet endlessly charming woman. Written with an irrepressible joy and humor, it sparkles even as it cuts deep into life's most painful moments.
Awards
Shortlisted for the Book of the Year Award

Sweden
2019

Shortlisted for the Storytel Awards

(Best Fiction) Sweden
2018
Close award list
Reviews
"A beautiful and an intense portrayal of love."

"[Jonas Gardell] is one of our country's most important authors; the way in which [he] tells a story is wonderful and necessary. What I feel for [his] book is nothing more and nothing less than unconditional love."

"A fantastic portrayal of a kooky mother. /…/ It's terribly funny. /…/ Gardell has a wonderful ability to extract the humor in a situation without for a moment forgetting – or hiding – the darkness that the laughter tries to hide."

"This is a rich, careening chronicle full of philosophical slapstick. /…/ And behind the playfulness there's the profound gravity, the unconditional love. The portrait of a human being on her way into dementia is fantastic. Dementia doesn't come without the comedy of the absurd, but incredibly skillfully, Jonas Gardell lets his mother keep – or rather returns to her – the freedom that she was perhaps deprived of in everyday life. Who knows? I probably have to read the novel again, because when there's tears in your eyes the text turns a bit blurry, and the reader's own thoughts will interfere, as they do in really good books."

"Jonas Gardell is a magnificent storyteller who's not afraid to be drastically clear, or even preach to the reader. His new novel In Memory of an Unconditional Love is a family chronicle, a childhood depiction and a portrait of a mother that grows into a picture of society. /…/ Jonas Gardell has during the decades that have passed since his fictional death grown from an irresistibly unique comedian […] into a three-time honorary doctor – in theology, medicine, and philosophy. /…/ An honorary doctorate in history would be appropriate as well, for his eye-opening, credible stories about modern Swedish society. And still Jonas Gardell remains most of all a true romantic writer, in the traditional sense – one who handles his engaging and deeply personal voice ever more skillfully with each novel."

"It's deafening, heart-breaking. At times, In Memory of an Unconditional Love hurts so much that I can hardly bear it. Yet at the same time, I'll be laughing aloud in the same breath. /…/ While I read, I think about how such a painful book as this can also be so full of comfort, and gradually come to the conclusion that it's the prose itself that consoles."

"When it heats up, it truly burns, and [Gardell] has something important to say about how humanity imposes guilt, its denial and suppression, its despise for weakness and how family life snares women into a nearly unbreakable female trap."

"What does it mean to write like Jonas Gardell? He has a wondrous ability to make people feel, sympathize, and does so without resorting to any of the simple tricks from the writer's toolbox."

"A moving homage to [a] mother. /…/ It's both educative and entertaining, and bears witness of an author with solid experience and enough self-confidence to experiment with devices."

"[In Memory of an Unconditional Love] is both vivid and humorous. You breathe and love the novel. And most of all, you love her, who gave her son an unconditional love that he too – even when he depicts her least flattering sides – never tries to hide that he feels as well. /…/ The portrayal of the years when she slides into dementia […] is among the most beautiful and loving things I have read in a long time."

"Heart-rending. /…/ On the mark. /…/ A warm and melancholic novel."

"A whopper of a novel full of tenderness."

"Excellent […] this novel will captivate and inflame the many fans of this author."

"Jonas Gardell writes beautifully and sensitively. /…/ Not only is Gardell a storyteller extraordinaire, he has also mastered the nuances of language and knows how to employ his own identity in the service of fiction."
Author

Jonas Gardell

Published

2018

Genre

Pages

551

Reading material

Swedish edition

Rights sold

Denmark, Turbine

Finland, Johnny Kniga

Norway, Vigmostad & Bjørke

Sweden, Norstedts