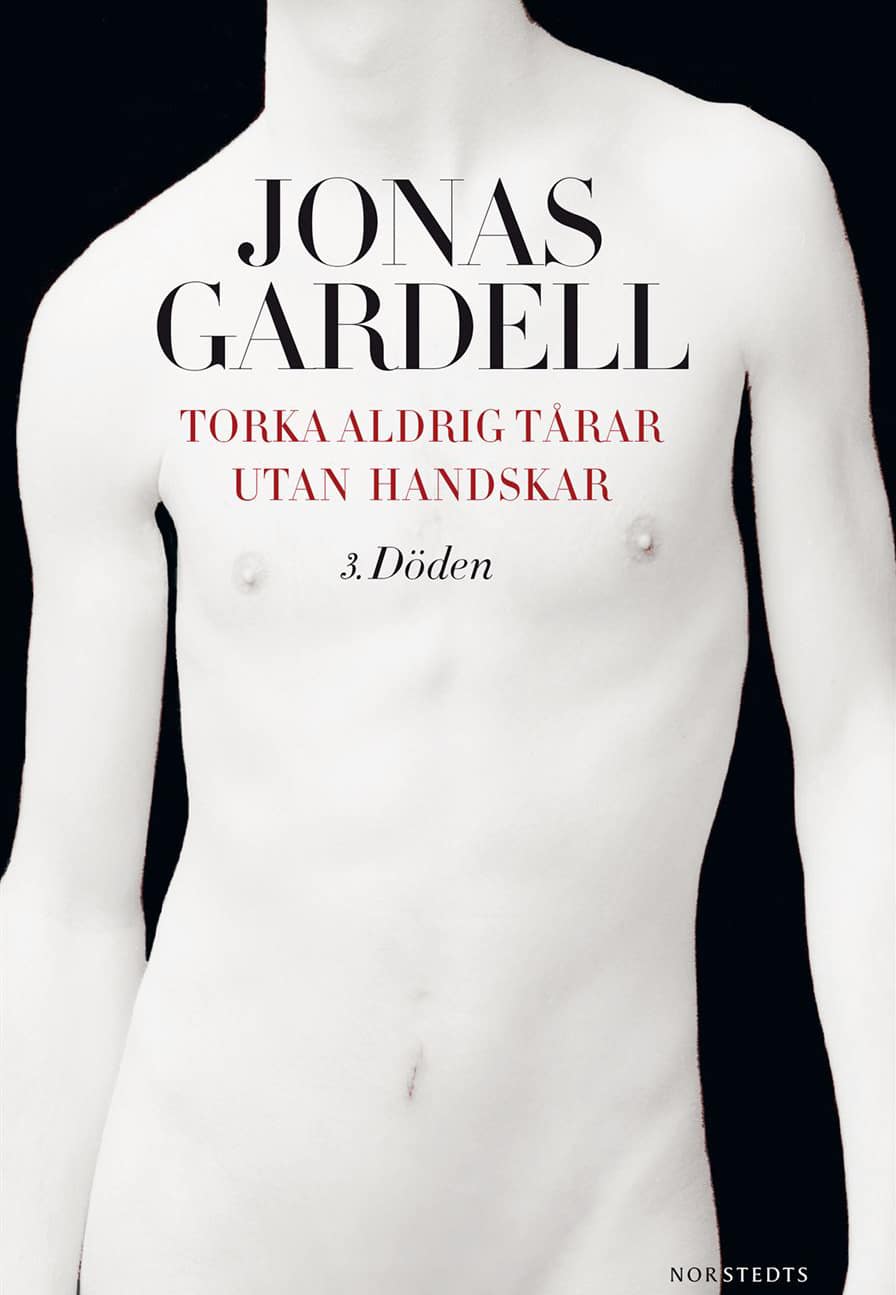 3. Döden
3. Death
Don't Ever Wipe Tears Without Gloves #3
This is the story of my friends. Of Paul and Bengt, Seppo and Lars-Åke. Of Rasmus and Benjamin.
The ones who sought freedom and love in a time not long ago.
This is the story of the disease that took the lives of my friends while they were still young. A story of suffering and degradation and betrayal – but also, about a love that defies all.
Because you know it's true: You can't live your life over. That's the beauty of it.
What is told here is true. It all happened.
I was one of those who lived. I wanted to break the silence.
I have done so now.
Death is the final installment in Jonas Gardell's heart-rendingly beautiful trilogy of love, sickness and loss – the Don't Ever Wipe Tears Without Gloves suite.
Reviews
"Great warmth, a genuine wish to nuance, and what is no doubt an ocean's worth of personal experience. Even when describing the most unbending protesters of homosexuality, the author displays generosity and insight in the tortured human mind. /…/ This half documental project is thus turned into true literature, a touching and thought-provoking story of human fates."

"'I look forward to the next book,' I wrote in my review of the first installment. I haven't been disappointed. /…/ A story to obsess over."

"With the help of excellent portraits he illuminates the lonely fight against the sickness, but also against the family's, and society's, lacking understanding of their sexual identity."

"Don't Ever Wipe Tears Without Gloves remains one of the, by far, most well-written, well-researched, and relevant pieces of literature about the AIDS epidemic."

"This book hurts, so be forewarned! /…/ Still, Jonas Gardell has managed to incorporate humor all the way – black humor, of course. There are tears and celebrations till the last page. The books are standout, vital, and give food for thought. I can't do them justice in this review, just recommend you to read them."

"Don't Ever Wipe Tears Without Gloves is a masterpiece. The feat of having 900 pages of text transform homosexual men's suffering and death into a national concern of the general populace is herculean, to say the least."

"[A] contribution to our future national canon. /…/ An epic of lasting value. A literarily and politically charged work that the reader will have to relate to and engage in."

"The life-long love between Rasmus and Benjamin in Jonas Gardell's Don't Ever Wipe Tears Without Gloves has the potential to become a classic within Swedish romantic depictions. /…/ The last chapters can be counted as – without revealing how it all ends – some of the best Gardell has ever written."

"[A] heartrending conclusion. The third book […] is if possible even more gripping and heartrending than the previous two. /…/ No plotlines are forgotten, and though this final part concludes on a somber note, it still has an optimistic ring to it. /…/ I especially wish that Don't Ever Wipe Tears Without Gloves would become part of the school curriculum. That students today would get to take part of Jonas Gardell's witness account, thereby learning caution. But most of all, I hope they'll learn that it's never wrong to show human compassion, and that it's OK to wipe tears without gloves."

"Jonas Gardell scathingly addresses medical professionals and the Minister of Social Affairs, whom he claims let early cases unnecessarily suffer and die. /…/ With his trilogy, [Gardell] saves an important part of our society's development from silence, and thereby from going forgotten. That is why Don't Ever Wipe Tears Without Gloves is essential."

"This is one of the most important depictions there are of contemporary society, posing some difficult questions – as the best books do."

"Jonas Gardell's magnum opus."

"The result is utterly brilliant. /…/ But it's towards the end of the novel that it rises up like a monument to all the fallen. When Paul's funeral is described, it's not just Paul's, but the funeral of all who were forgotten. Of all those who were made into heterosexuals through the lies of their families, claiming they has suffered from cancer (not AIDS) after they'd died. In an almost magical way, Gardell lends a body to all of these people in the form of his characters, giving them the redress they can only have now, many years later. When their memory rises up and lives on."

"A fiery contemporary drama. /…/ With this installment, Jonas Gardell recovers the spark of the first part in the trilogy. Yes, maybe this final book even surpasses the earlier two. /…/ This is a story about a piece of contemporary history that mustn't be forgotten."

"Gardell gives strength and courage. /…/ Society itself is one of the protagonists in Gardell's trilogy. It's one important factor in explaining the power and significance of the novels, and what gives them such a high level of urgency. /…/ Don't Ever Wipe Tears Without Gloves will be read by generations to come. It will instill courage, give strength."

"Yet, I don't think we fully grasp the width of the effect that Gardell's project's truly had. /…/ Now all that remains is the question of whether we've learned anything from history. If we would do something different were a new plague to strike a group so far down on the social ladder. I pray we never find out.""

"A sorrowful and brightly anticipated finale. /…/ This is a fantastic suite of novels that has shed a light on a forgotten part of our modern Swedish history. It ought to be read by all."

"Gardell concludes [his trilogy] with panache."
Author

Jonas Gardell

Published

2013

Genre

Pages

292

Reading material

Swedish edition

Rights sold

Finland, Johnny Kniga

France, Gaia Editions

Netherlands, De geus

Norway, Vigmostad & Bjørke

Sweden, Norstedts