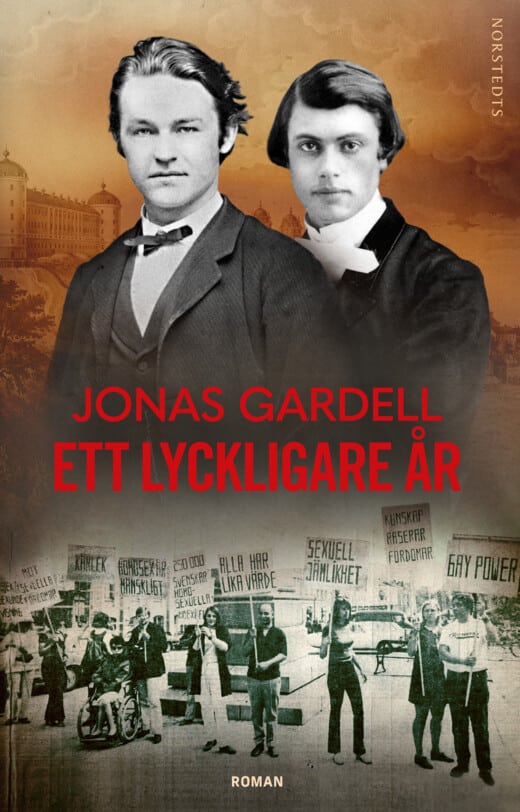 Ett lyckligare år
A Happier Year
In 1879, renowned philosopher Pontus Wikner pens the text he will call "Psychological Self-Confessions." The manuscript is locked in a tin box and sent to Uppsala's University Library, where it will, per Wikner's instructions, be left unopened for a minimum of fifty years. The unassuming box's contents are so controversial and scandalous that rumors of it alone cause a panic among Wikner's circle of friends, who try to prevent it from ever being opened. Yet Wikner's wish is to one day have the manuscript published. In a future where everything has changed. In a happier year.
In 1970, almost a hundred years after Pontus Wikner's melancholy confessions, a group of youths in Örebro form the Gay Power Club. The eccentric Ronny walks the town's streets in full drag under the midday sun. The lovers Vanja and Kerstin create national headlines as "the girls who want to get married." And together they perform Sweden's first ever march for the freedom of homosexuals.
A Happier Year is the gripping story of students Pontus and Herman and their impossible love story of the late 19th century. It is the fantastical tale of a few brave young people from a small-town in the middle of Sweden during the second half of the 20th century, youths who've decided that they too have a right to be happy. It's a dizzying novel of love in a time when love had no language, and the true story of how the fight for freedom began.
Reviews
"A piece of vital homo history."

"Entertaining and passionately told."

"One of our time's most important storytellers."

"A passionate novel of love and loneliness."
Author

Jonas Gardell

Published

2021

Genre

Pages

309

Reading material

Swedish edition

Rights sold

Finland, Johnny Kniga

Sweden, Norstedts