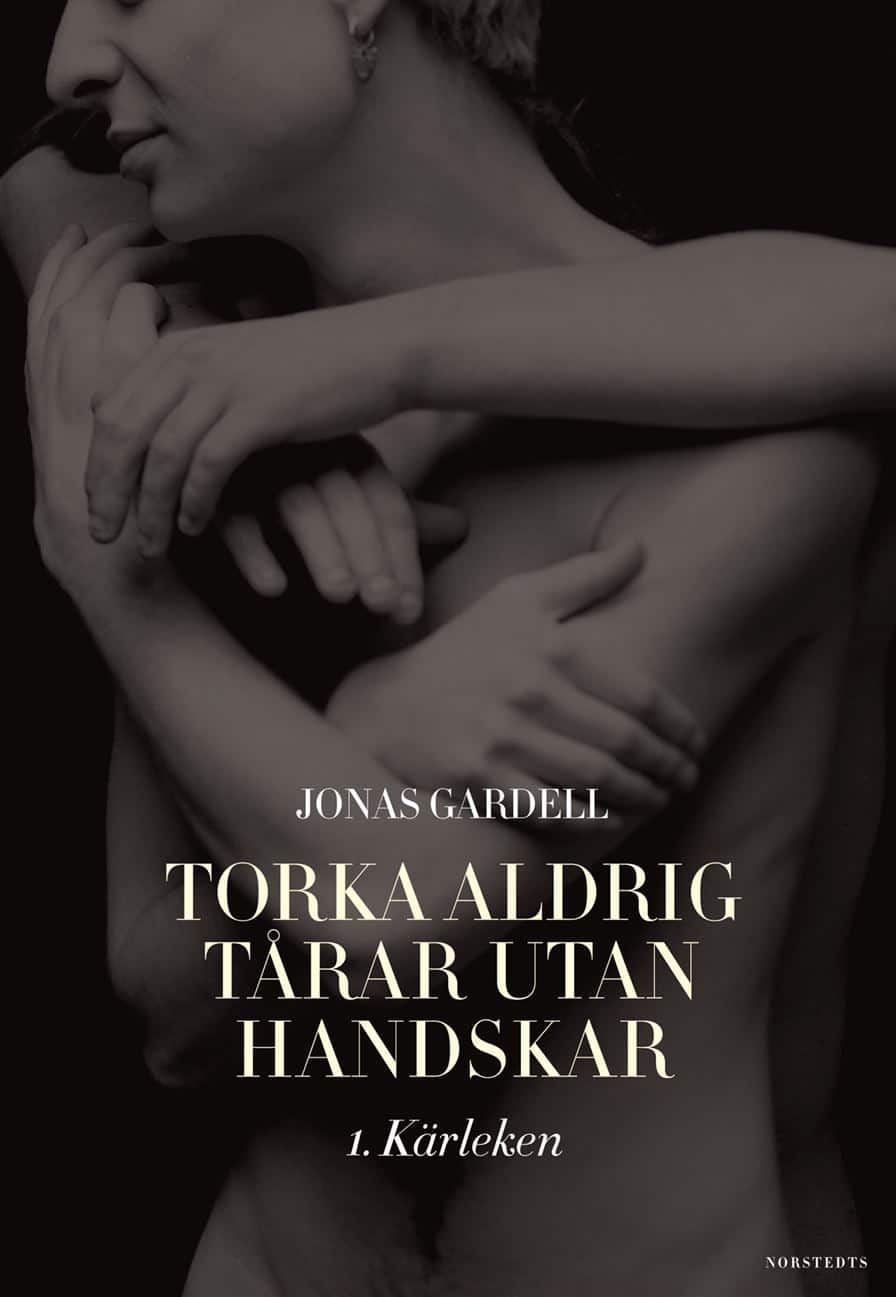 1. Kärleken
1. Love
Don't Ever Wipe Tears Without Gloves #1
When Rasmus steps off the train in Stockholm in September 1982, he's leaving stuffy little Koppom behind for good. Young and beautiful, he throws himself into the welcoming arms of the LGBTQ community.
Benjamin is a Jehova's Witness, knocking on doors to spread God's word. Nothing can shake his faith. Until the day he rings the doorbell of Paul, the kindest, funniest and bitchiest gay man God ever made.
Then on Christmas Eve, as snow covers the city's rooftops, Rasmus and Benjamin meet. Things are never the same again.
This is a true story: It happened here, in this city, on these streets, among these people. In a city where most continued to live their lives as if nothing had changed, young men began to sicken, to fade, and to die.
I was one of those who lived.
Jonas Gardell's trilogy Don't Ever Wipe Tears Without Gloves is a gut punch to the collective conscience of the modern world even as it depicts the seductively poetic love story of two young men, thereby chronicling the greatest tragedy of the late 20th century: the 1980s AIDS epidemic.
"A deeply moving and intimate look at twin pandemics – AIDS and homophobia – that defined and decimated a generation. A novel haunted by love, ghosts, and rage."
–David Ebershoff, author of The Danish Girl and The 19th Wife
Reviews
"A chronicle of this dramatic decade, and a plunge into darkness that hope has yet to illuminate. A requiem for a lost generation."

"Don't Ever Wipe Tears Without Gloves is both a tragic love story and a monument to lovers lost."

"Precisely documented history – social and political – and filled with a rage and energy most often expressed in cutthroat humor. /…/ A literary monument dedicated to missing friends, this moving novel is first and foremost an extraordinary testimony to life."

"Essential and so useful. Outstanding in many regards, it gives the reader so much more than romance."

"The author describes with precision the fragility of sentient and differing beings, and the difficulty they have in finding their place, even within their own families."

"Jonas Gardell writes with as much humor as he does melancholy."

"Gardell puts his name on one of the greatest books of the past year."

"Beyond the documentary side of the novel, its humor and its sometimes harsh realism bathe the story of Rasmus, Benjamin and their friends in what Shakespeare would have called 'the milk of human kindness'."

"A formidable romantic testimony."

"True literature – a moving and thought-provoking life story."

"The storytelling is blazing hot all the way through and is carried by a deep and somber commitment. /…/ Humorous and sparkling. /…/ I'm very much looking forward to the next book."

"[A] well-crafted and lucid piece from a gender-revolutionary time."

"I wouldn't be surprised to see the entire suite of novels receive six out of six stars."

"Tough and touching reading."

"A classic within modern Swedish literature, says the publisher. Well-deserved, says the reviewer."

"Swedish Jonas Gardell's wondrously sincere trilogy about the AIDS epidemic in 1980's Sweden […] numbers among the best and most personal books published in Scandinavia this decade."

"A beautiful book about the fight to find love."

"Well-written and moving […] a fantastic portrait of an era – funny, tragic, and current."

"Already now, I have a sense that Gardell is writing his way into Swedish literary history. /…/ Awed, I conclude that Jonas Gardell is probably the only individual who could tell the story of our youngest and most fragile of brothers, and the tragedy which struck them just as they'd been granted freedom of life."

"A lesson in history like no other."

"Get your tissues ready and brace yourself."

"Jonas Gardell has written an absolutely, utterly wonderful romance about Rasmus and Benjamin and the family which comes into being when the original one can't cope. It's also a declaration of love for his friends, the culture and gayness before, during and after the first AIDS epidemic. It is nigh on perfect."

"Jonas Gardell's novel has the potential to become a classic for its depiction of eighties' Stockholm alone. Add to it the homosexual and AIDS perspective, and there's no longer any room for argument. The story perfectly captures how the gays, only just defiantly beginning to shape their own culture, were struck down by the outbreak of AIDS."

"If you only read one book this year, make it Jonas Gardell's Don't Ever Wipe Tears Without Gloves."

"A story of importance that many ought to read."

"I am impressed and grateful."

"Gardell's literary project originates in a wish to write the greater story of a silenced chapter of Swedish (homo) history, a chapter no one might have cared about if it wasn't for the panicked fear of oneself falling victim. There's an urgency to this novel, one that's certainly rare to find in books. I am very much anticipating the sequel."

"The first installment of Gardell's planned trilogy offers gripping and thought-provoking reading, written by an author at the top of his game."

"As a dirge, as a reminder, as a settlement, as rehabilitation, as a declaration of love – and not least, as an utterly vital piece of written history – [Don't Ever Wipe Tears Without Gloves] is all that I could wish for. And despite knowing that things will get worse before they get better, I'm waiting for the sequel."

"It's a riveting and enlightening novel that Jonas Gardell has written."

"Jonas Gardell does it brilliantly: With great, infallible balance he walks the taut line between the darkest of tragedies and brightest of hopes for the future, between riotous joy and harrowing sorrow."

"Jonas Gardell writes history as he steps into the silence. He steps into the abandoned halls of memory, filling them with life and dignity."

"I'm sitting here, wondering if there's any other way of describing the book other than 'fantastic'. It is such a beautiful and tender story, that all the same has a darkness to it."

"So powerful, so gripping, and so utterly necessary."
Author

Jonas Gardell

Published

2012

Genre

Pages

295

Reading material

Swedish edition

English translation

Rights sold

Finland, Johnny Kniga

France, Gaia Editions

Korea, Marco Polo

Netherlands, De Geus

Norway, Vigmostad & Bjørke

Sweden, Norstedts