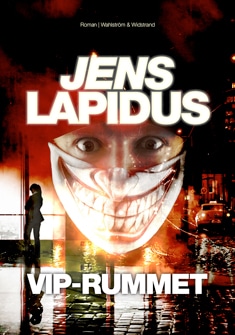 VIP-rummet
The VIP Room
Top Dog #1
Najdan, sometimes called Teddy, is out of prison after eight years behind bars. His mind is made up; he is through with the criminal lifestyle. But he is completely broke, the employment services office is a joke, and he is forced to move in with his sister – which is bad news for both of them. When a debt collector from his past shows up and demands three hundred thousand kronor within a week, the situation gets out of hand.
Teddy is offered a job: to track down a young man who has been kidnapped. The man's parents don't dare contact the police. Instead, they've turned to their lawyer for help. It's a classy law firm and the set-up almost seems clean, but Teddy has promised himself to keep a safe distance between himself and all illegal activity. But the debt collector is breathing down his neck and finally, he accepts the offer. Together with one of the firm's rising young stars, the exceedingly adept Emelie Jansson, Teddy begins the search for Philip, a snobbish young businessman whose resumé proves increasingly dirty the deeper the unlikely duo digs into his past.
Emelie is hell-bent on a rocket career and Teddy wants to free himself of debt. She has been chosen for the job because she is skilled and effective, Teddy has been chosen… well, why? The firm's CEO knows something about Teddy and his past that nobody else seems to know.
Emelie and Teddy make for a comically mismatched pair, yet they work well together. But they don't have much time: the kidnappers are running out of patience, like sand running through an hourglass.
The VIP Room is the first stand-alone installment in a new series by Jens Lapidus, who, with his Stockholm Noir trilogy – Easy Money, Never Fuck Up and Life Deluxe – has become one of Sweden's most read and critically acclaimed authors.
Click here to watch a book trailer on The VIP Room made by Jens Lapidus' Swedish publisher Wahlström & Widstrand.
Reviews
"Clever, sharp and with a high pace. The characters are nuanced and credible, and the scenery is depicted in a dark and exact way, without any room for adornments or idyllic descriptions. The language is almost cinematic, and the story keeps its quality all the way to the action-filled finale, where the embryo to a sequel is hinted in passing."

"There are at least four different plots unfolding at once, all successfully. Regarding suspenseful ingenuity this novel holds a high standard on the Stieg Larsson scale, although Jens actually writes better than Stieg."

"… The VIP Room [constitutes] a good starting point for the coming two titles. I want to know what will happen to Teddy, and I want to know more about his immigrant family, his network, and the upper class whose privilege Lapidus depicts with elegant contempt. I want more of Lapidus on the Swedish public scene, period. He is a lawyer with honest social pathos, and has a perspective on crime policy that few have the courage to express today. He is needed, both as a lawyer, as an author, and as a social commentator."

"[The VIP Room] includes parts of the ghetto and the criminal characters that [Lapidus] has depicted so well, but it is also more taut and direct in both setting and language."

"… Like a Tarantino-style revenge fantasy about the venture capitalists who have benefited from the dismantling of the Swedish welfare system."

"There is no denying that Lapidus is a very skilled crime writer. The pace is high, the plot is built in an impeccably suspenseful way, and it is hard to put the book away. Both the depiction of characters and of scenes is of highest quality."

"With short sentences and swift changes in both time and space that require only a few sentences, Lapidus creates a frantic pace worthy an action movie directed by an EPO-doped Michael Bay. / …/ In an equilibristic way, Lapidus puts together a giant puzzle with pieces that first don't seem to match, all the while avoiding a minefield of crime clichés and worn-out stereotypes."

"Lapidus writes in a cinematic way, with more concise and straightforward language than before… The VIP Room becomes an allusion not only for a chambre separée at the night club Clara's, but also for a world where certain people manage to enter any room with the help of only an ID and a bleached smile."

"[Lapidus]'s depiction of contemporary Sweden is exceedingly unpleasant: a class culture that has grown so harsh that all social mobility is gone. / …/ The VIP Room brings to mind American Psycho, Bret Easton Ellis's satire of the consumption society of 1991. Here is the dangerous vanity and violence within a young man who knows the world is his to own."

"Jens Lapidus newest – damn does it draw you in. The VIP Room will be the most powerful reading experience this summer."

"With this book Lapidus has followed up his Easy Money series, which was also adapted to film, in a good way."

"Jens Lapidus is back with a new series and asserts his position in the elite division of crime writers. / …/ A taut, precise, and well written thriller that shows the author's insight into, and understanding of, the environments he depicts – and his eye for constructing a complex story with surprising turns."

"Jens Lapidus has an undeniable talent for forceful storytelling, and he has the tools to drive the suspense level up and to depict people who live their lives outside the bounds of the ordinary. / …/ Throughout the entire story … runs a thread of abuse and addiction that Lapidus handles with both empathy and elegance. He turns the text in a rhythmic and almost cinematic way, with lots of breaks in action and jumps in time."

"Once again, Lapidus shows that it is no coincidence that his books sell in enormous quantities. Here is an author that knows how to construct a thriller that keeps the reader in an iron grip from beginning to end. / …/ Once again Jens Lapidus serves up his knowledge of different kinds of people and their environments. The heavy criminal who are locked up for long prison sentences. The nouveau riche and the Daddy's Boys at Stureplan's nightclubs. The chaos and the hate when these worlds crash into one another. Lapidus has toned down some of the rough language from earlier books, and that is no flaw – rather the opposite; it only increases the credibility. Lapidus' Norwegian fan club will love The VIP Room, and patiently wait for the sequel."

"Jens Lapidus is the hot shot Swedish lawyer who uses his experiences to write excellent and well-written crime novels. His strength lies in his thorough knowledge of the subject matter. / …/ One of the things that I find most appealing about the new novel is how he sees through the Stockholm elite's luxurious lifestyle and attitude – not least the hot shot lawyers, something he ought to know all about. At times he is cynical, at times he engages in social criticism, and this gives an excellent edge to the novel! The VIP Room is the first book in a planned new series. We look forward to the next one!"

"Lapidus draws good portraits. He depicts the lives of the main characters, where they reside, what they earn. Lapidus writes crime novels of highest quality about the capitalist class system."

"Everything is top-notch; the language is vivid, the crimes are modern and Stockholm is full of money and glitter."

"The VIP Room is a novel with a high moral standing point, and with it Lapidus strives to highlight corruption in the modern society."

"Lapidus has earlier proved that he can write enthralling, dense thrillers, and The VIP Room is no exception. The suspense level is high, and the cliffhangers are very effective. / …/ Overall, you can say that Scandinavian crime doesn't get any better than this."

"Lapidus joins a tradition of crime-writing and social criticism that ranges from Sjowall and Wahloo to Arne Dahl and Stieg Larsson. / …/ Lapidus' new series has the potential to become remarkable."

"With The VIP Room [Jens Lapidus] has created one of his best crime novels, which includes his characteristic genuine insight into the criminal underworld as well as into the balanced universe of legal firms, and which is built up, written and delivers exactly as a good crime novel should. Direct and vigorous, but with a new and appealing warmth in Lapidus' characteristic style noir. And, not to forget, it is also very well translated. / …/ The VIP Room is the first part of a planned series about the unlikely investigative team, and it has struck a bold and captivating cord."

"In the crowd of Larsson imitators and Nesbø competitors /…/ Jens Lapidus has forged his own path. He reaches the core of the gangster style novels by Dashiell Hammett. There's no police; the criminal world tells its own story. Added to this we have the Swedish financial elite, people who constitute their own class and hide skeletons in the closet. As is also the case in The VIP Room – the fourth marvelous novel by Jens Lapidus."
Author

Jens Lapidus

Published

2014

Genre

Pages

464

Reading material

Swedish edition

Rights sold

Croatia, VBZ

Denmark, Modtryk

Estonia, Varrak

Finland, Like

Greece, Metaixmio

Netherlands, Bruna

Norway, Cappelen Damm

Poland, Marginesy

Russia, AST

Sweden, Wahlström & Widstrand

Film rights sold

Sweden, Filmlance