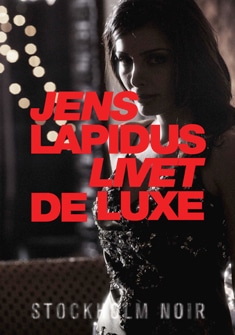 Livet deluxe
Life Deluxe
Stockholm Noir #3
The legacy is passed on. From father to daughter. From sister to brother. The attitude, the honor, the power. Dirty money – no matter where it comes from – will be clean cash after it has been laundered by the right person: JW hasn't wasted his time in prison. He's planning a grand comeback.
Jorge is tired of his new, square existence selling lattes and cappuccinos. Life deluxe looms on the horizon as he plans his last heist. This time it'll be big money. But the police are closing in. An undercover investigator has gotten deep into Stockholm's criminal circles, close to Jorge. Close to JW.
At the same time, someone is out to get the Godfather himself, Radovan Kranjic. Several people begin to question what life will be like with Radovan gone. Who will be Stockholm's new king – or queen? The techniques vary: protection, robbery, coke, pimping. The hunt for money, power and a care-free life somewhere warm and sunny continues. The goal is easy money – and life deluxe.
Life Deluxe is the final part of Jens Lapidus' Stockholm Noir triolgy.
Click here for a video interview in English with Jens Lapidus about Life Deluxe.
Click here for a video interview in English with Jens Lapidus about writing Life Deluxe.
Reviews
"A good old-fashioned gangster story about the godfathers of Sweden's criminal underworld."

"Lapidus: an unmatched aptitude for staging the dead-end of crime. Jorge: in perpetual oscillation between cold sweats, hubris, adrenaline jolts, unwieldy remorse. /…/ Lapidus: urban erudite. /…/ Dexterous narrative tie-ins with characters, the heft of betrayal, expectations and legacy. /…/ All-in-all: props for the description of Stockholm's social strata, ripe with details and signifiers, name-brands, night clubs and dive bars and shelters… Big props: temerity in ambition; Lapidus' will to span the entire underbelly – from park bench to parliament hall."

"A formidable exeunt of the entire cast. /…/ Social criticism in crime fiction tends to shelter writers poorly informed in legal matters and police procedurals. As a lawyer, Lapidus draws from his own experience, scattering fragments of reality rather than lecturing… Certain conceited critics regard – more than likely in plain self-aggrandizemnet – thriller writing as low-brow. It remains for them to deal with the distorted reflections of reality conveyed by the broken mirror Lapidus' lapidary prose places in front of Swedish society."

"Jens Lapidus retains his niche: depicting the life of a gangster through the eyes of gangsters. The basic structure is unchanged… the words flow across the page. It's terse, rhythmic and rich with association. /…/ One thing is certain: Life Deluxe is suspenseful. It remains unpredictable until the very last page."

"The only author eligible to further the legacy of GW Persson and Jan Guillou. /…/ To make a long story short, Life deluxe is masterfully executed… [Lapidus] has surpassed himself."

"In Life Deluxe, the feeling, drive, language and characters JW and Jorge from the debut are back. /…/ Together, the characters make for an intense plot. / Jens Lapidus has the ability to construct ripping parallel narratives with unrelenting drive… When concluding the suite, [Lapidus] does so with great skill. The author's amity towards his characters is obvious, and raises the question as to whether or not the vivid, realistic portrait of Jorge shouldn't already be in line for induction into the Swedish literary hall of fame."

"An impressive web of intrigue. /…/ He moves with elegance, never getting bogged down in exploited and alienated children and women, the tragic and the lonely. Still, Life Deluxe remains a diabolic tragedy."

"A grandiose novel from the dark side of society /…/ Above all, this novel is so suspenseful that if you have any commitments in the next 48 hours, you shouldn't even open the book."

"Jens Lapidus ends his Stockholm Noir Trilogy in the same way as he started it: with an intense, credible and wise novel."

"[Lapidus] wraps up the trilogy with flying colors. /…/ Very well written. And terrifyingly realistic."

"The third masterpiece by Jens Lapidus /…/ We indulge in this and we believe it. If you should compare this to anything, yours truly choses to turn to the world of the movies, to the TV series The Wire. If that's not a good enough comparison for you, you must be one of those people who doesn't even like ice cream."

"Life Deluxe is the final grandiose and grotesque installment in a flamboyantly suspenseful trilogy, which has been dubbed Stockholm Noir, with its spectacular Balzacian cross-section of Swedish society."

"Rumor has it that the only item that the police are certain to find when they search the addresses of the Stockholm underworld, is a book by Jens Lapidus. Perhaps not entirely true, but it makes sense that a portion of the million copies sold of Easy Money and Never Fuck Up, which have made the defense attorney into one of the biggest Swedish crime-writing successes in recent years, end up with the gangsters themselves."

"It's a harsh world in Life Deluxe – Stockholm is considered the battlefield of the ethnic gangs and street credibility is the prevailing currency. But Lapidus makes this whole mess into an almost epic tale, a kind of Godfather story without the Hollywood glitter. If you like noir, you won't find anything better than this right now."

"'Scandi Crime' has become a global brand, and even the writers of moderate quality are hailed as something significant. The black sheep in this crowd is Swedish Jens Lapidus, who on almost every parameter rises above the often-inane production of stereotyped welfare crime novels. … [James Ellroy] revitalized the crime genre in the 1980s with his L.A. Quartet, and just like Ellroy, Lapidus has managed to create a masterpiece – the Stockholm Noir Trilogy."

"Lapidus takes a fascinating look at moral ambiguity and ruthless ambition in the compelling conclusion to his Stockholm Noir trilogy, which follows the power struggle between members of Stockholm's underworld and the police."

"The conclusion to Lapidus' monstrously ambitious Stockholm Noir trilogy is every bit as dark, sprawling, rambunctious and volcanic as you'd expect. / …/ Through it all, Lapidus wastes no opportunity to explore the labyrinthine affinities between his heroes and villains. Better put aside the whole weekend for this guided tour of his Swedish hell."

"I became immediately immersed in Life Deluxe, this third book in the author's Stockholm Noir trilogy. / …/ If you savor fast-paced action and killer plots check out this trilogy … these crime stories really sing."

"[This] conclusion to a Stockholm-set trilogy is one of the best crime novels in recent memory. / …/ an air of treachery, multifaceted and deep, pervades the entire novel. Uncertainty about who is really on whose side and for how long elevates the novel's suspense almost unbearably, to the extent, in fact, that some readers – this one, for instance – will have to take breaks to simmer down long enough to resist the temptation of looking ahead. / …/ It has been a long time since I read a series of crime novels that gave me so much unedifying pleasure or that kept me at a such a boil through so many pages."
Author

Jens Lapidus

Published

2011

Genre

Pages

495

Reading material

Swedish edition

English edition

Rights sold

Croatia, VBZ

Denmark, Modtryk

Estonia, Varrak

Finland, Like

France, Plon

Germany, Fischer

Lithuania, Lectio Divina

Netherlands, Bruna

Norway, Cappelen Damm

Poland, Marginesy

Romania, Niculescu

Serbia, VBZ

Spain, Suma

Sweden, Wahlström & Widstrand

UK & Commonwealth, Macmillan

Ukraine, Folio

US, Pantheon

Film rights sold

Sweden, SF Studios

US, Warner Bros.