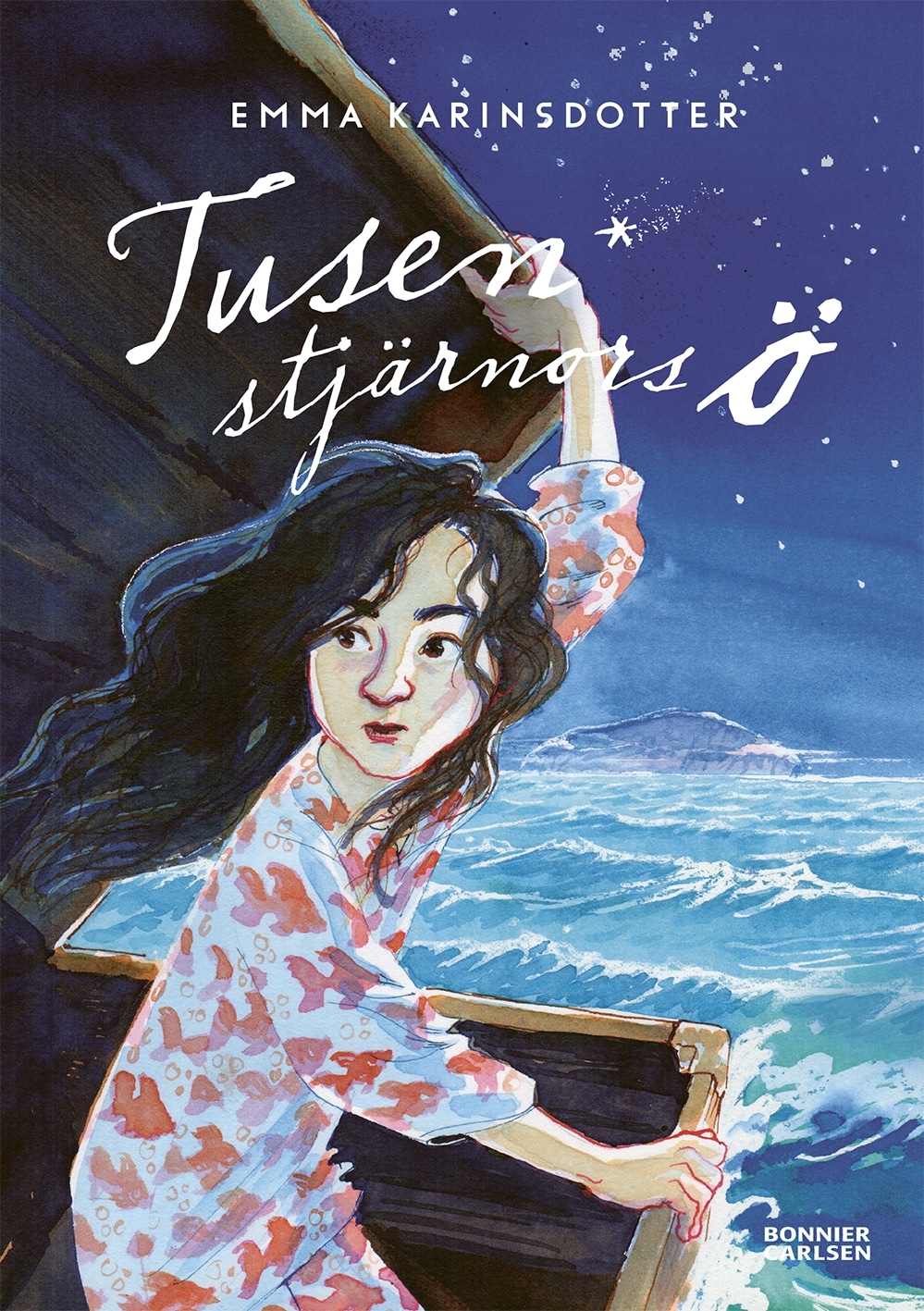 Tusen stjärnors ö
The Isle of a Thousand Stars
The Isle of a Thousand Stars has always rested beneath a velvet sky full of stars. But now that's changing. Night after night, the Shadow comes, and one by one the stars go out.
Tigris and her dad have just moved to a new apartment, even though neither of them wants to. In their old apartment there'd still been small traces of Tigris' mother. The new place feels empty in comparison.
One day, Tigris finds a strange box with her mother's name on it. She crawls into the box and falls asleep. When she wakes up, she's no longer in the apartment, but on The Isle of a Thousand Stars! There she meets Ariann with her songs, and Leo with his cloud sheep. But on the island there is also the Shadow – a being that extinguishes all the stars that give the island life. And the deadly Petrified Forest, where Tigris' mother disappeared…
The Isle of a Thousand Stars is an adventure story about friendship, missing someone, and family secrets that finally come to light.
Reviews
"This is a modern Mio, My Son; so thrilling, so great and at times so sad that it deserves the epithet modern classic.

"

"[The Isle of a Thousand Stars] is an enthralling depiction of mourning, but also a thrilling story about saving those you love most. /…/ Tigris and her father feel very much like living persons – Tigris who refuses to give up and continues to fight, and the father who in his grief is unable to connect with his daughter. The novel is very lucid and well-written, and [Emma Karinsdotter] succeeds in creating suggestive environments with small means. /…/ An utterly excellent book."

"The Isle of a Thousand Stars is an adventure story that goes straight to your heart."

"It's hard not to think of Mio, My Son when reading this magical and heartrending adventure-tale about eleven-year-old Tigris. Her longing for her mother who died when Tigris was little is depicted with warmth and care."

"The milieu depictions have overtones of Astrid Lindgren-esque storytelling, much along the lines of a modern Mio, My son set in the Greek archipelago. The Isle of a Thousand Stars is masterfully written and might very well become a modern classic. /…/ Beautifully written about the importance of letting your grief out, and hope-instilling in how it shows the rediscovery of happiness in life. A book where comfort can be found for those who need it, and a spectacular fairytale for those wanting to experience a great adventure. This is by far my strongest reading experience this year and I warmly recommend it. /…/ An experience you won't want to miss out on!"

"This classic two-world fantasy tale also features great realism. /…/ Emma Karinsdotter skillfully depicts grief and longing. /…/ Tigris' deadlocked and complicated family situation is beautifully portrayed."

"Reading The Isle of a Thousand Stars is like sinking my teeth into a brand new Astrid Lindgren tale, an experience I thought I'd never get to have again. It has that combination of darkness and light. It allows death to co-exist with life. It's a whirlwind of an adventure that will have the readers glued to its pages. The kind of magic that will have your eyes sparkle. And it's definitely not a copy [of Astrid], but something completely original. /…/ This is a glimmering pearl amongst children books for ages 9-12."

"A magical adventure that makes one feel all warm inside – don't miss this wonderful tale that's also well-suited to reading out loud together."

"A wondrous adventure that will have you both shedding tears and feeling all warm inside. I eagerly look forward to seeing where Emma Karinsdotter's words and imagination will bring us next time around."

"To me the joy of reading comes down to being utterly captivated by a book I don't want to end and that has a story I will carry with me for a long time. Emma Karinsdotter's new book The Isle of a Thousand Stars is that kind of book. It is a heartrending, beautiful and exciting tale suitable for all ages. /…/ It's stunningly written and has a depth that will pull at your heartstrings. /…/ The book has a fairytale-like shimmer to it, with interesting characters and intriguing world-building. /…/ This is the best book I've read in a long time!"

"An emotionally loaded and moving fantasy tale about how one can co-exist with sorrow. /…/ The novel thematizes grief in a multitude of ways. This may just be the ultimate book to give children who are grieving. /…/ With her second book [Karinsdotter] demonstrates herself as an author with a playful imagination and her very own way of portraying interpersonal emotions."

"The children's endeavours, how they overcome their fears, and the relationship between them are the most beautiful things about this book. There are such emotive, vivid portrayals of their games with apricot pits, them climbing in trees and how they eat invisible caramels. /…/ The book is incredibly well composed. /…/ The affinity with Astrid Lindgren is evident. /…/ It's a rich, powerful book, joining the ranks of those you do not simply read once in your childhood, but will keep returning to. A testament to how big an impact a children's book will have, is to what degree it will stay with the child afterwards. The Isle of a Thousand Stars stands the test of time: long after we've finished reading it we're still sharing invisible caramels."

"[Emma Karinsdotter] has accomplished the feat of devising a novel that combines realistic challenges with the possibilities of adventure, the same as [Astrid] Lindgren did in, for example, Mio, My Son. /…/ Karinsdotter manages to keep us on the edge of our seats with the events on the Isle of a Thousand Stars, whilst we concurrently find out how 'real life' is going. /…/ These parallel storylines make our identification with the protagonist particularly strong, and the author manages to delicately create a beautiful fusion towards the end. /…/ The language is energetic and powerful. /…/ Tigris is a lovely acquaintance for the readers. /…/ The author has stated that she wrote the book to convey to children that even if things look dark, there will always be stars. And as long as there are stars, there's hope. That she has succeeded with. Not in the sense that she by any means denies pain and vulnerability, but through the fantasy imagery her story, with all its improbable antics, becomes life-affirming."
Author

Emma Karinsdotter

Published

2019

Genre

Pages

271

Reading material

Swedish edition

English translation

Rights sold

Albania, Shkupi

China, Beijing White Horse Time (Simplified Chinese)

Czech Republic, Argo

Estonia, Varrak

Norway, Gyldendal

Sweden, Bonnier Carlsen

Vietnam, Kim Dong