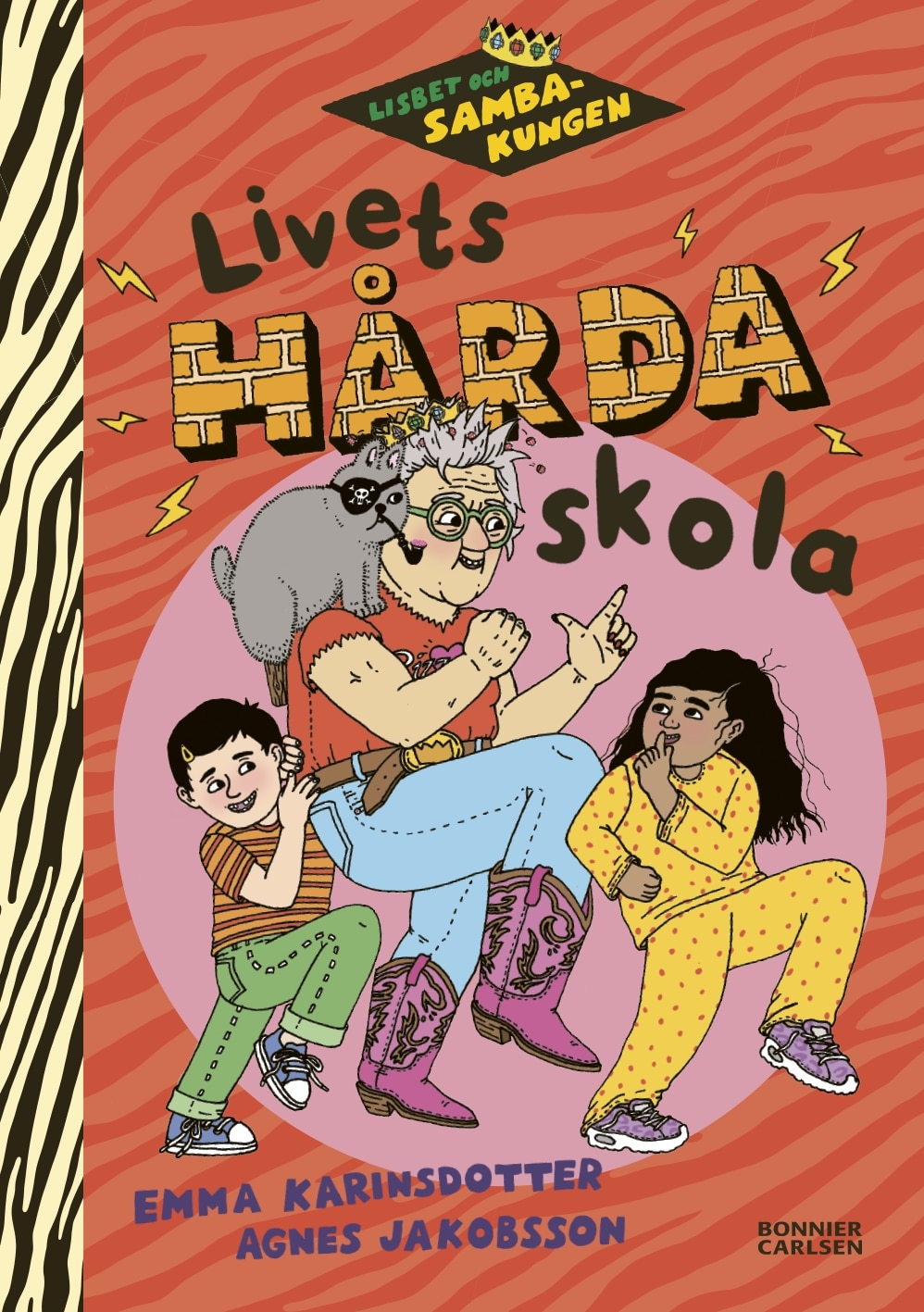 Livets hårda skola
The School of Hard Knocks
Lisbet and the Samba King #2
Lisbet is finally about to start first grade. Her granny the Samba King dreads being home alone with Sixten, the pirate cat, who is only interested in cleaning – so she comes up with a brilliant solution: she'll give away the "6" in her age, 67 years.  Now she's the Samba Kid, ready to start Pear School alongside Lisbet and her best friend, Hanin.
Lisbet for her part is feeling increasingly stressed. The Samba Kid does the complete opposite of everything you're supposed to do in school, to the delight of their classmates. A showdown between Majlis the teacher and the Samba Kid ends in granny starting her very own school instead – the School of Hard Knocks – with a very different agenda. How will Lisbet manage to attend two schools at the same time?
 The School of Hard Knocks is a zany, vibrant and norm-creative chapter book that encourages the children's confidence to be themselves.
"A hilarious, warm and crazy new world. Read-out-loud literature at it's very best!"
– Martin Widmark
Reviews
"I can but join in with all the praise: The School of Hard Knocks is a crazy, hilarious and norm-creative read-out-loud gem!"

"A delightful (…) and hilarious chapter book that we loved. /…/ Wonderfully crazy and highly entertaining!"

"We laugh out loud when reading the book and revel in the colourful illustrations. /…/ A book warmly recommended by us. Even if the age category is 6-9 we would categorize it closer to 4-99 years old."

"The School of Hard Knocks is a fantastic book in so many ways. It's hilarious, relatable, different and invites to conversations. It's heartwarming to see the love between Granny the Samba King and her grandchild Lisbet. /…/ We have laughed our way through the read and this is a book you'll be wanting to read 'just one more chapter' of and then another one. You'll finish the book very quickly. /…/ We thoroughly enjoyed the read and this is a book that will be read again and again."

"Just as imaginative, colourful and hilarious as the first installment. /…/ It's written in a way that's truly perfectly suited for being read out loud with a well-written language, appropriately long chapters and images for the children to engage with throughout the read. The book is incredibly funny and entertaining. Lots of crazy things happen and one laugh a lot when reading. I really enjoy how imaginative it is and how Emma Karinsdotter certainly doesn't hold back. The characters (…) are so well-executed. /…/ At the same time as it's a hilarious and entertaining book, it also brings up more difficult questions that makes one reflect. It provides the book with added depth amongst all the fun and imaginative. /…/ I enjoyed The School of Hard Knocks as much as I did Lisbet and the Samba King, but this one also hold the advantage of mostly taking place in school which is a relatable environment for the children. (…) It ends up being a great blend between all the crazy antics with Samba King and the ordinary taking place in many children's lives. /…/ If you want to read something hilarious, entertaining and eventful you should most definitely pick The School of Hard Knocks. It's a book with fantastic characters that both induces laughter and makes one reflect. Read it!"

"How we have been anticipating this sequel to Lisbet and the Samba King!. /…/ A through and through magnificent read-out-loud book that's suitable for many ages. /…/ Engaging characters, witty words and unexpected turns! Wonderful."

"The School of Hard Knocks is seriously entertaining. /…/ It's rather simple really: write the way you think is fun to write. If you're truly talented, like Karinsdotter, it will be at least as much fun to read. Jakobsson's illustrations are meticulously executed, with a keen perceptiveness for the text. Together they create a book that actually opens your eyes to the particular magic of reading and the written word. /…/This is how one provides strength to a child through a book. "

"[The School of Hard Knocks] has truly been a much appreciated read in our home. /…/ This is a book that invites to conversations about what's being said between the lines. /…/ Karinsdotter really is such a skilled author, both when it comes to writing entertainingly in a way that inspires joy of reading – but also on so many other levels."
Author

Emma Karinsdotter

Published

2020

Genre

Pages

253

Reading material

Swedish edition

English synopsis

Rights sold

Germany, Dtv junior

Sweden, Bonnier Carlsen