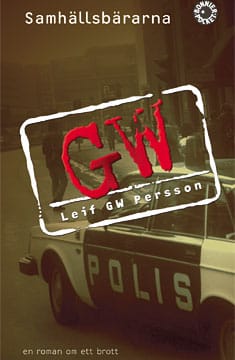 Samhällsbärarna
The Pillars Of Society
The small incident of a drunk being bruised-up after a night in jail grows into a national scandal. Lars Martin Johansson, the calm and thoughtful hero, decides to investigate the case himself and slowly unravels a much uglier affair: an entire police squad meeting out a brutal and summary justice after its own head.
The No.1 national bestseller, The Pillars Of Society, is the third part of Leif GW Persson's crime series with Police Detectives Lars M Johansson and Bo Jarnebring.
The Pillars Of Society was awarded with the 1982 Swedish Academy of Crime Writers' Award for 'Best Swedish Crime Novel of the Year'. Thus, Leif GW Persson was the first recipient of this award ever.
"I wrote this novel for two reasons. First, I wanted to illustrate a principle. Secondly, I wanted to have a dig at a couple of the most unpleasant people I have ever met during my long history in the legal system. That's enough for me as a motive."
-Leif GW Persson
In 1987, The Pillars Of Society was made into a motion picture called In The Name Of The Law, directed by Kjell Sundvall.
Awards
The Swedish Academy of Crime Writers' Award

(Best Swedish Crime Novel of the Year) Sweden
1982
Close award list
Reviews
"Leif GW Persson has developed himself into a master at depicting routine police proceedures with a dry and conscientious stamina that should work as a sleeping pill but does in fact increase the time one is awake by many hours."

"Leif GW Persson has constructed a very tight and suspenseful intrigue and he gives a multifaceted picture of the society we're living in."
Author

Leif GW Persson

Published

1982

Genre

Pages

391

Reading material

Swedish edition

German edition

English sample

Rights sold

Denmark, Modtryk

Finland, Otava

France, Rivages

Germany, Btb

Norway, Vigmostad & Bjørke

Sweden, Albert Bonniers