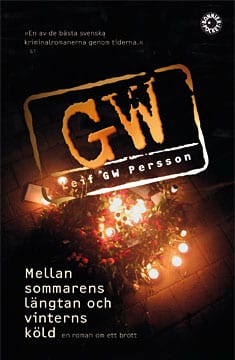 Mellan sommarens längtan och vinterns köld
Between Summer's Longing and Winter's End
Fall of the Welfare State #1
Between Summer's Longing And Winter's End is the defining novel of the unsolved Prime Minister assassination in 1986 that still haunts the collective Swedish memory. Starting with the death of an unknown American citizen in Stockholm, Persson slowly unravels the complex web of international espionage, greed, sheer incompetence and a poorly constructed Swedish intelligence force, that according to him lead to the murder of the Prime Minister. This is a highly entertaining and informed combination of satire, thriller, psychological drama and police procedure novel.
Between Summer's Longing and Winter's End is the first part of Leif GW Persson's Story of a Crime trilogy.
Between Summer's Longing and Winter's End was No.1 on the Swedish bestseller list for five consecutive months and was one of 2002's most sold and critically acclaimed novels of the year in Sweden.
"Leif GW Persson's big lush novel is a tale of mystery and intrigue and murder. /…/ From a country known for terrific crime novelists, Sweden's great crime writer Leif GW Persson brilliantly takes the reader into a world of fascinating mystery and secrets."
–Joseph Wambaugh
Awards
Shortlisted for the Glass Key

(Best Nordic Crime Novel of the Year) The Nordic Countries
2002

Shortlisted for the Swedish Academy of Crime Writers' Award

(Best Swedish Crime Novel of the Year) Sweden
2002
Close award list
Reviews
"Underneath the dense layers of corruption and maladroit administration, we are given a rich and sobering picture of the Swedish psyche, which has still not come to terms with the death of a politician – and of a dream. Those who feel that crime fiction can tackle truly serious issues should pay attention to Persson's magnum opus. They may tussle with the 500-odd pages, but they will end up hungry for later volumes of this ambitious trilogy."

"This novel is not only a compelling crime story, to be read without stopping until the last page. It is not only an unforgettable story with a ferocious and bitter unexpected ending. It is much more. This is a masterpiece."

"Probably the best crime novel I have ever read."

"This is one of the best detective stories ever written in Sweden. /…/ A big scale nail-biter!"

"A brilliant political thriller."

"This novel is perhaps one of the widest inquiries ever written. A plot full of suspense, a great adventure, and a philosophy around the dark or painful sides of life."

"Teeth-gritting political thriller … Authentic, with silent anger, tough and utterly haunting."

"It is funny, its sharp, thrilling and entertaining. Indeed, you almost think it's too good to be true, at least until you start reading the 589 pages and are convinced."

"A very big book, but all the 600 pages are well worth reading: Persson is the best competitor to Mankell ever published in Italy."

"One of the best Swedish crime novels of all time."

"A very interesting detective story. Persson has an enthralling and sarcastic style, with a special taste for paradox. Very original: a crime novel which has the colors of the North, but with a very Mediterranean vivacity."

"[The novel] becomes something possibly unique in modern crime fiction: a dark, dark comedy of crossed purposes, mistakes, and misunderstandings… This exceptional novel, the first of a trilogy by Sweden's top psychological profiler and foremost expert on crime, starts slowly but never stops building. It merits a wide audience."

"Engaging Swedish whodunit, the first of a trilogy—reminiscent of the work of Henning Mankell and Stieg Larsson in its toughness, and just as cynical in its politics. /…/ Laced with irony and satire…Persson does a fine job of pitting one desperate soul against another in a philosophically charged tale worthy of Ingmar Bergman—but with lots more guns."

"Unquestionably the best Swedish crime novel I've read so far… completely believable. /…/ The story lines alternate, the two eventually melding in the novel's complex, excellently satisfying denouement. /…/ Persson's sardonic depiction of how both uniformed and secret police operate is devastating and, at times, acidly funny."

"Persson has an encyclopedic knowledge of crime scenes and investigation procedures, and Johansson and his team are as solid a set of professional cops as you will find. Readers who like good European police procedurals will love this… Eventually, it all comes together in a very, very interesting twist."

"An addictive thriller… Between Summers Longing And Winter's End is a darkly entertaining police procedural with a political twist, and mystery fans should rejoice that at least two more Persson books will reach our shores."

"In the tradition of the intellectual crime novel, familiar to Henning Mankell readers, Persson tells a story that keeps us alternately bemused, aghast, and guessing to the end."

"Between Summer's Longing And Winter's End is an intense, thrilling and ultimately satisfying (though slightly creepy) novel. You need not have read any other Scandinavian novels in order to enjoy Persson's book. It is an untraditional novel about a very untraditional piece of Sweden's history – one that still remains unsolved to this day."
Author

Leif GW Persson

Published

2002

Genre

Pages

574

Reading material

Swedish edition

English edition

German edition

French edition

Spanish edition

Rights sold

Czech Republic, Moba

Denmark, Modtryk

Estonia, Varrak

Finland, Otava

France, Rivages

Germany, Btb

Italy, Marsilio

Korea, Minumsa

Netherlands, Cargo

Norway, Cappelen Damm

Poland, Czarna Owca

Spain, Paidós (World Spanish)

Sweden, Albert Bonniers

Turkey, Pegasus

UK & Commonwealth, Doubleday

US, Knopf

Film rights sold

Sweden, SVT (Swedish National Television)