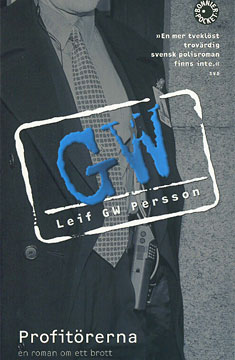 Profitörerna
The Profiteers
The murder of a prostitute proves a hard case to crack for the Stockholm police, taking them through the shady underworld of hidden prostitution and the men profiting from it. The Profiteers is a singularly realistic police procedural, closer to the real life of the policemen investigating violent crime than any other fictive work. Leif GW Persson offers no miraculous break-through or investigating genius; only the day-in, day-out stubborn gathering of facts by ordinary men trying to remain sane in spite of all they have to see and listen to.
The No.1 national bestseller, The Profiteers, is the second part of Leif GW Persson's crime series with Police Detectives Lars M Johansson and Bo Jarnebring.
In 1982, The Profiteers was turned it to a TV-series directed by Academy Award® nominee Pelle Berglund.
Reviews
"One of the most elegant literary constructions I have ever come across… also the content will turn The Profiteers into a bestseller."

"The biggest surprise in years. Persson's previous novel Feast of the Pigs was promising, funny, bold. With The Profiteers he turns out to be one of our best and most important crime writers ever."

"A more doubtless, credible Swedish crime novel does not exist. The hefty turns in Feast of the Pigs, here become more low key for the benefit of grand storytelling authority and balance."
Author

Leif GW Persson

Published

1979

Genre

Pages

343

Reading material

Swedish edition

German edition

Rights sold

Finland, Otava

France, Rivages

Germany, Btb

Norway, Vigmostad & Bjørke

Sweden, Albert Bonniers