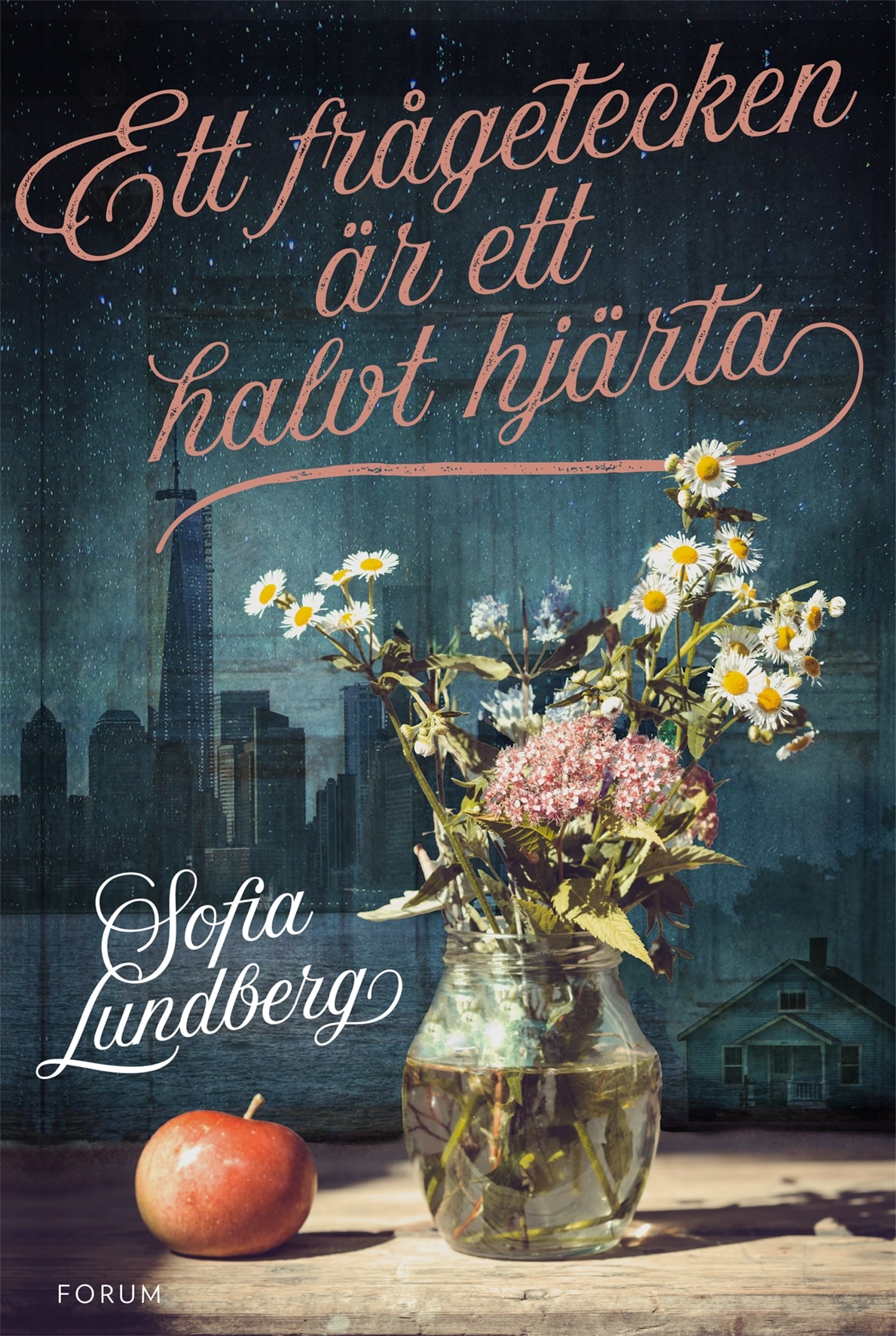 Ett frågetecken är ett halvt hjärta
A Question Mark Is Half a Heart
Elin Boals has the perfect life. A successful photographer in New York, she's married to the wonderful Sam and together they have a seventeen-year-old daughter, Alice. But something has always been missing in the picture of their perfect family.
One day, Elin receives a letter from her childhood friend Fredrik, her one true friend and lifeline during her poverty-stricken childhood on the island of Gotland outside Sweden. It's a voice from the past that Elin has done everything in her power to forget and hide from everyone, even those closest to her. Memories and thoughts come flooding back with this unexpected sign of life. It drives a wedge between Elin and her family and fills her with shame over what she once did, the secret that made her run away from the island and never return.
In the end, Elin realizes that she must face her past to become whole again, and save the family she has now. She sets out on a journey to another continent, but also to another time and another life.
A Question Mark Is Half a Heart is a captivating story about overcoming shame and guilt, about finding oneself and the truth. And in doing so, learning how to love.
"With graceful prose and an artist's eye, Lundberg returns with a powerful and illuminating novel that navigates the channels of the human heart and the secrets that threaten to tear it apart.  A poetic and haunting read, I was captured from the first page to the last."
-Alyson Richman, bestselling author of The Lost Wife
"Such an engrossing and affecting story of love and loss – and the inescapable shadows cast on the present by the past."
-Joanna Glen, bestselling author of The Other Half of Augusta Hope

Reviews
"Elin is a complex character with a compelling story, and Lundberg avoids the obvious resolutions that readers may expect in favor of a deeper exploration of the meaning of love, forgiveness, and family. This satisfying novel will appeal to fans of Lisa Duffy and Patti Callahan Henry."

"Lundberg's sophomore work (after The Red Address Book) deftly and sensitively tells Elin's past and present life stories in the ever-popular alternating chapter format. She builds Elin's story slowly, but once the OMG moment hits, readers will turn the pages as if they are burning. For fans of narratives about conflicted and tormented heroines trying to make peace with their pasts."

"Readers will soak up the suspense as they search for the truth alongside Elin up until the end."

"Lundberg deftly spin[s] the tale of Alice and Elin's reconciliation, as Elin decides to tell her daughter everything. /…/ A warmhearted portrayal of family and forgiveness."

"A beautiful tale of love, choices and how the past can define us."

"A novel that fills the senses, transporting you to New York and Sweden – there's no better way to travel in these times of crisis."

"An as emotional as it is moving novel."

"A novel in the best sense of the word."

"A touching novel about the extent of guilt, the suppression of memories, and the liberating chance to be assuaged of such guilt."

"A captivating family drama."

"Impossible to put down!"

"Absolutely worth reading and a must-have for your suitcase! "

"A well-written novel. /…/ Elegant and gripping."

"Sofia Lundberg skillfully weaves together the past and the present. /…/ A Question Mark Is Half a Heart is a strong and emotional novel that moves. I liked it very much!"

"It's a gripping novel and Sofia Lundberg writes in such a fantastically powerful and depictive way that one is easily absorbed by the plot."

"Sofia Lundberg has yet again written a book that "crash boom bang" goes right to your heart. A Question Mark Is Half a Heart is that brilliant."

"The book has a wonderful flow all throughout and can be read in one sitting. Despite being dark at times, the novel conveys hope, that everything can get better."

"A Question Mark Is Half a Heart – what a fantastic title! Already there you're intrigued. Sofia Lundberg debuted with The Red Address Book and it was great, truly wonderful. But I think this one is even better! /…/ [A Question Mark Is Half a Heart] stayed with me for a long time, and I think it's an excellent book for book circles since there's so much to discuss. There's a lot of recognition, but it also poses a lot of questions. /…/ I love the title and the cover, and I love the book."

"Just like in the last book, [Lundberg's writing] kindles strong emotions and I definitely shed a tear or two! The novel is well-written and a wish to know how everything fits together and how things will develop propels you through the pages. The characters are depicted in a lovely manner and I cheer them on the entire way! [This novel] can definitely be recommended!"

"I was utterly in love with The Red Address Book. Now [Sofia Lundberg] has written a new, fantastic novel. /…/ I was so immersed in the story that I forgot that it was fiction. My heart ached reading about Elin's childhood. It made me stop to think about many different things. /…/ It's a joy to read the well-written A Question Mark Is Half a Heart. So go get the book, make yourself a big cup of tea, get the tissues out, and start reading!"

"I don't know how she does it, but Sofia Lundberg's writing can be felt throughout your whole body as you read it. Most of all, in the heart."

"Sofia Lundberg has done it again, but even better. A Question Mark Is Half a Heart is truly wonderful! It holds both pain and people with heart. I feel for Elin in the story so much that it almost hurts. /…/ Read, read read!!! A truly great story, and I really look forward to future books from Sofia Lundberg."

"It's an artform portraying people in a manner that makes you genuinely feel all the emotions and become invested in them. Something which I truly enjoyed with this book was just that, how incredibly real they became to me./…/ I also believe that Sofia impressively succeeds in alternating between the past and the present and in weaving Elin's story together bit by bit. Why she acts the way she does and why she's so withdrawn. /…/ It's a journey in getting to know one's self and in showing who one really is. In daring to open up to one's very inner core – and what's particularly great about this novel is that it isn't all pretty. It's also ugly. And burdensome. And anxiety-inducing. In the midst of it all one forgets that these are not real people. A word of advice: don't forget the tissues when you read this one. "

"I really appreciated her last novel, The Red Address Book, and had high expectations for this one. [A Question Mark Is Half a Heart] didn't disappoint. Sofia Lundberg succeeds in capturing the characters' personalities in a way that makes me feel like I know them right away. Her milieu depictions also make you feel as if you were there in person, experiencing the same emotions and impressions that the characters do. /…/ A Question Mark Is Half a Heart is a powerful and emotional novel that affects. I liked it very much and had a hard time putting it down. A tear or two was shed towards the end."

"If you are on the hunt for a gripping page-turner that's one of a kind, you should definitely read this novel. I have cried, been angry and frustrated and felt absolute delight all at once whilst reading this book; it truly goes straight into your heart. "

"What a wonderful book, I just love it. The prose, the character depictions and the way in which different emotions and moods are portrayed is brilliant. On a level with my favorite authors in the feelgood genre: Jojo Moyes, Lucy Dillon, and Jenny Colgan."

"Wow, what a lovely little gem this was! When I reached the last page I wasn't at all ready to leave Elin – I just wanted to keep reading. That's how much this story and it's characters engrossed me."

"A lovely and entertaining book that will be a perfect read for your hammock or recliner."
Author

Sofia Lundberg

Published

2018

Genre

Pages

359

Reading material

Swedish edition

Rights sold

Brazil, Globo

Bulgaria, Hermes

Czech Republic, Euromedia

Denmark, People's

Estonia, Eesti Raamat

Finland, Otava

France, Calmann-Lévy

Germany, Goldmann

Greece, Dioptra

Hungary, Alexandra

Iceland, Bjartur & Veröld

Israel, Modan

Italy, DeA Planeta

Lithuania, Baltos Lankos

Netherlands, Ambo Anthos

North Macedonia, Antolog

Norway, Cappelen Damm

Poland, W.A.B.

Portugal, Porto

Romania, Litera

Russia, Ripol

Serbia, Laguna

Slovakia, Ikar

Spain, HarperCollins

Sweden, Forum

UK, The Borough Press

US, Houghton Mifflin Harcourt