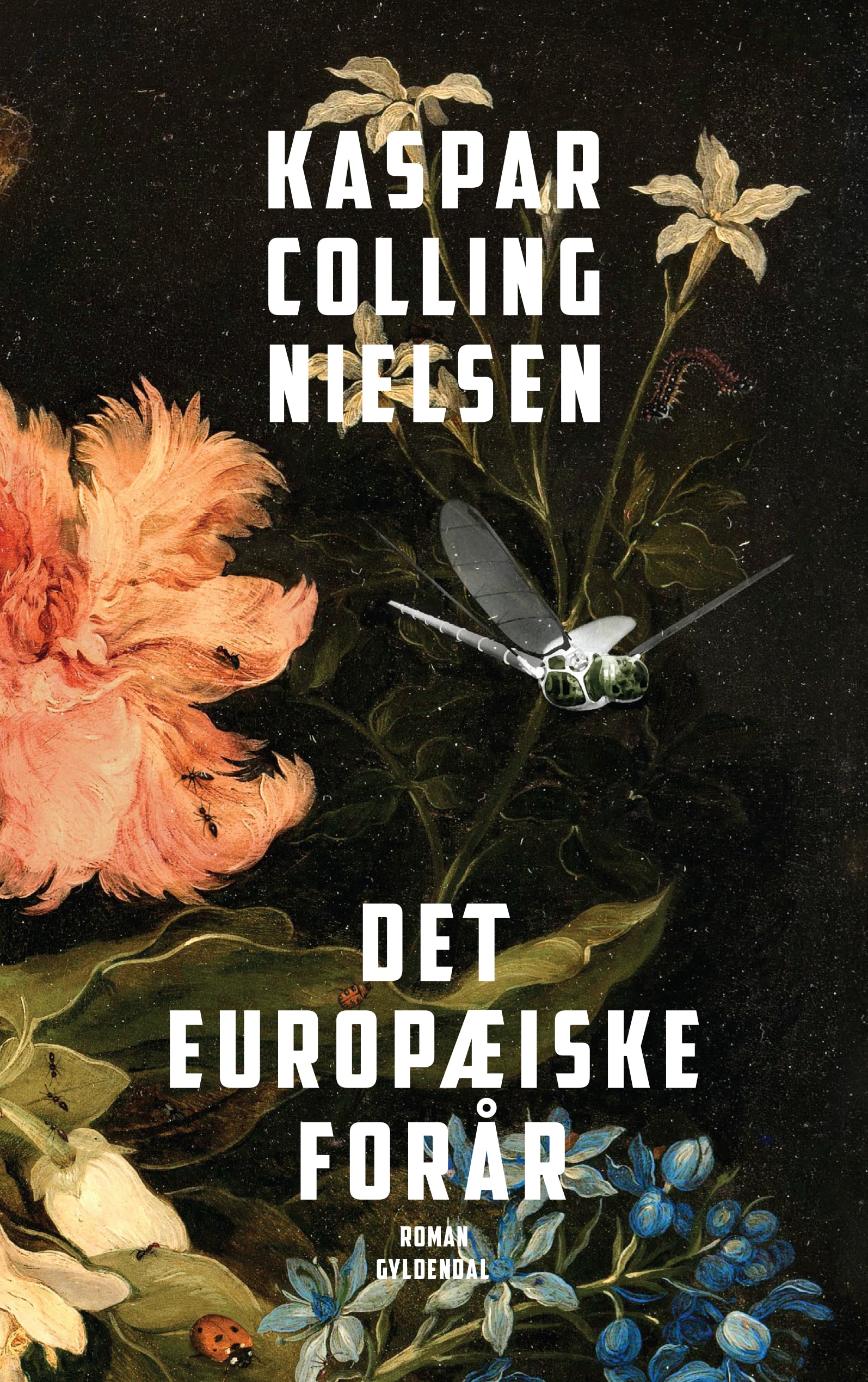 Det europæiske forår
The European Spring
On the Danish island of Lolland, a group of internationally renowned scientists and entrepreneurs found a new community for the affluent, aiming to combine the most idyllic and attractive elements of the old world with the latest in technology. To this drone-patrolled countryside paradise moves gallery owner Stig, his wife, the brain scientist Elisabeth, their idealistic daughter, Emma, and the painter Christian.
Elisabeth is headhunted by the research team on the island when they hear of her previous successes with animal experiments, but grows increasingly alarmed as she develops a bond with the novel-writing ape Felix.
After a series of terror attacks in Copenhagen, thousands of Muslim refugees are deported from Denmark to Africa, and the anorectic Emma becomes a central figure in the creation of a parallel society among the old Danish shipping containers left in Mozambique.
The artist Christian paints disintegrating humans that fuse with nature, fetching inspiration from his contact with the much younger Mia.
A violent accident gives the disillusioned gallery owner Stig the chance to deliver an art piece that to his way of thinking could set a new standard for the impact art can have on a society. But the piece will demand sacrifices.
The European Spring is a grotesque and provocative story about freedom, equality and community set in a near future that is all at once unthinkable, alarming and attractive.
"I thought [The European Spring] was really good. /…/ There are other similarities [between us]. Like the fact that [Colling Nielsen] likes to make up stories. In The European Spring he dreams up works of art. As have I, quite often. /…/ There's another thing he is good at, one that I myself am pretty skilled at as well. It's rather subtle: to place real facts, very probable facts, and facts that are much less probable, on the same level."
–Michel Houellebecq
Awards
Shortlisted for the Grand Prix Littéraire de la Ville de Saint-Étienne

France
2019

Shortlisted for the Prix du Livre Inter in France

(Best Foreign Literature) France
2019
Close award list
Reviews
"Kaspar Colling Nielsen surpasses himself with his third book. /…/ A controversial and droll novel."

"A thought-provoking one-of-a-kind. /…/ Kaspar Colling Nielsen is a master at combining wicked sci-fi fantasies, grim political scenarios and ridiculously funny satire."

"Kaspar Colling Nielsen is back with a magnificent story. It bubbles. It simmers and it boils. /…/ It's grotesque and burlesque. It's a provocative read […] originally and creatively conceived."

"Simple and brilliant. /…/ A keen-eyed portrait of our time."

"It's a fascinating and thought-provoking read. /…/ Fantastical and playful storytelling. /…/ The European Spring is a lively monster that feels like an utterly necessary and highly topical reading experience."

"The European Spring both provokes and irritates. It's damn good art."

"An absurd and funny crossover between a Golden Age painting and a dystopia."

"An instantly magical novel. /…/ Often, I have to pause for a deep breath, because this story corrodes. I marvel at how elegantly Kaspar Colling Nielsen […] gives us a grandiose dream and a more solid reality. This horrifying present is gracefully interlaced with all the different pasts. /…/ This is a gut-wrenchingly powerful thriller about how we must stick together, even as we are trying to keep it together. /…/ The European Spring is all-encompassing and bundles together the poisonous with an ever-enticing spring, just as Igor Stravinsky's The Rite of Spring. With a gentle hand Kaspar Colling Nielsen coaxes forth the new spring and dawn, until I long for a bleak winter that will hopefully cool everything down and let me thaw."

"The Danish Houellebecq. /…/ The tag line is catchy, but despite his Viking allure and husky eyes, the Danish Kaspar Colling Nielsen does share some affinities with our countryman Michel [Houellebecq]. The themes rush into this larger than life, melancholic page-turner that seems written by a team of TV series geniuses. The animals should also be mentioned: fantastic, and adding a dimension of fable. The denunciation is more striking than in Houellebecq, and the pleasure more immediate, but the esthetics are as singular, such as the mountain of Lolland."

"This forty-year-old from Denmark has a universe of his own, where the idiosyncratic fights with cynicism."

"A vision of hell that makes me laugh out loud! /…/ Kaspar Colling Nielsen is one of the most distinctive literary voices in the Nordic countries today. /…/ Colling Nielsen's strength is a dynamic language that calls forth scenes that penetrate deep into both environments and situations as well as human consciousness. /…/ With a great sense for details and a brilliant humor, the author highlights and reveals the most diverse of environments, from the wildest punk rock surroundings to clinical laboratories, from the back rooms of the art world to the refugees in Fredriksstad. In dialogues that ooze with wit he immerses us in the most peculiar of reasoning. Colling Nielsen is an excellent stylist."

"Colling Nielsen's novel impresses with a great overload of imagination, cleverly thought-out science fiction elements, and the many plot threads that are interwoven. /…/ Colling Nielsen's humor really hits home. All in all, it's an eccentric, uncomfortable and funny book to read, characterized by vigorous energy. /…/ Colling Nielsen's novel is a call to action. [It] gives hope to the power of literature."

"We continue to be amazed by the richness [of the prose], the beauty of imagination, and the degree of intelligence."

"An explosive and lucid novel, written with a chiseled and acidic pen that points out the darkest meanders of the human soul."
Author

Kaspar Colling Nielsen

Published

2017

Genre

Pages

352

Reading material

Danish edition

English translation

Rights sold

Croatia, Hena com

Czech Republic, Zlin

Denmark, Gyldendal

Estonia, Varrak

Finland, Aula Kustannus

France, Calmann-Lévy

Germany, Heyne

Lithuania, LWU Publishers

Norway, Cappelen Damm

Serbia, Booka

Sweden, Mondial