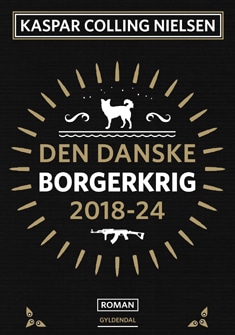 Den danske borgerkrig 2018-24
The Danish Civil War 2018-2024
In the early 21st century war erupted across Europe. The 2008 financial crisis led to the collapse of the European welfare state and the Danish Civil War closely followed, lasting from 2018 to 2024.
In The Danish Civil War 2018-2024, we are told the life story of our narrator, a 475-year-old Danish man who, together with his dog, the 350 year-old Geoff, have been immortalized through a stem-cell programme. He ponders the causes of the bloody conflict that ripped society apart, his own wartime crimes, and his own true love – the ruthless guerilla warrior Leonora. In the present, he and his small group of friends spend their time engaged in cross-sexual orgies, storytelling and reminiscing about past times. Elegantly interspersed throughout the novel are enchanting tales told by our narrator about people, places and events from his long life. Each of them beautifully enhances the main narrative in this unique novel. A character we meet in one of the anecdotes might make a brief appearance in the account of the civil war, and vice versa.
The Danish Civil War 2018-2024 is an ingenious description of our times, disguised as a peculiar tale of the future. While philosophically complex, it is filled with laugh-out-loud absurdities and humorous digressions, providing the reader with an unpredictable rollercoaster ride of a read.
Awards
Shortlisted for the Danish Readers' Book Award

Denmark
2014

Shortlisted for the Danish Readers' Book Award

Denmark
2013
Close award list
Reviews
"With the wildest Danish novel to emerge so far this year. An untameable, intelligent and totally freaky tale that blasts through all obstacles to reach its goal: to light a fire of enthusiasm in the reader."

"A book written with linguistic energy and imagination, I will be long in forgetting many of the italicised subplots that weave in and out of the main text: like when the tomato describes how it feels to be plucked from the vine, peeled, and placed in a tin to end life in a frying pan over chicken schnitzels."

"Here we have storytelling at its very best and literature of a very special calibre. Colling Nielsen is one of a kind in Danish literature, with a completely amazing imagination combined with a philosophical talent that explores the innumerable lives and livelihoods of the world in impossible combinations. It is violent, brutal, sadistic, vulgar, grotesque, terrifying and incredibly interesting."

"A brilliant novel in every sense; superbly told, Colling Nielsen's language flows so that the novel is finished before you have time to put it down."

"The core of the novel is the present financial crisis and coveted mortgages with catastrophic consequences – a worryingly believable analysis."

"He has a completely wild imagination."

"The Danish Civil War 2018-2024 is an ingenious description of our times and a welfare society in deep crisis. Read it: you can't do it too soon! /…/ The book is frighteningly good."

"The Danish Civil War 2018-2024 is an impressive dystopian novel that thrills. /…/ [Kaspar Colling Nielsen] doesn't serve us the serious allegories of a heavy novel, but a carnival of imagination that mixes sci-fi and fantasy elements with the grotesque – a mixture closely related to Kafka's black humor."

"[Kaspar Colling Nielsen] leaves no one unmoved."

"An entirely unusual multifaceted, provocative, thought-provoking and brilliantly written novel. /…/ The novel is so well-written it delights me, displaying a level of reflection sky high above most of today's contemporary literature."

"[A] playful but frightening tale about how near the abyss the world may seem when market forces are allowed free reign and most people appear to not care about the future. /…/ It's brutal, humorous, and extremely well-written."

"Nielsen's book is characterized by a salty, dark humor that isn't lightened at all as the tragicomic repeatedly slips into what is just tragic. Such quick shifts and tensions put the reader at constant risk of choking on laughter. The laughs rest more comfortably in one's stomach than throat, but the literary effect is definitely greatest when it evokes that feeling of choking. And that is meant as a compliment."

"Rawly written about class struggles and breakdowns."

"Imaginative and fantastical, a satirical and socially critical story about the future."
Author

Kaspar Colling Nielsen

Published

2013

Genre

Pages

224

Reading material

Danish edition

English sample

Rights sold

Czech Republic, Zlin

Denmark, Gyldendal

Finland, Aula Kustannus

Norway, Cappelen Damm

Film rights sold

Denmark, Meta Film