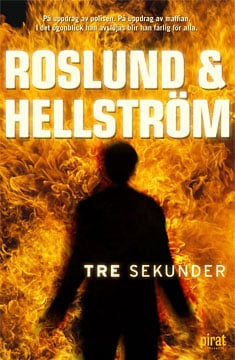 Tre sekunder
Three Seconds
Hoffman & Grens #1
An informant is caught between the police he works for, the ruthless criminals he infiltrates, and the family he loves. Set in present-day Stockholm, the story revolves around Piet Hoffman – the most successful infiltrator ever to work for the Swedish police. Moving up in the hierarchy of a Polish crime organization, the threat to Hoffman's life grows parallel with his ability to stop the organization's expansion. His mission: to infiltrate Sweden's most infamous maximum-security prison. His dilemma: to survive and fail, or to risk his life and succeed.
Roslund& Hellström's fifth crime novel in their series about Police Detective Ewert Grens is roller-coaster ride of a novel and the duo's strongest work to date.
"What a triumph! This is one of the strongest Scandinavian crime novels in a long time. Three Seconds is a world-class thriller, filled with suspense, rage, and humanity. I'm convinced this will be Roslund & Hellström's definite break-through."
–Liza Marklund
Click here for a video interview in English with Roslund & Hellström about Three Seconds.
Awards
Shortlisted for the Prix du Polar Européen

(Best Crime Novel of the Year) France
2019

Shortlisted for the Prix du Polar Européen

(Best Crime Novel of the Year) France
2019

The Japanese Readers' Award

(Best Translated Crime Novel) Japan
2013

The Japanese Readers' Award

(Best Translated Crime Novel) Japan
2013

The CWA International Dagger

UK
2011

The CWA International Dagger

UK
2011

Shortlisted for the Barry Award

(Best British Novel of the Year ) UK
2011

The Swedish Academy of Crime Writers' Award

(Best Swedish Novel of the Year) Sweden
2009

The Great Readers' Prize

Sweden
2009

Shortlisted for the Glass Key

(Best Scandinavian Crime Novel of the Year) Nordic countries
2009

The Great Readers' Prize

Sweden
2009

The Swedish Academy of Crime Writers' Award

(Best Swedish Novel of the Year ) Sweden
2009
Close award list
Reviews
"Put aside quite a few hours of your life when you start Three Seconds, an addictive thriller that has deservedly won Sweden's main crime fiction award. /…/ Adrenaline-fuelled action. /…/ One never knows what's going to happens next"

"Explores the morally dubious compromises made by states in their war against organized crime, in this case the Swedish government's battles with a drugs empire which is run by officers of the now defunct Polish secret service /…/ The methods Hoffman uses to get the drugs in place and then outwit all his enemies are intricate and very entertaining. The translation by Kari Dickson is so smooth as to be completely unobtrusive. /…/ [A] powerful novel."

"The comparison to Larsson is not out of place. /…/ Gripping and intelligent, this is now destined for the big screen."

"The strongest action thriller by Roslund & Hellström so far, impossible to put down before the unexpected end."

"[Three Seconds] is impossible to put down before one has finished it. /…/ This novel is not only Roslund & Hellström's best one so far, it is also constructed with such suspense that it outshines most of the international competition."

"Roslund & Hellström are in a league of their own. They write about a cold, violent world that most of us know nothing about. And [they do it] with such devilish skill and engagement that I read their nearly 600-page book in one sitting."

"Roslund & Hellström's new thriller Three Seconds grabs you right from the start. /…/ It's brutal and uncomfortable, but worst of all is probably the feeling that this reality really exists, the authors have done formidable research for this book. /…/ But above all Three Seconds is a well-written, suspenseful, and terribly good story."

"Roslund & Hellström's latest book is terrifyingly good. /…/ [The main character] has calculated that it takes three seconds to die. In the same amount of time the book accelerates from 0 – 100 km/h and in a dizzying pace this crime roller coaster has reached full speed."

"Roslund & Hellström prove that Swedish crime fiction is part of the definitive world elite right now. In addition, [Three Seconds] is undoubtedly their best book so far. 592 pages generate respect, but there are no tedious passages and it never comes to a standstill. /…/ Infinitely suspenseful!"

"[A] strong and well-written crime novel with both significance and terrifying suspense. [It is] a pleasure to plow through the 592 pages."

"[Three Seconds] is in parts so hair-raising that I have to put it down, pace around the apartment to catch my breath, and try to calm down. /…/ It is terribly good reading."

"This is a real page-turner, which cost me a couple nights of troubled sleep. It is also the dazzling duo Roslund & Hellström's best so far. /…/ Roslund & Hellström have indeed won The Glass Key once before (for their début The Beast), but Stieg Larsson was awarded it twice posthumously. So it would certainly be appropriate to award the dazzling duo, that keep the banner flying for Swedish, socially conscious thrillers, once again."

"Roslund & Hellström – you owe me a night's sleep. But those nocturnal hours could not have been spent in a better way. You are without a doubt superior in the Swedish crime genre and you keep your readers in a tight grip that one neither can nor wants to get out of."

"This summers best crime novel. /…/ In the steady flow of Swedish thrillers, [Roslund & Hellström] are the only ones who clearly uphold the heritage of Sjöwall & Wahlöö. /…/ When [Three Seconds] is all over, the reader has experienced an incredibly dramatic and moving journey that doesn't loosen it's grip for a single second. The plot is extraordinarily strong. The angle [on it] is created to really engage the reader in the issue from every viewpoint. And at the same time the dramaturgical structure is brilliant. This is, according to myself, their best since their début. And I consider the three novels in between really good."

"[Roslund & Hellström] have now published five books and [they] are among the best one can read. The series with the obstinate Superintendent Ewert Grens is simply unbeatable in comparison with other contemporary crime novels. And we all know that the competition in Sweden is serious business. /…/ Three Seconds has it all. It is characterization of the highest degree. /…/ I am deeply impressed by them."

"Roslund & Hellström just keep getting better."

"Three Seconds is – just as its predecessors – very well-written, in a prose that is a joy for the soul. None of the increasingly inept language of crime writing can be found here. Every page wants to turn itself and it takes a great deal of willpower to put it down. /…/ Three Seconds is a fascinating journey into a world that is very far removed from our ideas of it."

"I read it in one sitting and 592 pages went by in no time! Anders Roslund and Börge Hellström's latest crime novel Three Seconds is an intensely moving, explosive, and strong story. /…/ Three Seconds takes me straight into a world that I hardly knew existed, but that I have no problems believing in. /…/ Anders Roslund & Börge Hellström are a fantastic author duo that in one crime novel after another very authentically portray Swedish reality, from a vital view point of crime, punishment, and revenge. /…/ Moreover, Three Seconds is awfully well told when it comes to style, it practically spits out sentences written in a staccato pace which provides huge energy. /…/ The crime wave has come a long way and I have read a whole lot. But nothing has so far made such an impression as Three Seconds. The subject is just as explosive and blazing as the jacket cover and I totally recommend it to everybody!"

"[Roslund & Hellström] handle the subject with outstanding knowledge and substantial gravity. In addition, it is dreadfully suspenseful. /…/ I might as well say it again: if a better Swedish thriller were to be published this year, it would make 2009 a brilliant year for the domestic crime novel. And I would be pretty surprised."

"[Three Seconds] is incredibly skillfully constructed."

"Roslund & Hellström present 600 pages packed with drama. It's fast-paced and intensely suspenseful."

"Hard to put down? Absolutely. The book is incessantly driven forward by the condensed language and intense plot."

"Roslund & Hellström appear to have parked, once and for all, on the pinnacle of the Swedish crime writing elite. Their ability to weave in social commitment and with the help of fiction take a stand in important issues is fascinating. In this regard I can only think of one author they don't outshine quite yet – John le Carré. /…/ The plot is hair-raising and awfully suspenseful. Roslund & Hellström have outdone themselves once again!"

"Three Seconds is this summer's definite must-read when it comes to Swedish crime novels."

"[Roslund & Hellström] write so convincingly that I for a moment think it all must be true. /…/ They hold their readers in a tight grip and don't even let go when the book comes to an end."

"The novel is a furious mix of classic Swedish police procedural and downright action thriller. If you are at all concerned about getting a good night's sleep, there is no point whatsoever in reading this 600-page book. Because it is totally impossible to put down. Three Seconds is a world class crime novel."

"Gritty, brutal and gripping, Three Seconds is bound to continue the inexorable march up the best-seller lists"

"Three seconds is just about how long it feels it takes to read Three Seconds. From the amphetamine-fuelled beginning when a drug deal goes awry in a Stockholm flat, you're submerged in labyrinthine Swedish bureaucracy, its prison system and organized crime. Someone's got to be writing the screenplay already: think Tommy Lee Jones as Hoffman,Albert Finney as Grens. Terrific."

"High hopes for Three Seconds – justifiably so. /…/ Superb."

"Journalist Roslund and ex-criminal Hellstrom are among Sweden's most popular thriller writers with a reputation for down-and-dirty detail and an eye for political intrigue and police corruption. /…/ Extraordinarily compelling"

"Harsh and brutal /…/ Non-stop and the tension unlimited /../ Well-written and powerful."

"Three Seconds invites comparison with The Girl with the Dragon Tattoo. There is the same obsessive detail, the same corruption of the authorities, and even Larsson's tactic of the slow introductory chapters that suddenly shift into a higher gear. /…/ R & H have even managed to freight in some cogent aperçus about the nature of identity amid the clammy suspense. Three Seconds is no dumbed-down blockbuster."

"A compulsive page-turner"

"This is crime writing at its most ambitious and morally complex. A visceral, demanding read filled with the kind of insider knowledge that raises it from the pack."

"600 pages of intense suspense that contradicts the cliché of Scandinavian society as being safe and innocent… Three Seconds blends suspense worthy of the best film noir with well-written crime, that brings a breath of fresh air that will inspire more than one author. Every situation, environment and character is portrayed with great depth… Three Seconds is the best Scandinavian novel ever."

"Three Seconds in 50% reality and 50% fiction, full of suspense, double lives, explosions, meticulous plans of escape and survival, like in the best James Bond films."

"This novel is like a game of chess with an unexpected end. /…/ The enjoyment of the novel lies in its world of betrayals, escapes, ambushes and unscrupulous double agents with no dignity."

"Three Seconds is a crime novel that sweeps away any illusion of security in the [Swedish] justice state. It says things that are usually not said and it reveals a world that we didn't know existed, a parallel world with its own laws."

"There is life after Henning Mankell and Stieg Larsson: the new Swedish crime stars are called Roslund & Hellström. /…/Three Seconds is their best crime novel so far."

"Another example of [Roslund & Hellström's] mastery."

"This masterpiece deserves six stars."

"Even outside of Sweden people are starting to realize that Roslund & Hellström write better novels than Stieg 'Millennium' Larsson did."

"[Roslund and Hellstrom] have concocted a brilliant thriller … extremely difficult to put down. /…/ Three Seconds puts Roslund and Hellstrom in the company of Henning Mankell and Stieg Larsson. Crime fiction rarely gets as good as this."

"A terrific, nail-biting climax that demonstrates why it won the prize for Sweden's best crime novel in 2009. Give this to Stieg Larsson fans and any reader fond of morally complex thrillers."

"Ex-con Piet Hoffmann, who for the past nine years has led a double life as a family man and a police snitch infiltrating the Stockholm drug world, takes on his most dangerous assignment yet in Roslund & Hellstrom's thrilling follow-up to Box 21. /…/ The authors ratchet the suspense beautifully right up to the final, inevitable confrontation."

"A gripping high-octane crime thriller in the tradition of Stieg Larsson's smash hit, Girl With The Dragon Tattoo. If you liked the Millennium Trilogy, you'll love this."

"Looking for a cozy mystery to warm the winter months? Let's see. A handful of hoity-toity English types — tasteful but troubled — gathers at a country manor and —mon Dieu — one of them turns up dead in a locked room. Sound about right? If that's your cup of tea, avoid Anders Roslund and Borge Hellstrom's Three Seconds like the plague. It offers no suspicious servants, nobody wears an ascot, and it doesn't end with the entire cast (minus corpse) gathered around a dinner table for a shocking reveal. The rest of us are in luck. The crime novel-writing team of Roslund and Hellstrom tackles weighty subjects, and their credentials suggest we should take them seriously. /…/ Trust me. No butlers were hurt in the making of Three Seconds. But everybody else is fair game. And that's exactly what crime-novel fans demand."

"[Three Seconds is] a nail biter of a book."

"Duo's Three Seconds does Stieg Larsson one better."
"Americans are finally catching on to what thriller fans around the world already know — that the Swedish team of Roslund & Hellstrom is writing explosive crime novels as good, if not better, than those of Stieg Larsson. /…/ Roslund & Hellstrom pull out all the stops, peppering the story with unfathomable mysteries. /…/ Gun play, explosions, betrayals and the ingenious ways drugs and weapons are smuggled into prisons give this novel, Roslund & Hellström's fifth, an eau de testosterone level that's through the roof."

"Three Seconds' Full of Twists and Turns.
There is corruption at every turn in Three Seconds, from the police officers who are supposed to be taking care of the informants to the politicians who pull the strings. Roslund and Hellstrom are dissecting the process, and they do so very well in this highly entertaining novel that is full of twists and turns. /…/ … the action quickly draws you in and continues to grip you to the final chapters of the novel. The authors have something to say, and Three Seconds proves to be an excellent way of doing it."

"Three Seconds will peal the paint off anything you've read lately in the annals of crime./…/ Prepare yourself for an electrifying standoff between a brilliant criminal who maps his future beyond death and a bulldog inspector with nothing to lose. The second half ofThree Seconds is psychological suspense on a grand scale. No wonder Roslund and Hellstrom are the darlings of European crime fiction. Grab your copy of Three Seconds and welcome the next big thing to America."

"Three Seconds, the title, is the time in the book that a shot being fired hits its target. Three Seconds hits its target. It is a tour de force."

"A thrill-a-minute cat-and-mouse game"

"[A] sprawling and often gripping thriller /…/ The gritty details of drug dealing, of prison life and of the relations between cops and informants are all rendered with convincing authority in Three Seconds. And in Ewert Grens /…/ the authors have created an eccentric, alienated, socially inept hero worthy of comparison with Swedish mystery master Henning Mankell's Inspector Kurt Wallander."

"Twisty plot makes for propulsive reading."

"The thin line that separates such truth and lies is a theme reverberating throughout Three Seconds and drives an explosive plot twist and coverup… [The] novel's savage dissection of societal and government corruption make Three Seconds a nerve-jangling ride and perhaps a kissing cousin of Larsson's novels."

"The writing team of Roslund and Hellström is one that is made in heaven. /…/ Three Seconds is challenging, exciting and haunting. Even if you see the (multiple) ending(s) coming, you will be amazed by how Roslund and Hellström pull things off. It is more than worth the night of sleep you'll sacrifice at its altar. Strongly recommended."

"[Three Seconds] rapidly evolves into an unputdownable narrative. /…/ The book builds to an explosive climax and a most satisfying conclusion. Although the story of Piet Hoffman was what kept my adrenalin pumping, the whole issue of the government lies that Grens uncovers was quite compelling as well. I found Three Seconds to be an engrossing and exciting read. It certainly deserved being named theBest Swedish Crime Novel of the Year in 2009."

"It's like Traffic on the Swedish-Polish border, but everything from the weather to the criminals' hearts is a little colder."

"These guys are their own kind of writers and if you love crime fiction you owe it to yourself to check out this book. Mobsters, drug dealers, corruption and loads of action. This is pure straight up Crime Fiction, no chaser, no apologies."

"Superior storytelling by Swedish duo. /…/ Aided by a fine English translation, its ingenious plotting, searing glimpse of prison and drug-trade life and dark, visceral portrayals of informant, handler and homicide cop all make for superior storytelling."

"It's been a very long time since I read a book as suspenseful as [Three Seconds]… It's a masterfully composed novel! /…/ What places Roslund & Hellström in a league of their own is the high degree of authenticity."

"[Three Seconds] is a genuine thriller, one doesn't take many breaks while reading the 535 pages… [Roslund & Hellström] haven't written a single dull page in the entire book."

"This is fiction inspired by reality. The result is that this thriller feels like something that could really happen. The suspense escalates and I find myself holding my breath as the plot develops."

"The five novels featuring Inspector Ewert Grens are faster paced and stronger on plot than most Swedish crime fiction."

"A superb novel with intrigue and action, but also the story of a confrontation between two moral codes, which makes us lose our certainties about good and evil."

"A solid, captivating thriller, with dense, nervous pages, and an almost constant sense of tension."
Author

Anders Roslund

Published

2009

Genre

Pages

592

Reading material

Swedish edition

German edition

English edition

Rights sold

Bulgaria, Era

Czech Republic, Euromedia

Denmark, Rosinante

Denmark, Modtryk

Estonia, Eesti Raamat

Finland, WSOY

France, Fayard

Germany, Blanvalet

Iceland, Bjartur & Veröld

Indonesia, Mizan

Israel, Sela

Italy, Einaudi

Japan, Kadokawa

Korea, Singongsa

Korea, Sigongsa

Lithuania, Metodika

Netherlands, De Geus

Norway, Cappelen Damm

Poland, Albatros

Portugal, Planeta

Romania, Trei

Slovakia, Ikar

Slovenia, Mladinska knjiga

Sweden, Piratförlaget

Turkey, Ithaki

UK, Quercus

US, Quercus

Film rights sold

US, Thunder Road