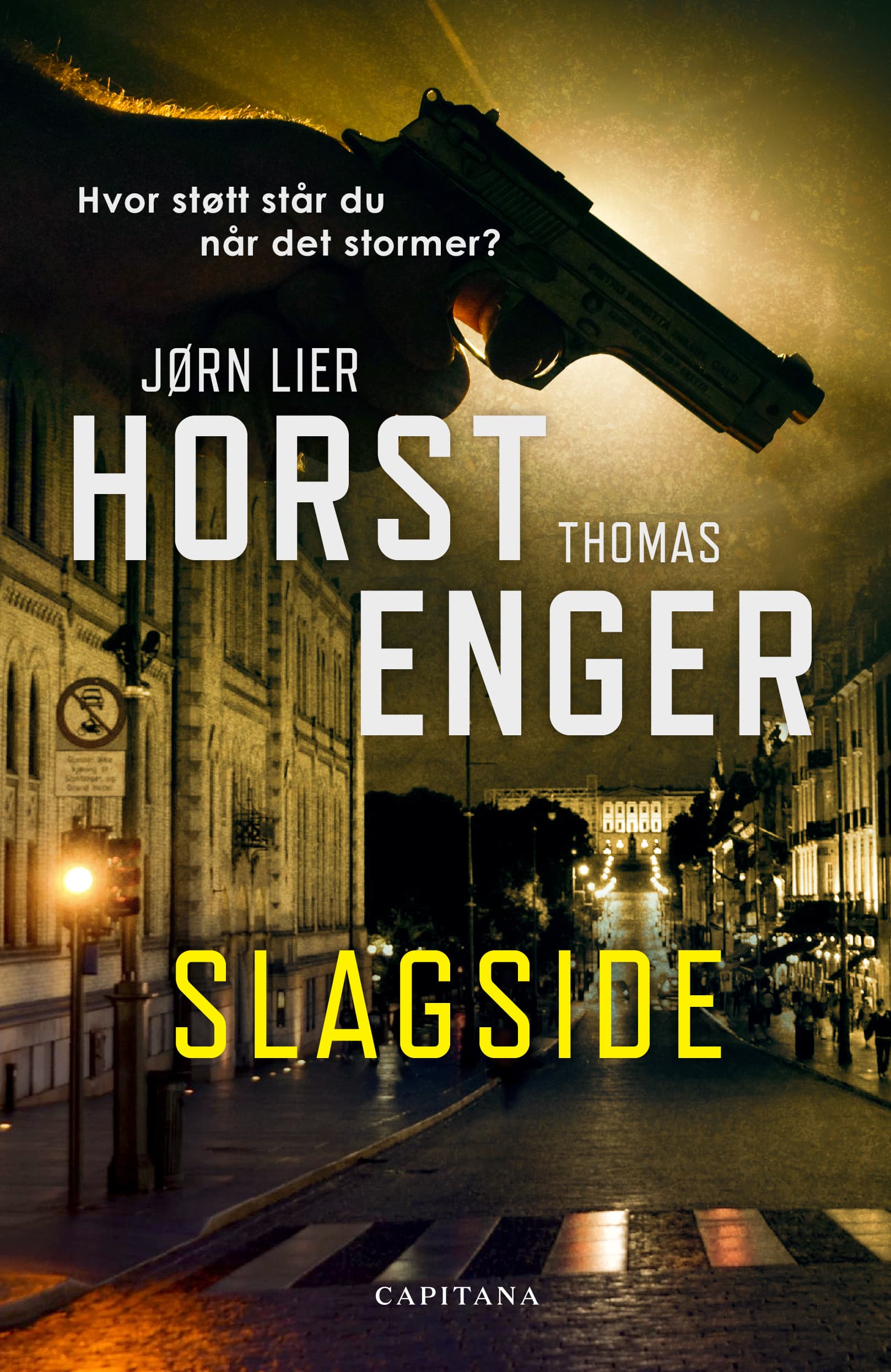 Slagside
Unhinged
Blix & Ramm #3
Investigator Sofia Kovic has uncovered a connection between several murder cases and deaths in Oslo during the last year and a half. She tries to call her closest superior, Alexander Blix, not yet wanting to involve anyone else in the police. But before Blix has time to call her back, Kovic is shot and killed in her own home. It appears to be an outright execution. And in the apartment below, Blix's daughter Iselin narrowly escapes the fate of becoming the killer's next victim.
Four days later, Blix and crime journalist Emma Ramm are locked inside an interrogation room, seated across from The National Criminal Investigation Service. Blix has shot and killed a man, and Ramm saw it all happen. In the hospital, Iselin's life hangs in the balance. Blix no longer knows who among his closest allies he can trust. Worse, he doesn't know if Iselin will pull through. And not even Blix himself is certain that he killed the right man.
Unhinged is the third installment in Jørn Lier Horst & Thomas Enger's internationally bestselling Blix & Ramm series.
Reviews
"A meeting of masters that will have readers rejoicing. /…/ The authors are competent stars and this is a truly excellent suspense read, but there are two aspects that impress above all else. One is the intelligent plot design that's complex with many puzzle pieces that appear impossible to join together into an explanatory whole before the seemingly impossible happens in a finale made for the silver screen. The other aspect is the character growth that gives us people who feel alive; they and their relationships truly captivate and move the reader."

"Norwegian noir for the picky reader. /…/ Unhinged is an originally and effectively told story wherein multiple timelines come together. Horst and Enger are experienced and successful crime writers on their own, and together they might just be the Nordics countries' greatest. The plot may seem hardboiled (and it is at times), but the suspense can mostly be found in the psychological. And it's non-stop. It's been a long time since I read something that kept me awake at night."

"The psychological horror level has been raised to the roof in this latest – and best – installment in Horst and Enger's joint project. It's Nordic noir with emphasis on the black, and eminently well-crafted and written. "

"The collaboration between Horst and Enger is a good example of how two skilled craftsmen can work together professionally. There's no doubt that both have mastered the crime genre, and know how to fuse plots and suspense."

"Successful suspense on multiple levels. /…/ Skilled craftsmen deliver solid work. This holds true whether you're a woodworker, a plumber, or an author. The writer duo Jørn Lier Horst and Thomas Enger have once again delivered a solid, suspenseful and entertaining thriller in the form of the novel Unhinged. /…/ The novel is intensely thrilling and utterly difficult to put down."

"Thomas Enger's background is in journalism, Jørn Lier Horst was a cop, and whatever experiences they bring to the table it obviously works because the books are great. /…/ [Unhinged] is certainly the most heartrending of all the books."
Author

Jørn Lier Horst & Thomas Enger

Published

2020

Genre

Pages

362

Reading material

Norwegian edition

Rights sold

Croatia, Fokus

Czech Republic, Zlin

Denmark, Modtryk

Estonia, Varrak

France, Gallimard

Germany, Blanvalet

Lithuania, Baltos Lankos

Netherlands, Bruna

Norway, Bonnier Norsk

Poland, Smak Slowa

Slovakia, Premedia

Sweden, Wahlström & Widstrand

UK, Orenda Books (World English)