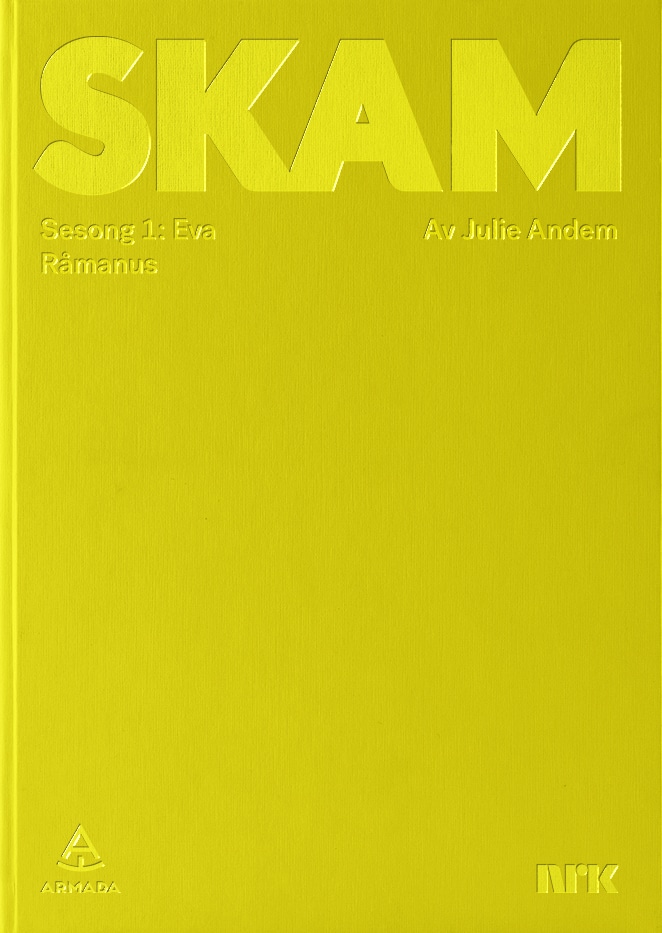 SKAM Sesong 1: Eva
SKAM Season 1: Eva
The SKAM books are the original scripts of the worldwide hit web drama series of the same name, just as they were written.
Each SKAM book contains one of the four seasons that aired between 2015 and 2017. The scripts have never recorded scenes, lines that were later cut, newly written prologues and epilogues, and Julie Andem's own comments and unique mind maps.
SKAM Season 1: Eva follows the main character Eva Kviig Mohn as she starts high school. Eva has just begun dating Jonas, but the new relationship is putting a strain on her friendship with Jonas' ex. Unable to trust her boyfriend and reconcile with her old friends, Eva's first year at the Hartvig Nissen school ("Nissen") becomes a turbulent one filled with love, betrayal, and broken friendships – but also new ones as she finds and connects with Noora, Chris, Vilde and Sana.
The SKAM books are the ultimate key to the universe that absorbed an entire generation of viewers. Get ready to get to know Eva, Noora, Isak and Sana like never before.
Reviews
"I'm struck once again by how great the dialogue is, how realistic it feels, with or without time markers. /…/ It's fun to read how Julie Andem has reasoned, how she encourages improvisation. It makes it feel like the series was made with big margins, generosity and trust."

"You would – almost certainly – have had to be living under a rock to have not heard of SKAM, the Norwegian youth series that conquered the world during 2015-2017. /…/ The script includes never-shown scenes, a new prologue and epilogues, and Julie's private notes. The notes in particular made me smile and laugh several times over."

"The script is written so vividly – not once did I pause to say to myself, 'it's better on the screen.' It is just as good! I was deeply impressed by how the book could live up to my expectations, and it did so in all ways. /…/ SKAM in book format is both for old fans of the series and new ones. It gives you the little extra, and it reminded me of just what SKAM can do. It's realistic and unvarnished, truly making its readers invest in the story. The immediacy it possesses is unique, and I'm truly looking forward to reading the other scripts."

"The narrative is just as gripping in book form as it was on TV."

"Reading this script feels like rewatching the series with all of the joy of recognition and nostalgia that this entails, while it simultaneously gives a unique insight into the creation of the series. /…/ Andem has a flawless way of writing characters, incorporating all of those feelings, problems, joys and sorrows that are part of what it means to be young (and human), with an undercurrent of existential questions and a sparkling excess of smiles, tears and recognition. The raw script format truly works: It gives the reader the chance to see the creative process. Andem's notes to herself and others on the team are utterly hilarious."
Author

Julie Andem

Published

2018

Genre

Pages

206

Reading material

Norwegian edition

Rights sold

Denmark, Høst & Søn

Faroe Islands, BFL

Iceland, Ugla

Italy, Giunti

Norway, Armada

Poland, Rebis

Sweden, Mondial