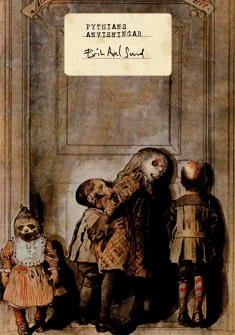 Pythians anvisningar
The Pythia's Instructions
Victoria Bergman #3
The Pythia's Instructions is the final part of the trilogy about Victoria Bergman. Victoria Bergman is attempting to use therapy on herself to come to terms with her own fragmented nature. Towards the end of this self-treatment only the strongest of her multiple personalities remain; the crow girl, the sleepwalker, and the reptile. She now sees various events in her past in an entirely different light.
The Pythia's Instructions is about the ruthless rules laid down by the leaders of the secret sect "The Sigtuna Diaspora". As Victoria Bergman's mental health improves, Sofia Zetterlund is able to give her lover Jeanette Kihlberg increasingly useful advice in her hunt for the men who have not only damaged Victoria for life, but also her daughter Madeleine.
The dramatic and chilling conclusion takes place at the site of one of the most notorious Nazi massacres, Babi Yar in Ukraine. And to this day, justice has yet to be served.
Reviews
"It is a rare thing, that a crime novel makes me cry, but this time I had to succumb. With this book Erik Axl Sund manifest themselves as some of the best within Swedish crime fiction. /…/ Erik Axl Sund have done a magnificent job with the Victoria Bergman trilogy. In the first part of the series they constructed a skeleton, and in the second part they added meat to it. In this third part we get the soul of the novel, and what a tormented and unhappy soul it is! Moreover, this soul wants revenge."

"This is addictive, intelligent entertainment of the highest order. For very good reasons, this trilogy has been compared to Stieg Larsson's Millennium trilogy. But where Stieg Larsson tells a classic saga about the struggle between extremely good and extremely evil people, Erik Axl Sund puts a knife straight into the heart of the reader. /…/ All in all, the Victoria Bergman trilogy is a refreshingly bold and genuinely original project. It is an astonishingly stringent, well executed and actually almost without exception breathlessly suspenseful psychological thriller bar none, not only in Sweden."

"Erik Axl Sund writes a psychological riddle rather then a criminal one /…/ These novels have an appealing, genuine tone and an engagement that places them in a league of their own in Swedish crime fiction."

"The third part of the Victoria Bergman trilogy definitely establishes what I predicted about a year ago: this trilogy is among the best I have read in Swedish in the genre. Perhaps even the best. /…/ When I wrote about The Hunger Fire last year, I appointed Erik Axl Sund as Stieg Larsson's superiors. It is now very gratifying to be able to acknowledge that I wasn't at all wrong. If I should choose between two trilogies from the 2000's, the choice is easy: The Victoria Bergman trilogy. And you have to remember that I belong to those who really praised the Millennium trilogy to the skies. There are a few similarities between these two great Swedish works. There are young women in danger, there are conspiracies and it's all very suspenseful. But as for literary quality, I believe that the Victoria Bergman trilogy will last longer. I wouldn't be surprised if future writers will refer to this work in the same way in which so many Swedish and foreign writers always refer to Sjöwall & Wahlöö as their major source of inspiration."

"An entire year we have waited for the conclusion, and it was well worth the wait. A conclusion in which one elegantly gathers all the strings and unsolved issues that amazed in The Crow Girl and The Hunger Fire. The truth is ruthless and so evil that I couldn't have guessed it even in my wildest imagination… Erik Axl Sund have written a trilogy that readers of crime fiction cannot due without."

"The trilogy makes you breathless and confused as you chase across the pages, eager to find out more. It is a story that takes place in what Jung calls the collective unconscious, i.e. inside all of us… [An] insidiously shimmering masterpiece."

"The Weakness of Victoria Bergman touches the heart of true psychological crime. Impressive and terrifying."
Author

Erik Axl Sund

Published

2012

Genre

Pages

379

Reading material

Swedish edition

Rights sold

Brazil, Companhia das Letras

Bulgaria, Era

Canada, Penguin Random House

Catalonia, Empúries

Croatia, Znanje

Czech Republic, Euromedia

Denmark, Lindhardt og Ringhof

Estonia, Varrak

Finland, Otava

France, Actes Sud

Germany, Goldmann

Hungary, Libri

Iceland, Uppheimar

Israel, Keter

Italy, Corbaccio

Japan, Kodansha

Korea, Minumsa

Latvia, Zvaigzne ABC

Netherlands, Cargo

North Macedonia, Heart Books

Norway, Front

Poland, Sonia Draga

Portugal, Bertrand

Romania, RAO

Russia, Corpus

Serbia, Samizdat

Slovakia, Ikar

Slovenia, Ucila

Spain, Mondadori (World Spanish)

Sweden, Ordupplaget

Taiwan, Locus (Complex Chinese)

Thailand, Matichon

UK, Harvill Secker

Ukraine, Folio

US, Knopf