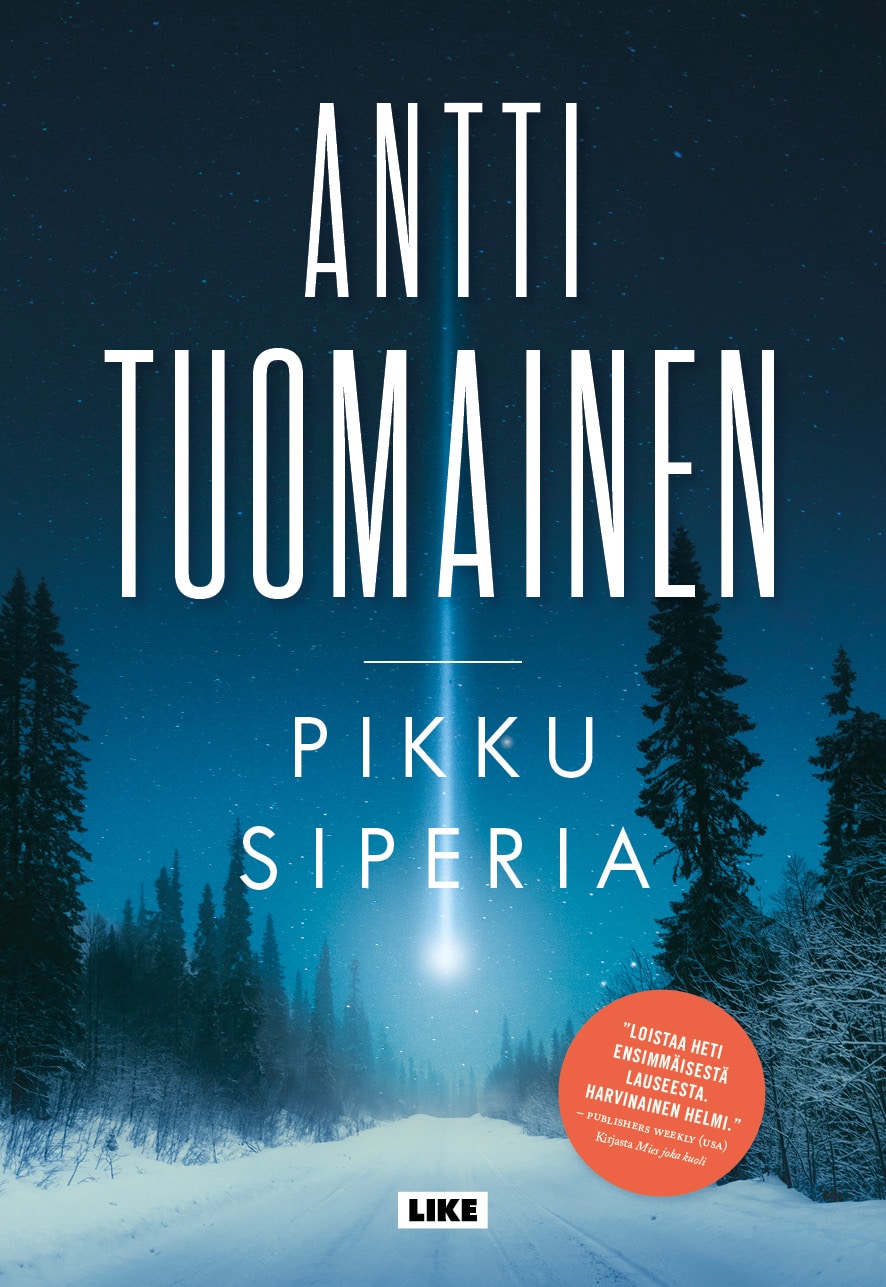 Pikku Siperia
Little Siberia
A man with dark thoughts on his mind is racing along the remote snowy roads of Hurmevaara in Finland, when there is flash in the sky and something crashes into the car. That something turns about to be a highly valuable meteorite. With euro signs lighting up the eyes of the locals, the unexpected treasure is temporarily placed in a neighbourhood museum, under the watchful eye of a priest named Joel.
But Joel has a lot more on his mind than simply protecting the riches that have apparently rained down from heaven. His wife has just revealed that she is pregnant. Unfortunately Joel has strong reason to think the baby isn't his. As Joel tries to fend off repeated and bungled attempts to steal the meteorite, he must also come to terms with his own situation, and discover who the father of the baby really is.
Transporting the reader to the culture, landscape and mores of northern Finland, Little Siberia is both a crime novel and a hilarious, blacker-than-black comedy about faith and disbelief, love and death, and what to do when bolts from the blue – both literal and figurative – turn your life upside down.
Selected as one of the The Times' "Best books of the past five years".
"The biting cold of Northern Finland is only matched by the cutting dark wit and compelling plot on this must-read crime novel … most highly recommended!!"
–Denzil Meyrick
"A brilliantly inventive and gloriously funny novel from Finland's greatest export"
–MJ Arlidge
Awards
The Petrona Award

(Best Scandinavian Crime Novel of the Year) UK
2020

Shortlisted for the CWA International Dagger

UK
2020

Shortlisted for the Last Laugh Award

(Best humorous crime novel of the year) UK
2020
Close award list
Reviews
"Antti Tuomainen, the most important Finnish crime writer of our time, has everything set in his eighth novel. /…/ One can really identify with the main character's nightmare and fall in love with his vigor."

"Antti Tuomainen delivers a suspenseful plot with momentum, outstanding atmospheric frenzy and style-conscious dark comedy set in freezing Finnish surroundings. /…/ Little Siberia is superior entertainment for the dark winter evenings."

"[Little Siberia] combines pitch black humor and fast-turning plots. /…/ Tuomainen has delivered a story with an ample dose of straight-forward action, darkly funny sitcom situations and macabre incidents. /…/ The language is vivid and dense, a true joy to read. Tuomainen places his words precisely, at times even sparsely. This skilled author doesn't need anything more than one well-placed word in order to conjure up a lush metaphor."

"This novel hits the nail on the head. The gift of writing is evident once again. /…/ Tuomainen succeeds in making the unbelievable completely believable."

"Ample doses of black humor."

"A skillfully executed crime novel. /…/ Tuomainen is an accomplished novelist in his very own genre."

"[A] world class master of black humor. /…/ Antti Tuomainen's new novel has roots in both Arto Paasilinna and thriller traditions."

"A riveting and thrilling reading experience all the way through. Tuomainen's sparse and careful sentences are to my liking. The humor arises both from the absurd plot twists and the laconic language, both of which stand in brilliant contrast with one another."

"This is a just as much a strong crime novel as it is a deep one, where the driving plot is skillfully interspersed with thought-provoking ideas and reflections."

"Scandinavia's answer to Carl Hiaasen. /…/ Highly recommended."

"With moral dilemmas, plenty of action, and the author's trademark mixture of humour and melancholy, this is Tuomainen's best yet."

"Tuomainen continues to carve out his own niche in the chilly tundras of northern Finland in this poignant, gripping and hilarious tale."

"By no means Nordic noir of the familiar variety, this is eccentric, humorous fare, reminiscent of nothing so much as a Coen Brothers movie."

"Transporting the reader to the culture, landscape and mores of northern Finland Little Siberia is both a crime novel and a hilarious, blacker-than-black comedy about faith and disbelief, love and death, and what to do when bolts from the blue – both literal and figurative – turn your life upside down."

"[A] stunning comic noir. /…/ With scalpel-keen portraits of villagers and their cruel wintry environment, [Tuomainen] humorously probes the eternal ironies, temptations, and uncertainties facing people caught up in unexpected circumstances. /…/ Fans of Scandinavian noir will relish this one. "

"Antti Tuomainen turns the greatest of all human weaknesses into a hilariously funny novel. Black humor and wildly grotesque action alternate with gloomy reflections at breathtaking speed, without the harmony in the narrative being affected. It feels like Raymond Chandler's hardboiled style had been filtered through the [German humorous crime series] Weimar Tatort and then turned into a film by Aki Kaurismäki."
Author

Antti Tuomainen

Published

2018

Genre

Pages

296

Reading material

Finnish edition

English edition

Rights sold

Bosnia and Herzegovina, Sarajevo Publishing

Czech Republic, Zlin

Finland, Like

France, Fleuve Noir

Germany, Rowohlt

Norway, Bonnier Norsk

Poland, Albatros

Spain, RBA

UK, Orenda Books