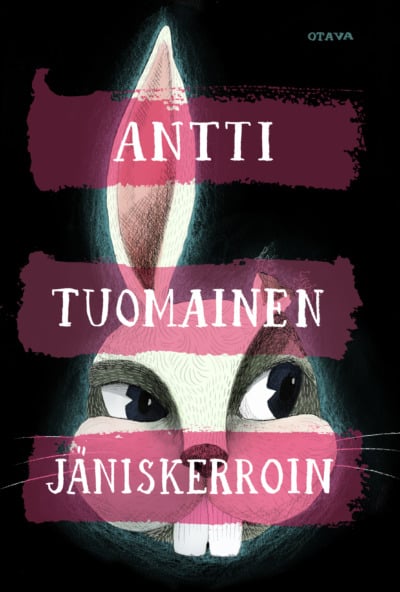 Jäniskerroin
The Rabbit Factor
The Rabbit Factor Trilogy #1
What ought one do with one's life? Insurance mathematician Henri Koskinen knows the answer because he calculates everything down to the very last decimal.
Then everything changes. After suddenly losing his job, Henri inherits an adventure park from his brother – its peculiar employees and troubling financial problems included. The most dire of these financial problems appear to originate from big loans taken from criminal quarters, now keen to get their money back.
In the adventure park, Henri also crosses paths with Laura, an artist with a checkered past. As the criminals begin to collect their debts and as Henri's relationship with Laura deepens, he finds himself faced with situations and emotions that simply cannot be pinned down in his spread sheets.
The first installment in a forthcoming trilogy, The Rabbit Factor is a darkly comic novel about love, death and insurance mathematics.
Awards
Shortlisted for the Petrona Award

(Best Scandinavian Crime Novel of the Year) UK
2022
Close award list
Reviews
"Full of refreshing wit and wisdom, this comic departure from the usual Scandi noir is a treat."

"The antic novels of Antti Tuomainen prove that comedy is not lost in translation. /…/ Tuomainen, like Carl Hiaasen before him, has the knack of combining slapstick with genuine emotion."

"With its sense of danger, delicate shades of dark humour and emotional depth, The Rabbit Factor is an astounding read. It has the suspenseful twists of a thriller, the laugh-out-loud moments of a comedy and a tragic dimension that brings a tear to the eye. It's 288 pages of brilliance, formed into a crime novel. I've only just stopped telling people how brilliant Little Siberia is. Now I have something new to rabbit on about."

"How unassumingly, almost starkly, and yet so beautifully Tuomainen describes the awakening feelings that Henri has in the brand new arena of romance! The plot unfolds pleasantly as secrets are gradually revealed. /…/ The story concludes happily leaving the reader both in great spirits and with profound thoughts about life's peculiarities. /…/ Tuomainen's humor is dry and sharp, in itself mirthful, and it succeeds in describing human beings and our times with enjoyable wit."

"The true gems [in The Rabbit Factor] are Henri's discussions and confrontations with the employees of the adventure park as well as his meetings with gangsters. /…/ The plot elements come together superbly as Tuomainen sure knows how to handle the quick twists and turns. /…/ The last pages leave a wonderful aftertaste and hence The Rabbit Factor qualifies as my favourite Tuomainen novel, alongside The Man Who Died. The use of language and the flow of sentences tickle and please. The story grips you in a way that I had to read it all in one go."

"Antti Tuomainen is the master of creating moods and universes that are realistic yet extremely quirky. /…/ As comical as the character of Henri is, he is also lovable. The Rabbit Factor is a love letter to mathematics and logical thinking. /…/ The Rabbit Factor offers guaranteed entertainment to friends of Tuomainen and of black humor."

"The clash between Henri's personality and the adventure park is delightful and creates an altogether hilarious tension in The Rabbit Factor. Tuomainen has written quite an array of people into the novel, whose characteristics are superbly feasted upon. /…/ I happily co-sign The Times' statement that Tuomainen is the funniest writer in Europe."

"Rationality and emotion, death and humor – playing with opposites could easily lead to narrative problems. However, Tuomainen handles it all with perfection. /…/ The rhythm is tightly controlled. /…/ This is like listening to the most perfect jazz session."

"Kicks off with a joyous chase scene through a theme park …[and] only gets darker and funnier."

"A thriller with black comedy worthy of Nabokov."

"A hilarious crime-drama-comedy."

"With a touch of Schopenhauer and financial market tricks, this book is very entertaining."

"A book for long winter nights that manages portray a character that is almost alien in his brittleness in a heartwarming manner."

"A fast-paced story that's very filmic thanks to its witty dialogue and comedic scenes. /…/ Tuomainen succeeds in his treatment of life's great question in his novel. Highlighting that art and love are probably the greatest constants for all of us."

"A wonderfully funny tale with plenty of excitement and romance."

"Tuomainen is a treasure to savour and has now moved well past the 'Northern version of Carl Hiaasen' I and others had labelled him with. Every successive book to reach us brings along new and hilarious characters and settings, without ever defaulting from the required bucketful of thrills that makes Antti's novels race along, each one more original from the last and utterly unpredictable. /…/ Quirky, fast-paced and laced with deadpan humour.. /…/ You'll laugh your socks off.. /…/ Dark humour at its best."

"His books are hilarious, and he just keeps getting funnier."
Author

Antti Tuomainen

Published

2020

Genre

Pages

340

Reading material

Finnish edition

English translation

Rights sold

Arab World, Aser Al-Kotob

Denmark, Politiken

Estonia, Varrak

Finland, Otava

France, Fleuve Noir

Germany, Rowohlt

Greece, Psichogios

Hungary, Animus

Italy, Mondadori

Korea, Eunhaengnamu

Netherlands, Prometheus

Norway, Bonnier Norsk

Poland, Albatros

Russia, Sindbad

Slovakia, Ikar

Slovenia, HKZ

Sweden, Romanus & Selling

Türkiye, Ithaki

UK, Orenda

Film rights sold

US, Amazon Studios