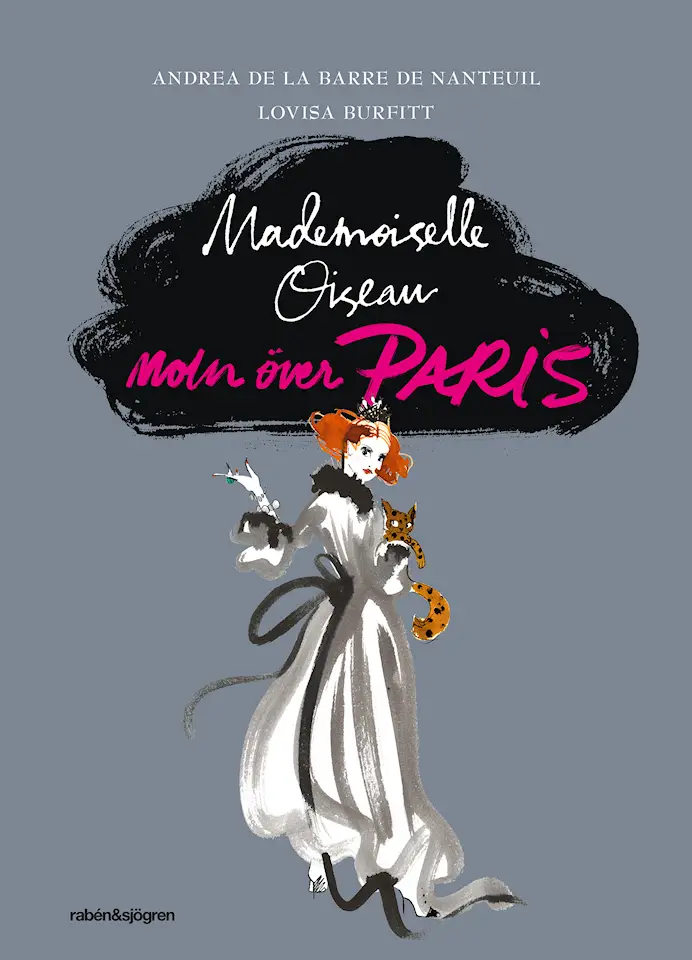 Moln över Paris
Clouds over Paris
Mademoiselle Oiseau #4
It's August and a heat wave has Paris in its grip. The flyers in front of the newsstand on the avenue des Temps Perdus say that Parisians have not endured a hotter summer since 1947. But who can bear to go down and buy a newspaper and read about the misery?
In the old house at number 109, Isabella, Isis and Mademoiselle Oiseau are passed out on the sofa. Elegant in her black silk dress with ruffles and frills, Mademoiselle Oiseau seems to be the one who can handle the heat best. But something else is bothering her. Threatening clouds of evil, black tape in the Palais Royal Park, lice and ferrets have hit Paris. Something unpleasant lurks behind every street corner…
Mademoiselle Oiseau – Clouds over Paris is a story about an impending disaster that requires collaboration, magic, and extraordinary powers in order to be stopped. Come join the fantastic world of Mademoiselle Oiseau under the rooftops of Paris, a fairy tale about a timeless lady, about life and love, about dreams and a boundless friendship.
Lovisa Burfitt's stunning illustrations perfectly capture the magical charm of Paris, the stunning Mademoiselle Oiseau and her opulent apartment on the avenue des Temps Perdus.
Reviews
" The milieu depiction is, as in previous books, Parisian with balconettes and velvet draperies. The images are complemented and expanded with the help of Burfitt's elegant, colorful, and exuberant illustrations in ink and watercolor. "

"As many parents know, the pursuit of cultural consumption, which appeals to young and old alike, is constant and difficult. Among the gems are the books about the eccentric Parisian Mademoiselle Oiseau. "

"If they aren't already, these books are sure to become classics for both younger and older readers. As in the previous parts, one becomes impressed by the joy of storytelling, the ingenuity of the many whims, and the driven linguistic vitality. "
Author

Andrea de la Barre de Nanteuil & Lovisa Burfitt

Published

2022

Genre

Pages

117

Reading material

Swedish edition

Rights sold

Sweden, Rabén & Sjögren