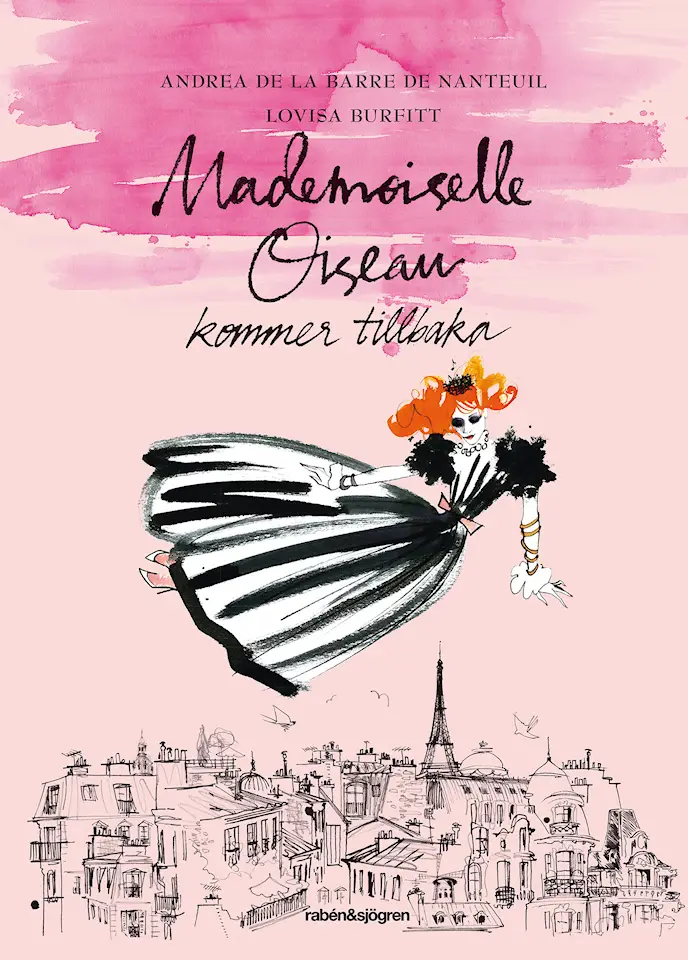 Mademoiselle Oiseau kommer tillbaka
Mademoiselle Oiseau and the Letters from the Past
Mademoiselle Oiseau #2
It's November. On the avenue des Temps Perdus, autumn is as formidable as it can only be right there, in the middle of Paris. In front of the old house at number 109 stands a lanky young man playing the transverse flute. The notes dance around the pavement, jumping here and there, before leaping up onto Mademoiselle Oiseau's balcony and into the bright red sky, encountering the last falling leaves on the way.
 It has been exactly 59 days since Mademoiselle Oiseau sat down on her carpet and flew to Venice. Left alone, Isabella sees Mademoiselle Oiseau's apartment in a different light. She discovers that behind all the Parisian frills lurks a darkness from the past. A past life colored by secrets edged in sadness and hasty goodbyes, but also by sisterhood, the power of dreams, and a pink dollhouse. Quickly, before it might be too late, Isabella must set out to search for the truth.
Let yourself be swept away to Paris and the fantastic continuation of the story of Mademoiselle Oiseau.
The story of Mademoiselle Oiseau and Isabella centers on the friendship between a girl and a timeless woman, about life, love, sadness, and dreams. About what is true and what is almost true, and what is almost too good to be true but still might be. The Mademoiselle Oiseau books are loved by readers young and old and have received widespread attention in the Swedish and international media.
Reviews
"The beauty of the books about Mademoiselle Oiseau is precisely the meeting between the adult world […] and the world of fairy tales, not at all unlike the fantasies that feature in the stories of One Thousand and One Nights. […] What makes both this and the previous book such delightful page-turners are Lovisa Burfitt's witty, detailed, and skilled drawings; it is thanks to them that the books also flirt with the adult crowd, not without reason as Lovisa is a skilled fashion designer. "

"Let yourself be swept away to Paris and the fantastic continuation of the story of Mademoiselle Oiseau. "
Author

Andrea de la Barre de Nanteuil & Lovisa Burfitt

Published

2015

Genre

Pages

136

Reading material

Swedish edition

Rights sold

Sweden, Rabén & Sjögren