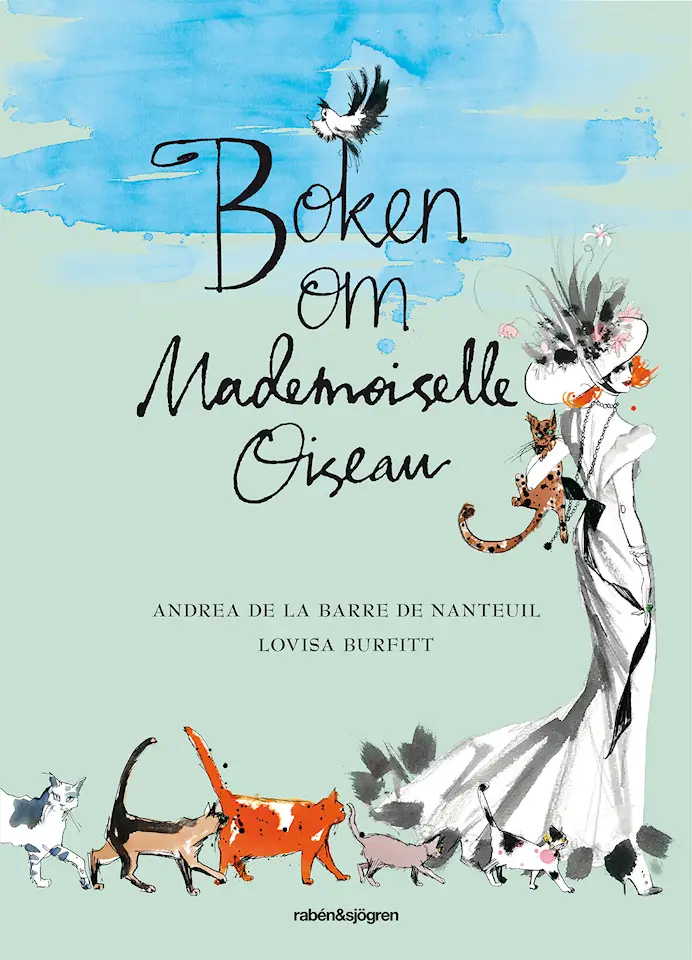 Boken om Mademoiselle Oiseau
The Story of Mademoiselle Oiseau
Mademoiselle Oiseau #1
In the middle of Paris, not far from the river Seine, lies the Avenue des Temps Perdus. There, at the very top floor of a beautiful old apartment building, lives Mademoiselle Oiseau. If you lift your chin and look up, it almost might seem as if the building is swaying. Not only because it is very tall, but also because all of Mademoiselle Oiseau's birds and cats and odd balcony furniture make it seem a little bit whimsical.
One day, nine-year-old Isabella accidentally presses floor six instead of five when she steps into the elevator. Only when she enters the key in to the door lock does she notice that something is not right. But then it's already too late. Before she can blink, she is pulled into Mademoiselle Oiseau's apartment – a world of feathers and frills, long pearl necklaces and high heels, wayward cats, curious birds and silk dresses galore. But also, a world where a magical panther button and secret rooms live a life of their own among the rooftops of Paris.
A stunning, lovely fairy tale about the friendship between a little girl and a timeless lady, about life and love and dreams. About what's true and what's almost true, and about everything that's almost too good to be true but is true, nonetheless. Or?
Reviews
"The Book of Mademoiselle Oiseau is about an original and enigmatic Parisian, the protagonist in a picture book where debut author Andrea de la Barre de Nanteuil is responsible for the text and the cartoonist Lovisa Burfitt is responsible for the delicately elegant illustrations. "

"A fantastic, beautiful fairytale about the friendship between a little girl and a timeless lady, about life and love and dreams. About what's true and what's almost-true, and about everything that's almost too good to be true but is true nonetheless. Or? Lovisa Burfitt's delicate illustrations perfectly capture the magical charm and enchanting decadence that prevails in a sumptuous Parisian apartment where time seems to stand still. "

"I fell for this book from the first page, with its beautiful language, interspersed words and phrases in French, and the wonderful pictures. […] It is clean, straightforward and elegant. The language is advanced and yet easily accessible. Just like Mademoiselle Oiseau herself. […] The mystery surrounding Mademoiselle Oiseau makes the book an exciting adventure, without being scary. "
Author

Andrea de la Barre de Nanteuil & Lovisa Burfitt

Published

2014

Genre

Pages

138

Reading material

Swedish edition

Rights sold

Armenia, Zangak

Netherlands, Unieboek Spectrum

Sweden, Rabén & Sjögren