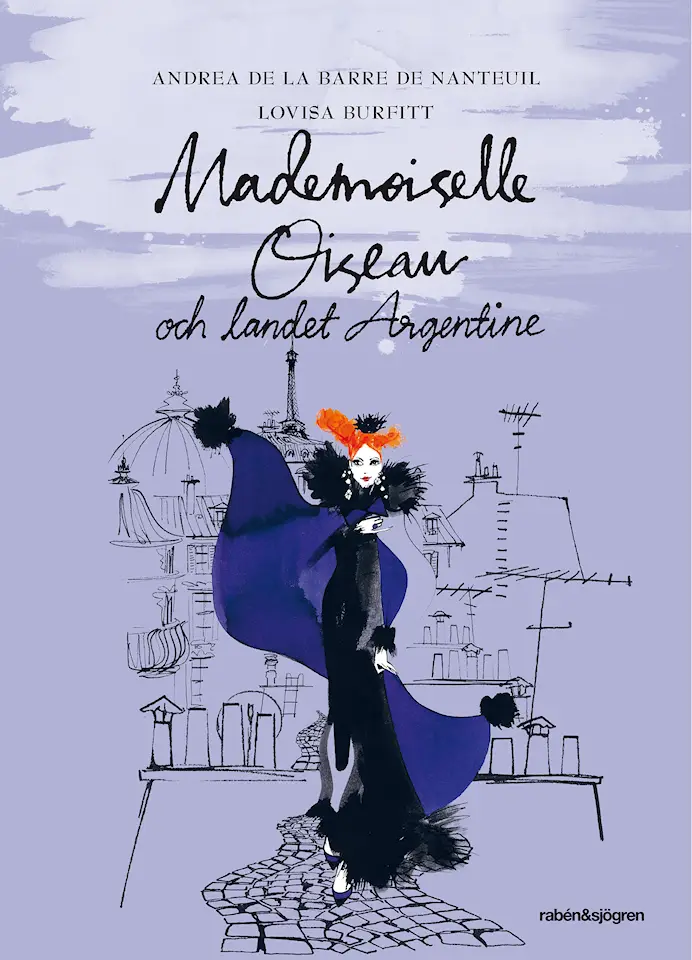 Mademoiselle Oiseau och landet Argentine
Mademoiselle Oiseau and the Land of Argentine
Mademoiselle Oiseau #3
Maybe it's me who's weird, says Isabella. Absolument, says Mademoiselle Oiseau. Thank the kittens for that. I get so terribly tired when I think that there are people with whom there is nothing wrong. She shudders theatrically and plucks a little with the bird's nest in her hair. Then she sits down on the sofa next to Isabella.
Isabella is feeling down. For several days she has been lying on Mademoiselle Oiseau's sofa, half-asleep most of the time. Is it the spring blues? Or is it just too many cats, birds, flying carpets and pearl necklaces? Mademoiselle Oiseau detests spring, it smells like crying, she says, and decides to leave the Avenue des Temps Perdus. She takes Isabella with her.
Together they stroll across the rooftops of Paris, to a city above the roofs. Far away, yet very close. A place where dreams meet reality and where the imagination has free rein. Among butterflies, porcelain treasures and the occasional lunatic, old memories are brought to life. How is everything really connected? Surely it can't just be a coincidence that the crazy, gorgeous and charmingly eccentric Mademoiselle Oiseau and nine-year-old Isabella have become best friends?
Mademoiselle Oiseau and the Land of Argentine is the third book about Mademoiselle Oiseau and Isabella. A fantastic tale about the friendship between a girl and a timeless lady, about life and love and dreams. About what's true and what's almost true, and about what's almost too good to be true, but may be true anyway.
Author

Andrea de la Barre de Nanteuil & Lovisa Burfitt

Published

2017

Genre

Pages

138

Reading material

Swedish edition

Rights sold

Poland, Literackie

Sweden, Rabén & Sjögren