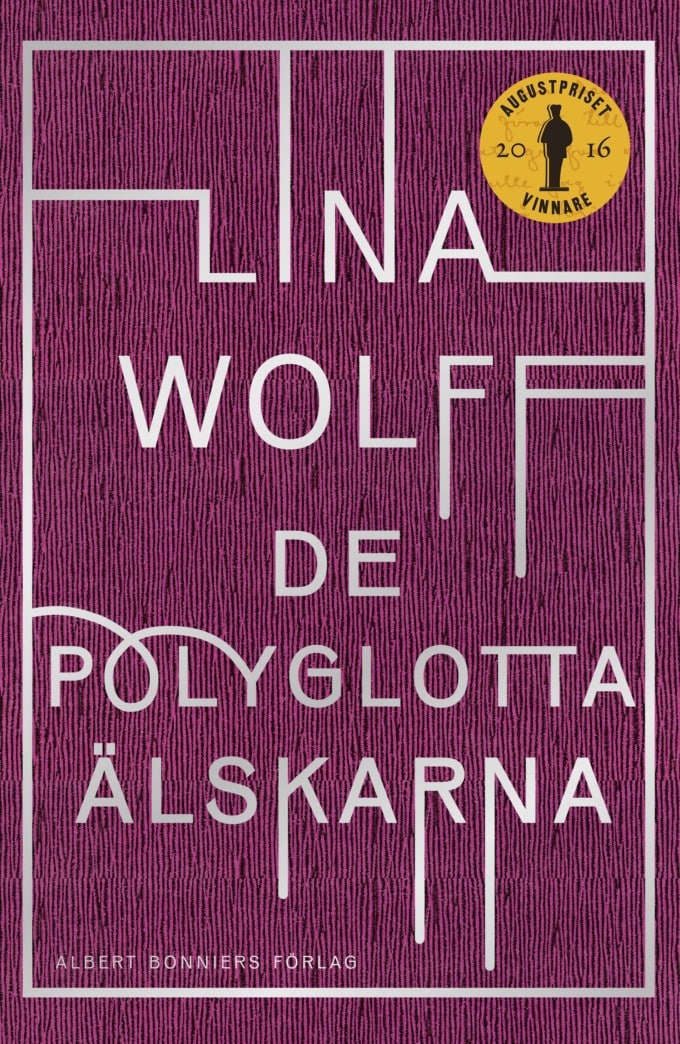 De polyglotta älskarna
The Polyglot Lovers
Ellinor is from a small town in southern Sweden. One day she posts an ad in the personals, hoping to find a tender – but not too tender – man. But none of the men she meets live up to her hopes and expectations. Pleasure, it would appear, is an elusive thing. Love, even more so.
Max Lamas dreams of a polyglot lover, a lover that will understand him in every tongue. His search takes him across the continent, from Stockholm to Italy, where he befriends a Marchioness dancing on the edge of ruin.
And then there is Lucrezia, in Italy, made to witness her grandmother's final downfall in a deserted palace, their whole world a mere shadow of everything it used to be.
A manuscript wanders in and out of their lives and hands, binding them together, cared for by some, hated by others, but leaving no one unaffected.
Awarded the prestigious August prize in 2016, The Polyglot Lovers is a multi-voiced, engaging and surprising novel with complex and captivating characters, written in a sharp-eyed and straightforward prose.
Awards
Reviews
"The edifice of male genius is annihilated in this galvanizing novel from Wolff. […] Wolff orchestrates her divergent plots into riveting harmony, but more striking is the audacity with which she reveals Max and Ruben's reckless egoism. 'I'm an autodidact in male devastation,' Claudia declares before sticking the final pin in Max's inflated persona. Wolff's novel proves the necessity of cultivating such a specialty. Firing on all cylinders from beginning to end, this story pulses with intellect and vitality unmatched by the literary barons it deposes."

"Mr. Houellebecq's books diagnose the soullessness of contemporary liberal democracies, where people futilely seek meaning for their lives in pornographic sex. The Polyglot Lovers shifts the focus from Mr. Houellebecq's destructive men to the women who are both victims of and accomplices to the cycle of narcissism. In Ms. Wolff's telling, intellectuals―the writers and theorists who wax poetically about falling in love―are the worst of the abusers."

"A sharp-eyed, sometimes surreal, often funny take on male-female power dynamics."

"Wolff upsets the applecart, mercilessly mocking male hegemony and skewering literary pretensions. What could have been angry and strident is instead caustic and mischievous: both a bracing wind and a breath of fresh air. Wolff's constant supply of fire, bite and wit are compelling forces."

"Wolff's novel raises the following questions: how do we define literary genius, and who do we allow to define it for us?"

"The Polyglot Lovers is an amusing take on modern life (literary and otherwise) and relationships between the sexes. All in all it makes for an interesting polychromatic fiction, a surprisingly ebullient story―carried along nicely by Wolff's entertaining and easygoing presentation―in a cleverly structured novel, its three separate parts neatly coming together by the end."

"A highly enjoyable absurdist comedy about love and desperation."

"The Swedish author of Bret Easton Ellis and Other Dogs enjoys nothing more than savaging the myths of male authorship. Here she lays into notions of male genius, as her protagonist, Ellinor, finds herself entangled with a literary critic who is fixated on a narcissistic author who is in turn obsessed with real-life enfant terrible of French letters, Michel Houellebecq."

"The Polyglot Lovers is a quiet rapture – unsparing, startling, mesmeric, and told with the soberest of grins."

"The Polyglot Lovers' blithe disregard for social norms and finer feelings is exhilarating; it's pitiless and scathingly funny."

"A magnificent novel: funny, clever, engaging and surprising. Its characters are complex, unpredictable and occasionally unlikeable, but never less than totally believable and deeply human."

"A cruel literary game /…/ Unusual characters are revealed in absurd situations, giving rise to a skilful literary game in which you are easily caught. "

"A singular novel, sometimes brutal, certainly merciless."

"The Polyglot Lovers is funny, intelligent and always surprising. Complex and human (all too human…), its characters are never the spokesperson for anything but themselves, and certainly not for Lina Wolff, who allows them to live and deal as best they can with their heavy solitude."

"Strange and magnificent."

"This astonishing novel, undoubtedly one of the most original titles of this autumn, is written in an intelligent and raw style /…/ an absolutely extraordinary novel that you devour like a thriller yet leaves you floored. "

"From a Swedish lake to Italian aristocrats, Wolff is in full control of her surprises and mischievously mocks the male gaze."

"Sweden's most important author /…/ Lina Wolff dares an explicitly female response to Michel Houellebecq's nihilism.' "

"The Polyglot Lovers /…/ is smart, funny, playful and very ambitious /…/ Take note: this is a great novel by an original new voice in European literature. "

"Wolff knows how to convey the loneliness in and between lovers, which seems to come directly from how a man imagines a woman. […] Let us imagine instead, Lina Wolff's novel says, a new language for our desire for the other."

"So incredibly good! The Polyglot Lovers serves up one literary kick to the balls after another. /…/ It has been a long time since I read such a resilient and well-written novel from a Scandinavian author. Finally, a novel that stands out in the crowd, I thought as I read; a story that manages to surprise the reader from page to page, from beginning to end. Like a David Lynch, Lina Wolff has created a burlesque cocktail of dark humor, absurdities and peculiar characters, which doesn't allow for simple answers to complicated questions. And there are a lot of questions… Thematically, The Polyglot Lovers explores the male and female gaze in an ingenious and refreshing way. /…/ Wolff writes a very compelling and in a positive sense light prose, which deserves the label 'intellectual page-turner."

"A diverse exploration of language and sex. /…/ This cornucopia of stories and complex personalities is an indirect confrontation with many of literature's stereotypes. It's liberating. The slow story of power and of both sexual oppression and pleasure, lingers on details and is full of absurd angles. /…/ A novel to enjoy for a long time: the fantastic stories, the intelligent reflections, the elegant language. It is no coincidence that Wolff received the Swedish August Prize in 2016 for this novel. /…/ A complex and very good novel."

"Sweden's new literary star has been translated into Norwegian and it's easy to let yourself be charmed: Wolff's novel is cool and feministic, dark and funny. /…/ The Polyglot Lovers is a refreshing and slightly peculiar novel that explores contemporary loneliness: The one who diminishes in a relationship, and the one who grows."

"Satirical in just the right way. /…/ The Polyglot Lovers gives a humorous and slightly caricatured depiction of types one has met, especially in a literary setting. /…/ Wolff's infamous portrayal of Max as a self-absorbed author is enjoyable reading. The prose is about as pompous as the character himself. /…/ This novel manages to avoid becoming too much of an insider joke much thanks to its humor. /…/ With humor and a feminist sting, The Polyglot Lovers transforms male artist myths into clichés."

"The novel's strength lies in the ease with which it deals with its themes. The undecorated prose often marks a certain distance to what is being told. /…/ One of the things that make The Polyglot Lovers worth reading is precisely the willingness to let whims and superficial factors direct the course of the story. The whims often result in a surprising humor, and unexpected perspectives. /…/ Wolff doesn't show us a way out of the Houellebecqian gaze, but she points to it and makes us laugh at it."

"It's been a long time since I read anything so different, so creeping, so willful. This is a novel that you not only read (though it's elegantly and casually written) but also study. It will test your sympathies and raise a wide range of questions. Yes, this is a novel that you'll remember."

"Wolff's characters are solitary individuals who, when they experience an attraction to other people, are driven more by obsession and dark desires than by a longing for intimacy. They are also considerably more psychologically complex than novel characters usually are: not just a bunch of simple features put together in comfortable harmony under the plot's harsh regime, but enigmatic characters that lack keys. /…/ The kind of portrait that Lina Wolff paints isn't usually presented in such an uncomplicated, straightforward and realistic prose as she presents. I associate this with writers like Marguerite Yourcenar, Djuna Barnes and Angela Carter."

"You know the feeling, when a novel is so thrilling that you just don't want it to end. You drag out the experience and prepare another cup of coffee, yet it's all too soon a fact: you've managed to read it from cover to cover during a single long afternoon and evening, and now it's finished. Such was my experience with Lina Wolff's third novel, The Polyglot Lovers. I had high expectations – her previous books have been both acclaimed and praised – and yet they were surpassed: I haven't been so fascinated by storytelling since I read Paul Austers New York-trilogy sometime in the 90s."

"Lina Wolff has written a multi-voiced, winding, feministic, captivating and a bit provocative novel. /…/ In a pulling, precise prose, she's written a kind of funhouse mirror version of works by authors such as Michel Houellebecq, taken their harshness and literary consequence neutrality and shown what such a treatment would result in if used on female characters, what it would in fact be accomplishing even as it thinks that it's only chronicling what is happening. At the same time, there is a twisted quality in Wolff's narrative; nothing is quite as it should be. It is a novel that is polyglot both in form and content."

"Difficult to summarize, but effortless to read: Wolff's brilliant text sharply affects and opens wide. Power structures such as gender, class and education are viciously and radically portrayed – and like clever, multilingual stories, they are ultimately linked together."

"What a novel! I'm totally charmed! I was completely absorbed by The Polyglot Lovers /…/ it's really, really fabulous. Every sentence is great. [This] is a book to read and discover and read over and over again."
Author

Lina Wolff

Published

2016

Genre

Pages

291

Reading material

Swedish edition

English edition

Rights sold

Croatia, Naklada Ljevak

Czech Republic, Albatros Media

Denmark, Gladiator

Estonia, Varrak

France, Gallimard

Georgia, MTP

Germany, Hoffman & Campe

Greece, Psichogios

Hungary, Libri/Park

Iran, Café 60 Media

Italy, Codice

Netherlands, Atlas Contact

North Macedonia, Artkonekt

Norway, Oktober

Poland, Marginesy

Romania, Casa Cartii De Stiinta

Russia, AST

Serbia, Heliks

Sweden, Albert Bonniers

UK, And Other Stories

Ukraine, Vydavnytstvo