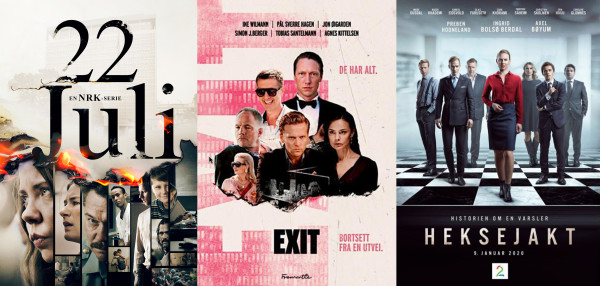 '22 July', 'Exit' and 'Witch Hunt' nominated for the Golden Screen Awards
The nominees for the 2020 Golden Screen Awards have been revealed. The Golden Screen (Gullruten) is the annual award for the Norwegian TV industry and their equivalent to the American Emmy Awards.
Pål Sletaune and Sara Johnsen are both nominated for their lauded TV series 22 July, Sletaune for 'Best Director' and Johnsen for 'Best Script'. 22 July is also nominated for 'Best TV Drama'. Øystein Karlsen, creator of the success series Exit, is nominated for 'Best Script' and 'Best Director' alongside Exit's nominations for 'Best TV Drama' and 'Best Innovation'. The much acclaimed TV series Witch Hunt, created and written by Anna Bache-Wiig and Siv Rajendram Eliassen, is also nominated for 'Best TV Drama'.
The winners will be announced on July 19 and the award show will air on TV 2 Norway and TV 2 Sumo.