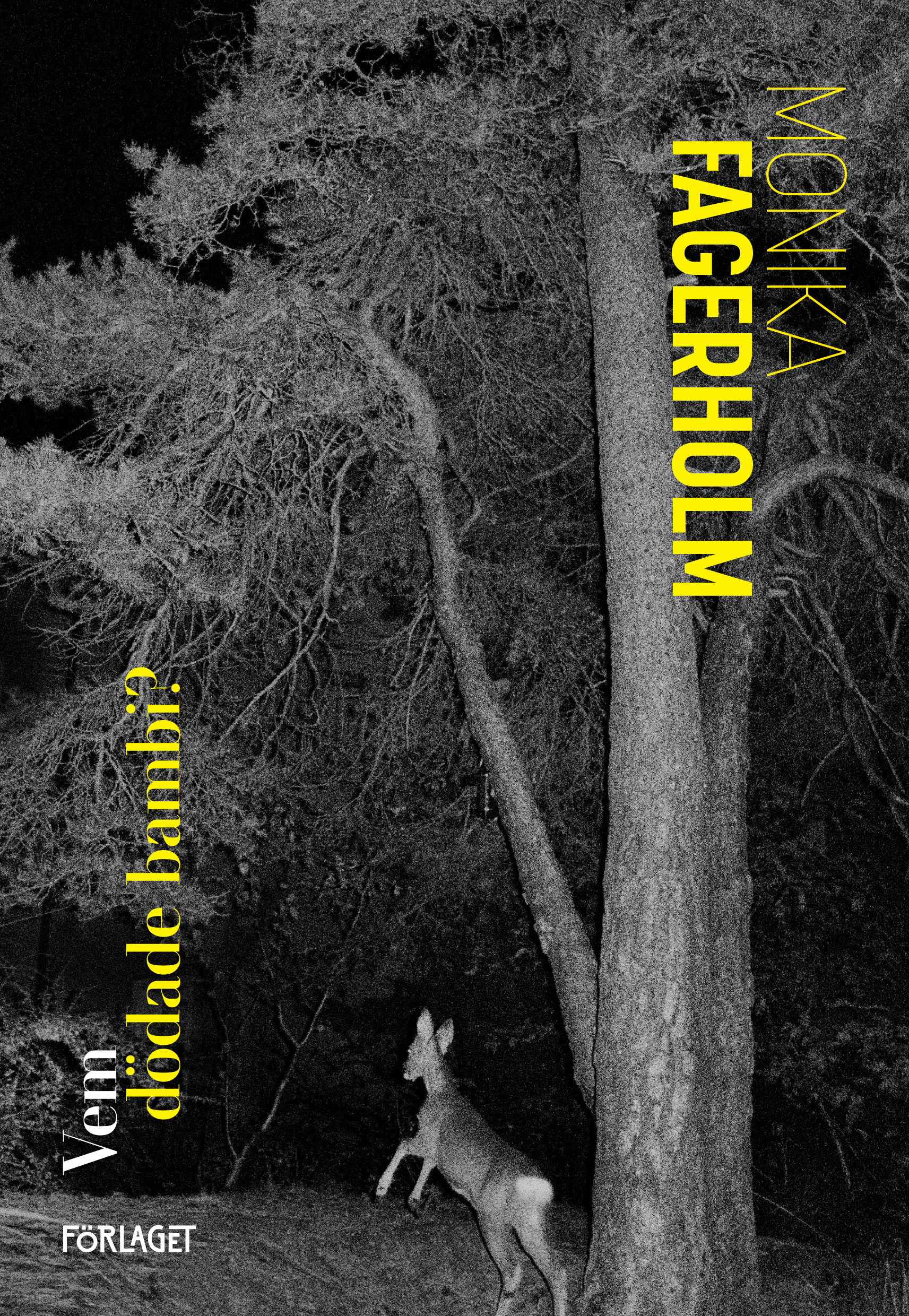 Vem dödade bambi?
Who Killed Bambi?
Saga-Lill and Emmy have known each other since childhood but are at vastly different places in their lives: Emmy is a young mother and married to Mats, an older investment consultant. Saga-Lill is a former theology student who has lost her footing. Then there is Gusten Gripe, their friend who grew up in the polished suburb that the greater part of the story takes place in. But beneath the surface, the suburb is hiding an old wound: a brutal gang rape that took place in the house by the lake, the "Crow's Ship." Once the home of the affluent Häggert family, it now only houses the remaining son Nathan.
The violent incident is a thing of the past. The four perpetrators, "the boys," were all sons of the community. But suddenly Cosmo Brant, the entrepreneur, returns to the area to make a film about the crime. He wants to call it "Who Killed Bambi?".
Monika Fagerholm is finally back with Who Killed Bambi?, a novel about female friendship and rivalry, boys at the mercy of each other, and families breaking apart. About careless living, and the death of innocence.
"To immerse oneself in Fagerholm's literary universe is a magnificent experience. With her musical and enticing prose the author skillfully weaves an unforgettable tale about a community, a crime and a devastating silence. Who Killed Bambi? is a powerful novel that strikes a deep chord."
–Stina Jackson
Awards
Nordic Council Literature Prize

The Nordic Countries
2020

The Tollander Award

Finland
2020

Shortlisted for the Finlandia Award

Finland
2019
Close award list
Reviews
"Monika Fagerholm's text is amazingly quick-witted and at the same time literary sovereign. /…/ The disturbing simultaneity of idyll and threat is reminiscent of the theme song from David Lynch's series "Twin Peaks". But Monika Fagerholm pushes to the extreme. The terrible seriousness that is dealt with here meets a great linguistic playfulness. And it is this language that holds together the fragments of experiences. [Her style] creates a rhythmic prose that fascinates."

"Who Killed Bambi? is a social study – immensely political beneath a rough, grooved surface."

"A great literary experience!"

"[Monika Fagerholm] writes in a distinct tone which immediately catches your ear – punky, witty, tender, and with a musicality that presents the plot in a breathless narrative flow."

"Monika Fagerholm masterfully describes the horrors of the Finnish idyllic suburbia."

"As shocking as the content is, the real quality of the novel lies in its aesthetic form. /…/ And the artificiality is great literary art because the author resolves the failed biographies on a linguistic level."

"[An] astonishing novel. /…/ [Fagerholm's] style is evocative, agitative, flowing. /…/ Fagerholm is merciless in her portrayal of human hypocrisy, whilst also writing insightfully in a number of side stories about love and friendship. Also there with an edge. /…/ No-one [in Who Killed Bambi?] is capable of putting themselves in another person's shoes. But Monika Fagerholm is. And she does it with bite and wit."

"Twin Peaks suggestive. /…/ The novel brilliantly takes on the theodicean problem."

"The prose of this novel lives up to its title: It's totally punk. It shouts, breaks into song, switches to English, ignores its own punctuation rules, and thrashes around with an unmistakable mishmash of references from noughties' pastel colored pop culture to the French cult philosopher Simone Weil. And like the second coming of Nina Hagen, it is equally effortless, whether it's crooning, caricaturing or clenching its teeth in raw intensity."

"I'm absolutely crazy about this novel. The way it's told, the way that it keeps surprising stylistically and bring new elements into the narrative. It's a testimony to this Finnish author's colossal literary repertoire. /…/ What more can I say, other than that Monika Fagerholm's novel is a stylistic masterpiece."

"Fagerholm writes in an explosive and suggestive prose. /…/ It's a complex, mythological and explosive novel. /…/ [Who killed Bambi?] is a furious, inflamed and pounding depiction of failed youths in an upper-class reality. /…/ There are many references in Fagerholm's writing, not the least to music, and one detects it like an energy running through the text, flowing or throbbing. /…/ First and foremost it's the portrayal of Gusten Grippe one cannot shake off."

"Monika Fagerholm never lets up in this brutal, harrowing and magnificently intense novel. /…/ A great literary experience that fully deserved its Nordic Council Literary Prize in 2020. /…/ Monika Fagerholm masterfully succeeds in portraying the chain of lies, denials, excuses and circumvention mechanisms that the assault sets into motion. Both amongst the four young assaulters themselves, but so also amongst their parents, who all witness how their social prestige and positions come under attack. Fagerholm is ruthlessly precise and perfidious in her gallery of characters, especially when it comes to the women she depicts. Despite the gloomy theme, the book is definitely not without humor – of the bitter and sharp kind. Who Killed Bambi? is thus also read as a contemporary depiction of high quality. /…/ A reading experience of the highest quality."

"Fagerholm's language is fearsomely creative and playful. /…/ She is also bitingly ironic in her depiction of suburbia's bourgeois snobbery – there's plenty of class-conscious social criticism to be had here. Fagerholm's dark, funny and fascinating novel strikingly hints at what will ultimately be killed, and why."

"[Who Killed Bambi?] deserves all the applauds, every penny of the [Nordic Council Literature Prize] prize money. And even more, all the readers. /…/ Fagerholm combines horror with airiness, heavy themes with a bubbly, joyful treatment of the prose. /…/ So exquisite, so free, so beautifully done. /…/ [A] stunning work of fiction."

"Frighteningly topical about the importance of decency. /…/ An important part of the story's fascination lies […] in the balance between the class perspective and the individual."

"Fagerholm focuses on the ripple effects of the rape, the dregs that swirl to the surface afterwards. /…/ Who killed Bambi? is a heavy meal. The novel can be read as an attack on the patriarchal and class-divided society, wherein women still lack legal certainty in rape cases. At the same time, it portrays how guilt can take root in a person."

"There are some things that should never change in this world. Monika Fagerholm's prose is one of them."

"An intricate novel characterized by a quiet rage. It's a great author that knows how to generate such linguistic energy."

"It's as if Fagerholm's writing has given physical form to a typical community; it's devilishly skillful."

"The fantastic and fairy tale-like goes hand in hand with the horrific in a tale wherein Fagerholm shows how destructive it can be to wrap oneself in sorrow and pain, for the individual as well as a community at large."
Author

Monika Fagerholm

Published

2019

Genre

Pages

218

Reading material

Swedish edition

English sample

Rights sold

Denmark, Turbine

Faroe Islands, Sprotin

Finland, Förlaget (Swedish)

Finland, Teos (Finnish)

France, Gallimard

Germany, Residenz

Italy, Ponte alle Grazie

Lithuania, LWU Publishers

Norway, Oktober

Portugal, Casa das Letras

Romania, Polirom

Serbia, Tréci Trg

Spain, Nórdica Libros

Sweden, Albert Bonniers

Film rights sold

Denmark, Metafilm