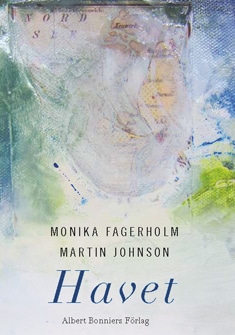 In four interconnected essays author Monika Fagerholm and journalist Martin Johnson take us on a tangible and philosophical journey to the sea. They take us to the wild waves of dreams, fear and longing, but also to the Baltic, a sea that is dying from years of human destruction. We meet poet Göran Sonnevi who wrote the epic The Ocean and author Inger Alfvén who sailed across the Atlantic with her family and wrote S/Y Happiness. We also meet Nobel laureate Tomas Tranströmer on the island of Runmarö, traveller and filmmaker Kristian Petri and German cartographer Judith Schalansky.
History and science, interviews and reportage are combined with the deeply personal in these lyric essays that stem from a series of radio programs that were broadcast in 2011.
The Sea is co-authored by award-winning broadcast journalist, producer and sound artist Martin Johnson (b. 1984). The Sea is his literary debut. To view Martin Johnson's website, click here.
Reviews
"Fagerholm and Johnson swim from one idea-historical atoll to another when they associatively follow in the tracks of people's quest for freedom. /…/ Fagerholm and Johnson don't reveal who has written what, and that increases the sense of a journey into the unknown. Their moorings in time and space are eerie and dazzling… It's been a long time since I read such an exhilarating book."

"The book flows on, and ultimately it becomes impossible to put it down… What is achieved is such a density in the language that it is but a few, so few that you can count them on one hand, that have attained that grace."

"To swim in the sea is to forget oneself, it says the book. One can say the same thing about The Sea; the lyric essay-form, which seeks out different paths than the narrative prose, paradoxically makes the book particularly absorbing. The Sea is in parts somewhat like a thriller. /…/ The Sea is the perfect summer read; light as a summer breeze and suitable for casual reading."

"A wonderful essay book about water, seas and oceans of thoughts, time and associations. /…/ The texts are soothing and rich with associations. It strikes me how well the essay form works with this theme. /…/ This collection of essays is an absolute must-read for the summer's peaceful moments by the water. /…/ Read it and step into the eternal!"

"There is an appealing boundlessness in Fagerholm and Johnson's essays. Unencumbered, the authors travel across the oceans, journey into inlets, dock from time to time and occasionally go ashore. Facts and reflections wash over you like gentle waves, insights flow like a mild breeze."

"An inspiring book to read. It gives me new ideas and new perspectives."

"A very inspiring voyage. /…/ Nothing feels arbitrarily chosen but rather a result of a narrative zest that follows a clear dramatic arc. This specific mix of odd facts, science, conversations and free associations is very appealing."

"Monika Fagerholm and Martin Johnson have limited their theme in a captivating and imaginative way. /…/ [The Sea] inspires further reading and evokes memories; about life and literature, about our own oceans and experiences. The essays and their fragments are excellently pieced together, absorbing and engaging."

"Spellbinding. /…/ An impressive collaboration."
Author

Monika Fagerholm

Published

2012

Genre

Pages

174

Reading material

Swedish edition

Finnish edition

Rights sold

Finland, Teos (Finnish)

Finland, Söderströms (Swedish)

Sweden, Albert Bonnier