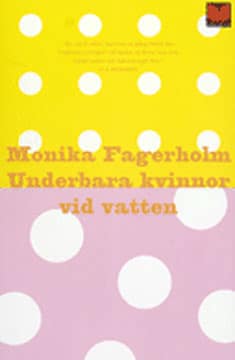 Underbara kvinnor vid vatten
Wonderful Women by the Water
An antidote to sixties nostalgia, this book is a skillful re-creation of a generation's materialism and sense of entitlement. Monika Fagerholm's dreamlike evocation of a summer paradise contrasts disquietingly with the book's darker psychological themes.
Young Thomas adores his beautiful mother, Isabella, who with her friend Rosa aspires to la dolce vita, Scandinavian style. In their new summer dresses, surrounded by consumer goods, the two are like Jackie Kennedy and Elizabeth Taylor – figures of incredible glamour. The idle young mothers' naive yearning for the good life wreaks havoc on the summer idyll, and especially on the lives of their children.
The film based on Wonderful Women by the Water, directed by Claes Olsson, was released in January 1998.
Awards
Shortlisted for the International Dublin Literary Award

Ireland
1998

Shortlisted for the EU:s Aristelon Prize

The European Union
1996

The Runeberg Award

Finland
1995

The Swedish Literature Society Award

Sweden
1995

The Finnish Librarians' Award

Finland
1995

Shortlisted for the Finlandia Award

Finland
1995

Shortlisted for the August Prize

Sweden
1995

Shortlisted for Swedish Radio's Novel Award

Sweden
1995
Close award list
Reviews
"Wonderful Women by the Water, a first novel by the Finnish short-story writer Monika Fagerholm, is in itself wonderful."

"Intriguingly satisfying!"

"Monika Fagerholm´s Wonderful Women by the Water is a compelling and thorough debut novel."

"Fagerholm´s style is concise and powerful."

"Monika Fagerholm portrays the early 60s critically, but in a fascinating manner: the naïve optimism, the infantile urge to consume, the narcissism and the craving for pleasure. She puts into words the accusation of the youth of the 60s: an accusation directed at their parents´ generation, who refused to grow up. Neither bitterness, nor self-pity tarnish her presentation. It is lucid and penetrating, but never uncharitably judging."

"This filmic novel builds up a series of increasingly menacing tableaux with a
fascinating and clinical exactness."

"It takes a unique talent to describe these family summers. The Finnish writer Monika
Fagerholm has plenty of it. To revel."

"Provocative. . . A timeless reverie on childhood."

"An entertaining first novel. . . [that] offers a bleak and funny view of the pains of
growing up and the difficulties of adapting to rapidly changing times and ideals."

"Fagerholm´s. . . exacting eye for the world of childhood…puts this 'summer paradise´
into poignant perspective."

"Monika Fagerholm´s novel is a fascinating account of a gradual security breakdown."
Author

Monika Fagerholm

Published

1994

Genre

Pages

318

Reading material

Swedish edition

English edition

German edition

French edition

Rights sold

Denmark, Rosinante

Finland, Teos (Finnish)

Finland, Söderströms (Swedish language)

Finland, Otava

France, Gallimard

Georgia, MTP

Germany, Zsolnay

Lithuania, Tyto Alba

Netherlands, De Geus

New Press, US

Norway, Cappelen Damm

Sweden, Albert Bonniers

UK, Harvill Press

Film rights sold

Finland, Kino International Oy / Claes Olsson Filmlands International AB, Finland