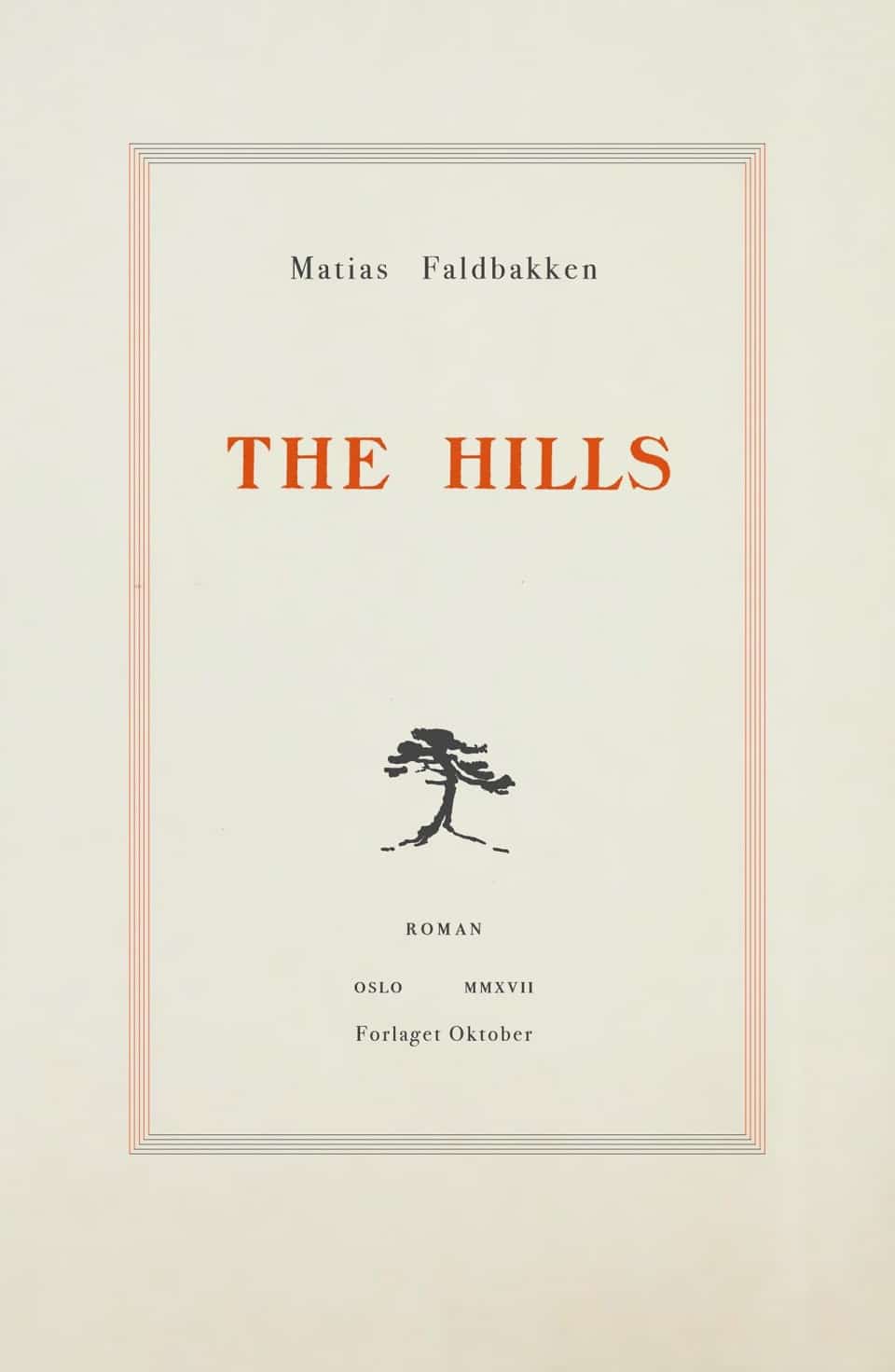 The restaurant The Hills stands at the center of Matias Faldbakken's new novel, a story of waiters and regulars, chandeliers and cloakroom attendants, mezzanines and storage cellars, bar managers and in-house pianists. It's a continental interior that greets the visitor as they enter the premises, a downtrodden mosaic of concentric circles on the floor and walls covered in portraits, drawings, paintings and stamps. The one who guides the reader through this landscape is a waiter at the establishment, a veteran of thirteen years. With utter discretion and a complete knowledge of all that goes on in his domain, he is the eyes and ears of the novel.
The ideas and ambience of old Europe are carefully guarded at the run-down restaurant. A well-established order wherein everything has its place rules, and little to nothing of the outside world intrudes. Until the threat of unrest and change comes anyway, in the innocuous form of a young woman quietly taking a seat among the regulars.
The Hills is an unexpected, smart and entertaining novel about collapsing structures and a world caught somewhere between diligence and decay. Matias Faldbakken possesses a rare talent for observation and an uncompromising eye for detail and humor as he pushes the performances of the novel to the point of absurdity, and does so in a manner that evokes a sense of unease as well as gravity.
"As if The Remains of the Day had been written by Kingsley Amis, [The Hills] is a brilliantly exquisite view into an uproariously vigilant life of service and protocol. In Faldbakken's skilled hands, a mordant, lonely waiter in a declining restaurant becomes a raw, scrupulous force, powering one of the most purely entertaining novels I've read in years. This book is a meal you won't want to finish."
–J. Ryan Stradal
"There's a duality to [The Hills] – it feels like it's fallen out of time on the one hand, but is extremely politically and socially topical on the other."–Juergen Boos, President and CEO of Frankfurt Book Fair
Awards
Shortlisted for The Library Literature Prize

Norway
2022

Longlisted for the IMPAC Dublin Literary Award

Ireland
2019

ITB Buchaward

Germany
2019

Shortlisted for the Brage Prize

(Fiction) Norway
2017
Close award list
Reviews
"It seems so effortlessly and candidly written, but truly The Hills numbers among the most uncompromising works I have read in very long time. A unique read many ought to treat themselves to."

"A unique author. /…/ Faldbakken's depictions of the restaurant and its clientele arouse associations to the German painter George Grosz: precise but caricatured, classic but cartoonish and fairly dark and grotesque. /…/ The image of old Europe functions as a theatrical setting; just like the novel obviously wasn't written in 1927 Germany, even if loose whispers would indicate otherwise."

"The Hills is like a bout of laughter free from worries, often devilishly funny, but can also be read as an allegorical chamber play about how the transactions of capitalism are carried out."

"The Hills is obviously written by a very talented author. /…/ The classical literary quality is effective to the highest degree."

"An elegantly formed parody, characterized by excess and humour, sharp observations and piercing social criticism. /…/ The Hills is a grand and amusing read, with an added dose of discomfort. Matias Faldbakken demonstrates with this novel that he is an author in a class of his own."

"Matias Faldbakken emerges also this time as a humorous, elegant and, plainly put, entertaining author. /…/ [The Hills] is a novel about "a culture adrift somewhere between diligence and decay," the back copy says. And it is probably the decay that features most strongly. There's a momentum and something both perturbing and ominous in what happens. It is these undertones that make the novel so utterly wonderful. But there is also something disarmingly nostalgic about the depiction. There's a kind of mild humor present, one of the last things one would have expected Matias Faldbakken to give expression to. And it is just that which is one of the more lovely aspects of the novel, that it never quite stops to cause wonderment and slightly confuse. /…/ The Hills is a novel you will have a hard time putting out of your mind. /…/ This is something of a gem."

"Old and new ideas are served with a lovely lightness and warm irony in Matias Faldbakken's literary comeback. /…/ The waiter time and again experiences bouts of nostalgia, yet the novel doesn't sympathize with the glory of days' past, nor the hectic capitalist powers of today – rather it seems as if Faldbakken thinks it's amusing to poke fun at them. /…/ Faldbakken anno 2017 seems more in tune with traditional, humanist literature. For that reason, The Hills is more scaled-down, but also infinitely more fun to digest."

"Well served. Faldbakken's new novel represents an intelligent variation in his authorship. /…/ The prose gives the book an intensity that stands in nice contrast to the undramatic external plot. The portraits of both place and narrator come alive with great attention to detail."

"The Hills [is] one of the most entertaining books I've read in a long while /…/ [it] brings to mind novels like Thomas Mann's The Magic Mountain, where the character gallery – placed at a spa in the Alps – forms a miniature Europe that encourages analysis of history as well as the present day."

"Matias Faldbakken's dark novel The Hills is this literary fall's great surprise. Man's vulgarities are juxtaposed with a child's trust in a tight and intense dance of death. /…/ The Hills is an extraordinarily strong novel. /…/ Faldbakken coaxes forth a bleak mood in the most elegant way possible. One can tell that the author is an artist, a brilliant seer. Tablecloths and cutlery and flower arrangements and lapels and mushrooms are described in a tactile and precise manner. It can be hard to see objects as they actually are, and it is precisely the realistic depictions that Faldbakken give – not just of things, but people in particular – that become grotesque and glaring: the people are depicted with their exaggerated flaws as if they were being painted by one of the great artists of the age of Mannerism. The irony and the satirical tone between the many well-to-do alpha males among the clientele tells of a socialness gone mad. /…/ The author behind the destructive Rasul trilogy has matured. I knew that he could portray the unrestrained and the ignoble, but not that he also had a talent to hint so elegantly about light. One of this year's best novels."

"A compelling, sharp and well-written novel about the postmodern condition /…/ Norwegian artist [Matias Faldbakken] makes a surprising authorial comeback with supremely well-written novel /…/ Faldbakken impresses (yet again) as a writer with the novel The Hills. It has long been my opinion that Norwegian Matias Faldbakken (b. 1973) is one of Scandinavia's greatest and most important literary authors. /…/ [The Hills] is of course also a type of micro cosmos in the way that the restaurant space is the crystallized form of a more general and typical-for-the-times conflict – no, perhaps that's too strong a word; a contradiction, a wavering – between old Europe and the new world, between edification, order and form on the one side, and social media, change, and shapelessness on the other. It sounds colorless, I know, but it is not. Especially not because, for one, Faldbakken writes exceptionally well. /…/ Secondly, because Faldbakken is such a keen-eyed observer of society and contemporary times, and because his character portraits are as convincing as they are. /…/ Faldbakken thusly asserts his comeback as an author, with a novel that is both reminiscent and not of the rest of his authorship. /…/ He is – to use the cliché that the title almost seems to invite on its own – in no way over the hill."

"A little masterpiece. /…/ In the beginning and middle of the 2000's, one of the most exciting and entertaining things to emerge from the Scandinavian literary scene was the three novels by Norwegian artist Matias Faldbakken under the pseudonym Abo Rasul. The Cocka Hola Company, Macht und Rebel and Unfun were exciting and frenetic and unbelievably hilarious. It was like reading an unpleasant yet exceptionally brilliant comedy going at double speed.
Altogether, his novels uncovered what can be referred to as the philosophy of the underground and of the artistic avant garde: the logic of excess and negation, that particular logic which contends that the most progressive thing in the world is to undermine that which is supposed to be everlasting. They pushed that logic to the extremes, where it became absurd, ridiculous, void of meaning. And then, they did nothing more.
Now, nearly ten years later, Faldbakken makes his return to the literary scene with the novel The Hills. It's both a continuation of and a contradiction to his trilogy. For instance, it's not overstated whatsoever and only funny in the subtlest manner. Rather, it's static, quivering, slowly creaking. It's a story about that which remains, about the old, ultra-conservative Europe in the 21st century. And, then, it's about how the façade still develops cracks in ways that are incomprehensible.
It's also a little masterpiece, bewildering and rich, a novel that makes you rack your brain. /…/ There's a feeling of trapped panic throughout the novel, especially towards the end, but also something totally unsentimental. The Hills is a strange book in the very best way books can be strange. It's a story you simply can't get out of your head."

"Norwegian Matias Faldbakken has written an utterly brilliant and thoroughly unsettling novel. The seemingly predictable story about a waiter at a restaurant in Oslo turns out to be an ominous allegory about a world heading for destruction. /…/ [The Hills] is a superb literary feat, where Faldbakken uses clever and elegant literary tools in order to create a powerful work of art, where the subtle yet intrusive social criticism is presented on a much more elevated level than it was with the straight-forward and sharp critique he put forth in his [Scandinavian Misanthropy trilogy.] /…/ It is the voice of the narrator in particular which makes the novel something special, and the chamber play uncomfortable and deeply disturbing. The voice of Faldbakken's protagonist borrows many features from the Swiss writer Robert Walser's character Jakob von Gunten, who describes the world in an impersonal, analytical, and distant tone. In Walser's novel, the main character attends the servant school "Institute Benjamenta" – and just like Faldbakken's protagonist, Walser's character uses the waiter's profession to withdraw from the world. The goal is to avoid the pressure of having an identity of one's own, and to instead go through life taking on the identity of the waiter – the backbone of the restaurant's social institution. /…/ Matias Faldbakken has written a beautiful and haunting book, filled with confusion and powerlessness, of sharp observations of a culture on the verge of breaking down. One of the most poignant revelations in the novel is that there is no longer a place to hide, not in art, not in tradition, and not in the position of a servant of the capital."

"Bringing to mind Mervyn Peake and Wes Anderson, with some of Nathanael West's deadpan grotesque, this is a beguiling, quirky entertainment."

"Faldbakken's English-language debut is an ambitious, contained story set entirely in a grand old restaurant in Oslo called The Hills, narrated by a seasoned waiter over the course of a few gorgeous meals./…/ Faldbakken's story vandalizes the old world the restaurant represents by revealing its inanities, while at the same time eulogizing it by making it his subject, resulting in a clever, striking novel."

"[The Hills] is immediately rich in taste. Stylistically sparkling and deceptively lean /…/ Those who prefer their novels ready-made and unambiguous and who want the writer's 'intention' presented on a platter will be left hungry by this book. To literary connoisseurs, however, I wish – with a slight bow and a flat hand pressed against my belly – a tasty reading."

"Faldbakken, who's also a visual artist, paints The Hills' interiors, the waiter's psyche, and diners' interactions with a deep, often-funny theatricality. For those who love encapsulated novels with a touch of the absurd."

"The Hills is a book to cite in its entirety, its style is that beautiful /…/ The Hills is entertaining and quirky /…/ In the alienating atmosphere and richness of imagery, The Hills is reminiscent of Wes Anderson's film The Grand Budapest Hotel."

"Faldbakken has a way with nonaction. He builds a delicious tension between the paucity of events and the lavishness of the technique with which they are described. His waiter, though taciturn while on duty, is a chatterbox as a narrator, providing a busy, intricate analysis until each minor stumble achieves seismic status. Played in slow motion, his malfunctions unspool as slapstick with an undertow of dread. As the story moves along, the waiter loses his sense of who he is and what he's supposed to be doing so completely that he starts to seem like a man who could do anything. He's like Travis Bickle played by Buster Keaton."

"There is some satisfaction in reading The Waiter as a quirky slice of life /…/ If you follow the author's clues, you may feel a chill up your spine. You may see the waiter in a different light /…/ You can read this surprising book several different ways."

"A clever and melancholy satirical novel set in a formerly grand Oslo restaurant that's seen better days is perfect fodder for foodies who are also Wes Anderson fans."

"Mealtimes can be the setting for the gamut of human performances. Norwegian artist and author Matias Faldbakken captures the show: the hilarity and pathos, the monotony and the bizarre, the nostalgia and the sanguine, narrated by a neurotically observant waiter at a high-end but old-fashioned and fading Oslo restaurant called The Hills. /…/ service solecisms are accompanied by screwy dialogue with customers, escalating to blundering hilarity in bouts of slapstick chaos reminiscent of the Peter Sellers film The Party, or echoing the waiter Manuel in Fawlty Towers. /…/ The Waiter is enchanting, philosophical, whimsical and withering. It will reverberate with most readers for at least their next few dining-out experiences."

"The nordic Houellebecq. /…/ One of the most important and greatest authors of Scandinavia."

"Matias Faldbakken chisels out an inner landscape by attacking the surface. The prose is polished and objective, the words linger on the details of the room and the relationships, but avoid explanations and analyses. /…/ The Hills is a subtly existential novel with an artful absurdism"

"Faldbakken's novel is like the classic you've already read several times but never feel done with. You never feel completely sated and done with the linguistic details, they're so brilliantly executed. It is an epic work that I gladly leave on the bookshelf for another read."

"One inevitably thinks of Kazuo Ishiguro's butler in The Remains of the Day. "

"In this satirical novel with accents of perfectly executed acerbic wit, it's the waiter who tells the story. Through transitions between scenes and sketches, that are all "social miniatures,ˮ [The Hills] presents us with a gallery of characters, some utterly conventional, others eccentric or depraved. /…/ The universe [of Matias Faldbakken] is in the edgy style of Céline and Houellebecq. /…/ This is someone to discover – this unique and candid author, with his magnificent The Hills."

"In this brief yet substantial novel […] the quality is doubly felt. The penman is a sharp-eyed painter of portraits, who establishes a gallery of remarkable characters within a confined space. /…/ The humor is there, all the time."

"A solipsist perspective, both unsettling and thrilling, on the human condition."

"A gem of subdued elegance. The story in [The Hills] recalls the frosty burlesque created by Mr. Gustave, the concierge of Wes Anderson's Grand Budapest Hotel. /…/ [Faldbakken's] observations are made with a brutal precision and hilarious exquisiteness."
Author

Matias Faldbakken

Published

2017

Genre

Pages

240

Reading material

Norwegian edition

English edition

Rights sold

Canada, Simon & Schuster

Croatia, Fraktura

Czech Republic, Euromedia

Denmark, Gutkind

France, Fayard

Germany, Heyne

Italy, Mondadori

Netherlands, Meulenhoff Boekerij

Norway, Oktober

Russia, Corpus

Slovakia, Albatros

Spain, Duomo

Sweden, Mondial

Türkiye, Timas

UK, Doubleday

US, Scout Press

Film rights sold

Norway, INTHEMOOD FILM