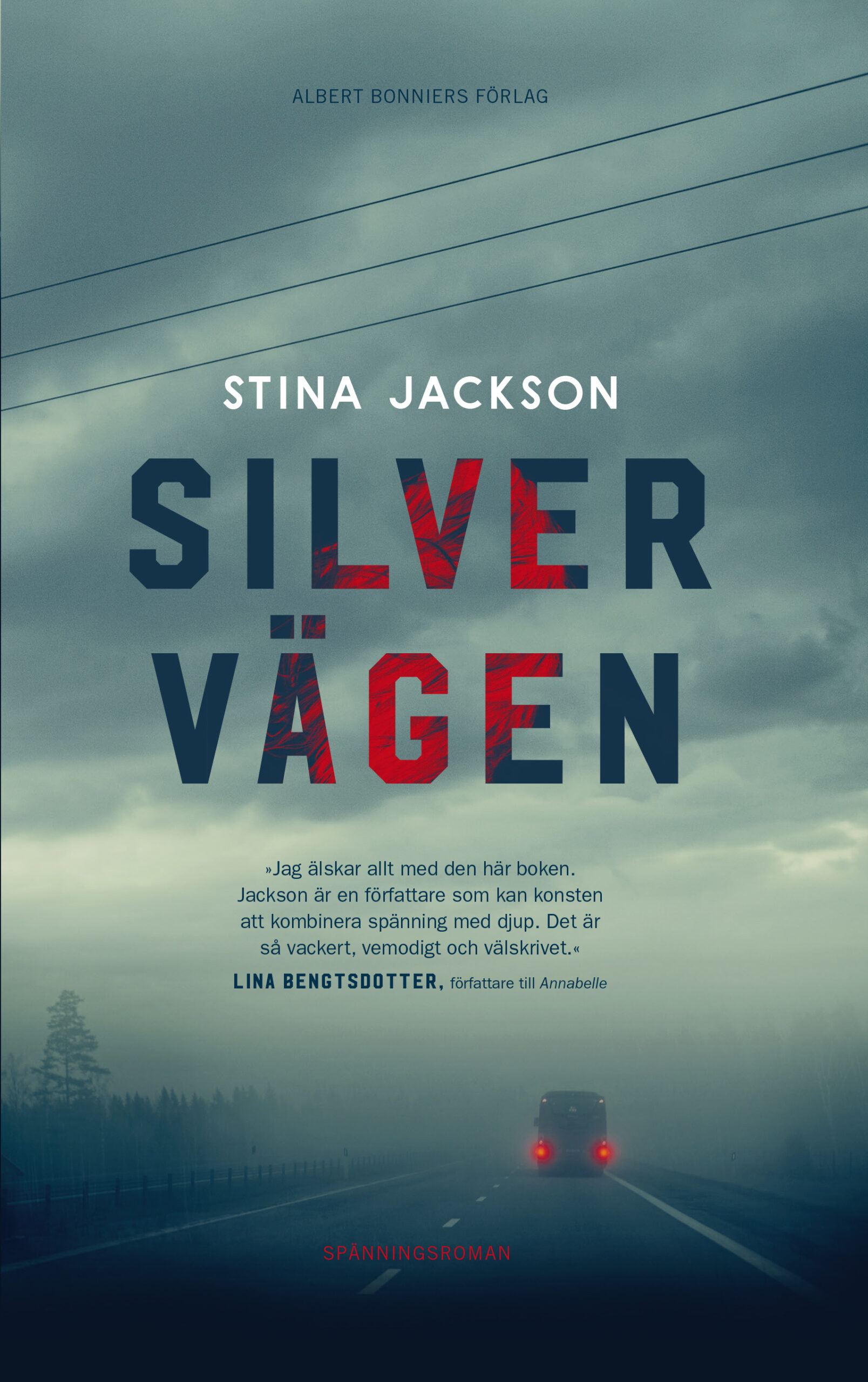 Silvervägen
The Silver Road
For the last three years, Lelle has spent his summer nights driving. He traces Route 95 with his car, cutting across northern Sweden's isolated landscape in a north-westerly direction until he reaches the Norwegian border. Three years ago, his seventeen-year-old daughter went missing on this highway, a colorless stretch of road that the midnight sun now illuminates in front of him. The Silver Road. Her disappearance is tearing Lelle apart from within.
The small town of Glimmersträsk, an almost unnoticeable stop along the Silver Road, sees the arrival of Meja and her mother. Meja is the same age Lelle's daughter was at the time of her disappearance. As the darkness of fall approaches, Lelle's and Meja's destinies become linked. When another girl goes missing, their lives are forever entwined.
Stina Jackson's debut novel The Silver Road is a haunting and moving work of suspense. A critic's favorite from day one, it's a story about community, isolation, never giving up, and about having the strength to go on even in the darkest of times.
"If this book doesn't win at least the Swedish Crime Writers' Academy debut award and become a Netflix series… well, then I'll just have to give her the Åsa Larsson Award."
—Åsa Larsson, author of the Rebecka Martinsson Arctic Murder series
"I really enjoyed The Silver Road. There's a haunting, intoxicating atmosphere throughout, intensified by the never ending Nordic daylight, which is in stark contrast to the darkness of the families the story follows. A great read."
—Ali Land, author of Good Me, Bad me
"A stunning read. Beautifully written and utterly haunting."
—Jo Spain, author of The Confession
"A quietly told story that's also thrilling. It's incredibly well-written. /…/ I recommend it."
—Leif GW Persson
"Deeply affecting."
—Chris Whitaker, author of All the Wicked Girls
"I love everything about this book. Jackson is an author who knows the art of combining suspense with depth. It's utterly beautiful, melancholy and well-written."
—Lina Bengtsdotter, author of Annabelle
"The best crime fiction debut I've read. Suggestive, deeply psychologically perceptive, and unrelentingly thrilling."
—Camilla Grebe, author of The Ice Beneath Her
"An absolutely incredible suspence novel with a near poetic setting. /…/ It evokes a scintillating ambience."
—Viveca Sten, author of The Sandhamn Murder series
Awards
Shortlisted for the Petrona Award

(Best Scandinavian Crime Novel of the Year) UK
2020

Longlisted for the MAX Bronze Bat

(Best Debut) Netherlands
2020

Book of the Year Award

Sweden
2019

The Glass Key

(Best Scandinavian Crime Novel) The Nordic Countries
2019

Shortlisted for the Storytel Awards

(Best Suspense) Sweden
2018

The Swedish Academy of Crime Writers' Award

(Best Swedish Crime Novel) Sweden
2018

Shortlisted for the Crimetime Specsavers Award

(Crime Debut of the Year) Sweden
2018
Close award list
Reviews
"A brilliant debut. /…/ Stina Jackson skillfully twists the perspective time and time again: loneliness can be better than community, the great forests can be safer than a house you can't leave."

"The summer nights in the north are endlessly bright, but the darkness hides in the forest and Jackson knows just how to describe milieus and people in such a way that the story comes disturbingly alive."

"One of those novels that you read and read and read and never want to leave."

"The Silver Road is a debut that sparkles. Here is a real page-turner, with heart and depth. /…/ How can Stina Jackson describe how much loss hurts so powerfully? She's a debutant, but her prose is so mature that [the novel] feels like an author's third book, at the least."

"Stina Jacksom makes an explosive debut in 2018 with the suspense novel The Silver Road. /…/ A new West Bothnia writing star has appeared on the night sky."

"Suspense and well-depicted sorrow along the Silver Road."

"Stina Jackson moves a bit outside the standard Swedish suspense pattern, profiling herself in a promising way with her sensitively chiselled, odd character portraits and compelling depictions of relationships."

"What a stellar read [The Silver Road] is. This book reads more like Winter's Bone than it does like a typical Scandinavian crime novel. /…/ This slow burn of a suspense story is utterly immersive and atmospheric."

"A scarily good debut. /…/ One can definitely understand the hype around Stina Jackson's debut [The Silver Road]. /…/ The first-time author has crafted a brilliant piece of crime fiction."

"There is something strangely alluring about her debut novel. /…/ [The Silver Road] is concerned with the darker spectrum of the human psyche, and the author elegantly and realistically allows the readers to fully immerse themselves in this true darkness. /…/ The plot unfolding in the semi-dark nights in the gigantic northern woods of Sweden that the midnight sun fails to illuminate, gives the book an added layer of eeriness."

"A great, new light on the Swedish crime sky. /…/ The remarkable thing about Stina Jackson's novel and her talent is the manner in which she successfully writes about nature, draws up the people living in it, depicts its beauty and greatness – and at the same time creates an explosively exciting crime story. [The Silver Road] has all the eeriness and excitement that one could ask for. Amidst the beauty. /…/ It's a delight to read The Silver Road; not only is one provided with a spectacular crime novel, but a book so well-written that we're talking about great literature here. /…/ When the Swedish Academy of Crime Writers handed out its annual awards this November, the prize for best Swedish crime novel went to Stina Jackson – the first time a debutant has ever been received this award. Having read the book one can only say: The Academy didn't have a choice. This book HAD to win."

"Brimming with crime, grief, loss, despair and the longing of getting to the bottom of an unsolvable case. /… / An excellent, contemplating, frightening and tender crime novel that will make you tremble as you allow yourself to be to be consumed by a feeling of doom that never quite lets go."

"[Stina Jackson] has managed to infuse an impressive amount of Stephen King-esque out-in-the-countryside-of-New-England vibe into the Swedish Northland. Here the immense, gloomy forests and terrifying black, massive mosquito swarms become a fittingly sinister background to deviating human behavior. /…/ With its use of suggestiveness rather than clinical reports detailing monstrosities, the tale is refreshingly different from the flood of 'nordic noir' police crime novels set in Stockholm and southern Swedish idylls."

"Even as the sharp light of the midnight sun illuminates the pages of Stina Jackson's thriller debut, the low-hanging skylight likewise throws long shadows and a sombre atmosphere over the landscape and the narrative. As the reader, one sits with a growing unease while turning the pages and with eminent command of the plot Jackson slowly but surely allows the darkness to descend on everything. And it's freaking terrifying. /…/ It is chilling as well as psychologically intriguing, when Jackson with tenderness draws a portrait of society's marginal existences and of children with scarred souls."

"The author Stina Jackson has a knack for writing captivatingly and hauntingly about peripheral areas, their environments and the people living there in, more or less, voluntary solitude."

"A hard-hitting punch of a crime thriller. /…/ Within the pages lies a provocative and emotionally stunning read. /…/ Within the first page I knew I had fallen in love with the writing, which is exquisitely translated. The words connected with my very being. I could feel the words, look around me and see my surroundings."

"Beautifully written, haunting and intense."

"The novel is pervaded by a strong sense of isolation, insecurity and loneliness. Jackson's prose glides unobtrusively along, shorn of descriptive flourish yet conjuring up a powerful sense of the unforgiving part of subarctic Sweden in which it is set."

"[An] unflinching debut. /…/ An unforgettable portrait of a father's grief."

"The bleak landscape and suffocating claustrophobia of the dense, looming northern forests are brilliantly realised as Jackson's Scandi-noir unfolds in the harsh glare of summer's ever-present sun, but while the bare details of the plot suggests a breathless thriller, Jackson has the confidence to deliver a thoughtful, patiently told story in which there are no conventional genre heroes, just ordinary people struggling to cope with their respective tragedies."

"Jackson's debut is unsettling and absorbing, the endless light of the northern giving a strange, almost dreamlike quality to her story."

"[The Silver Road] was last year's crime novel of the year according to the Swedish Academy of Crime Writers, and I'm inclined to agree. /…/ It's so utterly accomplished, how it has that nature-related horror. /…/ It's great."

"A captivating thriller. /…/ [Stina Jackson's] great accomplishment is her gradual dissection and unveiling of the hideousness and moral corruption prevalent amongst the characters populating her universe, beneath the ever present midnight sun. /…/ She achieves this with an impressive literary range and generates an atmospheric narrative that enthralls and affects."

"[The Silver Road] is a brilliant specimen in the [crime] genre."

"A breathtaking novel. /…/ With this novel Jackson distances herself from the Nordic crime tradition of violent offenses and snowy landscapes to instead focus more on inner conflicts […] The customarily sweeping depictions are replaced with an inventory of scents and milieus. /…/ The result is a novel with a more sedate plot, but one that succeeds in overwhelming its readers with the emotionality of its prose. [Stina Jackson is] without a doubt an author to keep your eyes on."

"[A] well written slow-burning crime debut. /…/ It is all written in a contemplative Art Noveau style-prose. The rustic register brings wistful vowels, chilling consonants and even dead serious commas. /…/ It becomes genuinely terrifying when Lelle strays from the forest-lined highway and encounters strange individuals who could be those who have kidnapped and/or killed his daughter."

"A superb, slow-burning slice of Nordic noir. /…/ [The Silver Road] is a well-constructed thriller with unexpected twists and a compelling narrative. /…/ A hauntingly atmospheric story of love and loss and longing."

"We enjoy reading about the awful when it is presented as wonderfully as it is here."

"It's hard to argue against the jury that chose The Silver Road as the Nordic crime novel of the year. /…/ A good number of American authors have written grimly realistic books set in hillbilly country. [The Silver Road] is a truly great Nordic version from the far north of the borderlands between Sweden and Norway. It's just as good, and just as thrilling, as any American equivalent you might come up with. /…/ This is psychological crime fiction at an astonishingly high level for a debutant. /…/ The plot is good, the prose carefully attuned to the underlying mood. The people portrayed are taciturn, but strong emotions tremble beneath the surface. It's suspense right until the end."

"A new shooting star in Swedish crime fiction. /…/ A beautiful and melancholic debut from a promising crime fiction authorship. /…/ The beginning of the novel is powerful, both in literary terms as well as plotwise. /…/ Slowly, but with an ever-present nerve, Jackson builds the tension and the characters. The excellent nature depictions are almost palpable. /…/ The Silver Road marks the start of a truly exciting crime fiction authorship that I believe will give us much to enjoy in the coming years."

"Genuinely creative crime fiction from Sweden. /…/ [The Silver Road] relies on the presumption that the raw poetic power of language and a sensory presence in larger and smaller contexts alike can generate an engaging reader's experience. And [Jackson] superbly illustrates that it can. /…/ Unabatingly thrilling. /…/ Qualitywise [The Silver Road] resembles Kerstin Ekman's neoclassic Blackwater (1994) and demonstrates the genuine creative reflection that a genre narrative can trigger."

"It doesn't get much better than this. /…/ [The Silver Road] is great. It's a frightening, eerie and well-written crime novel without gory details. /…/ This is a well-told story with great drive. From the very first sentence onwards a thrilling narrative unfolds, exploring desperation and will, despair and hope. /…/ The mysteries abound and rack up, ever more pervasive and disturbing, and it's almost so that I hope they will never reach a conclusion – in fear of what the answers will be. /…/ This is extraordinarily good, one of this year's very best crime novels."

"The Silver Road is a masterfully written debut. The reader feels the emotions and anxiety of the characters, and finds themselves joining the main character's search right till the end, sharing his angst and frustration. It's easy to fall in love with this novel thanks to its dark and melancholic atmosphere, which is pure suspense."
Author

Stina Jackson

Published

2018

Genre

Pages

300

Reading material

Swedish edition

English edition

Rights sold

Albania, Ombra GVG

Belarus, Januskevic Publishing

China, Citic (Simplified Chinese)

Czech Republic, Euromedia

Denmark, Lindhardt og Ringhof

Estonia, Eesti Raamat

Finland, Otava

France, Fayard

Germany, Goldmann

Greece, Dioptra

Hungary, Animus

Iceland, Ugla

Italy, Longanesi

Japan, Shogakukan

Korea, Sam & Parkers

Latvia, Zvaigzne ABC

Lithuania, Media Incognito

Netherlands, De Geus

Norway, Gyldendal

Poland, Świat Ksiazki

Portugal, Presença

Russia, Ripol

Serbia, Dokaz

Slovakia, Albatros

Spain, RBA

Sweden, Albert Bonniers

Taiwan, Gaea Books (Complex Chinese)

Thailand, Biblio

UK, Corvus

Film rights sold

Sweden, Bautafilm