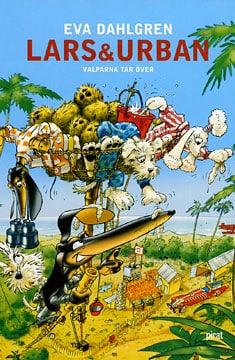 Lars & Urban – Valparna tar över
Lars & Urban - The Puppies ...
Lars & Urban #
The two dogs Lars and Urban are back for new adventures! They rumble and play around like before and just when the playing reaches it's peak, they get an awful message – aunt Lo and Urban's poodle-friend Li is missing from their house in the land beyond India. They have been taken away by the belligerant white poodles of Pudelavien.
The years as a young dog goes by quickly and soon puppies Lili, Lolo and Lasse are starting school. For a long time, they've looked forward to this day. But what do they encounter? The most terrifying teacher one could imagine – the drooling Miss Claw. She does everything in her power to torment the students. When the time comes for varsity track championship, miss Claw forbids Lolo to take part in the long jump competition. Only because Miss Claw indends to win, win, win herself!
Something is very odd with Miss Claw, there is definitely a dog buried in her past and when the puppies find out the truth they set a smart plan at work.
Lars & Urban – The Puppies Take Over is the third book about the two funny and adventurous dogs Lars and Urban.
Reviews
"Also the third book is written in a humorous, laid-back way and brings out both laughter and tears."

"Thank you, Eva Dahlgren – for the fact that my son now suddenly must walk around and have the Uhlää-day and throw wet toilet paper at people. /…/ But apart from that, it is a lovely book."

"If you have a child of the right age range, this book is definitely a splendid gift."

"This is a funny and quite special book. Eva Dahlgren writes in a very funny way and manages to create images that constantly pop into your head. In addition to this, the book is made even more interesting by the that fact that there are sometimes funny and detailed color illustrations that provide you with even more ideas of what is going to happen."

"Eva Dahlgren is imaginative in her storytelling, and she was written a tale that provides both adventure and suspense."

"The text is accessible, and the drastic sense of humor is comparable to that of Roald Dahl. Perfect both for individual reading for those who want a longer book, as well as for reading out loud."
Author

Eva Dahlgren

Published

2004

Genre

Pages

183

Reading material

Swedish edition

Rights sold

Finland, WSOY

Sweden, Piratförlaget