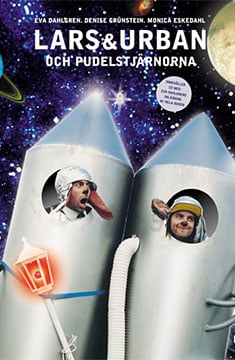 Lars & Urban och pudelstjärnorna
Lars & Urban and the Poodle ...
Lars & Urban #
Lars and Urban are best friends who decide to go to the moon. Urban wants to find poodle stars, and Lars wants to dig golden sand.
No sooner said than done, the construction of a rocketship starts. They get in touch with Karin who has a fantastic scrapyard and who helps them out. They are fixing and building and finally they set off for the long expedition. It won't turn out as expected, but they will not lack adventures and surprises. Neither will their returning home be as expected. However, everything will end well, maybe even better than expected and Lars and Urban will have gained both knowledge and experience.
Lars & Urban and the Poodle Stars is the first book about the two irresistible dogs Lars and Urban.
Reviews
"Eva Dahlgren manages to write a children's book in which important feelings and reflections regarding life has a place – and cleverly enough – which make children laugh."

"The first children's book written by the singer Eva Dahlgren, about the two dog mates that set off for the moon is tremendously charming. And the charm embraces both children and grown up readers."

"…a lovely tall story. In the crossroads of The Little Prince, Jules Verne and Wallace and Gromit byNick Parks."
Author

Eva Dahlgren

Published

2001

Genre

Pages

96

Reading material

Swedish edition

Rights sold

Finland, WSOY

Sweden, Piratförlaget