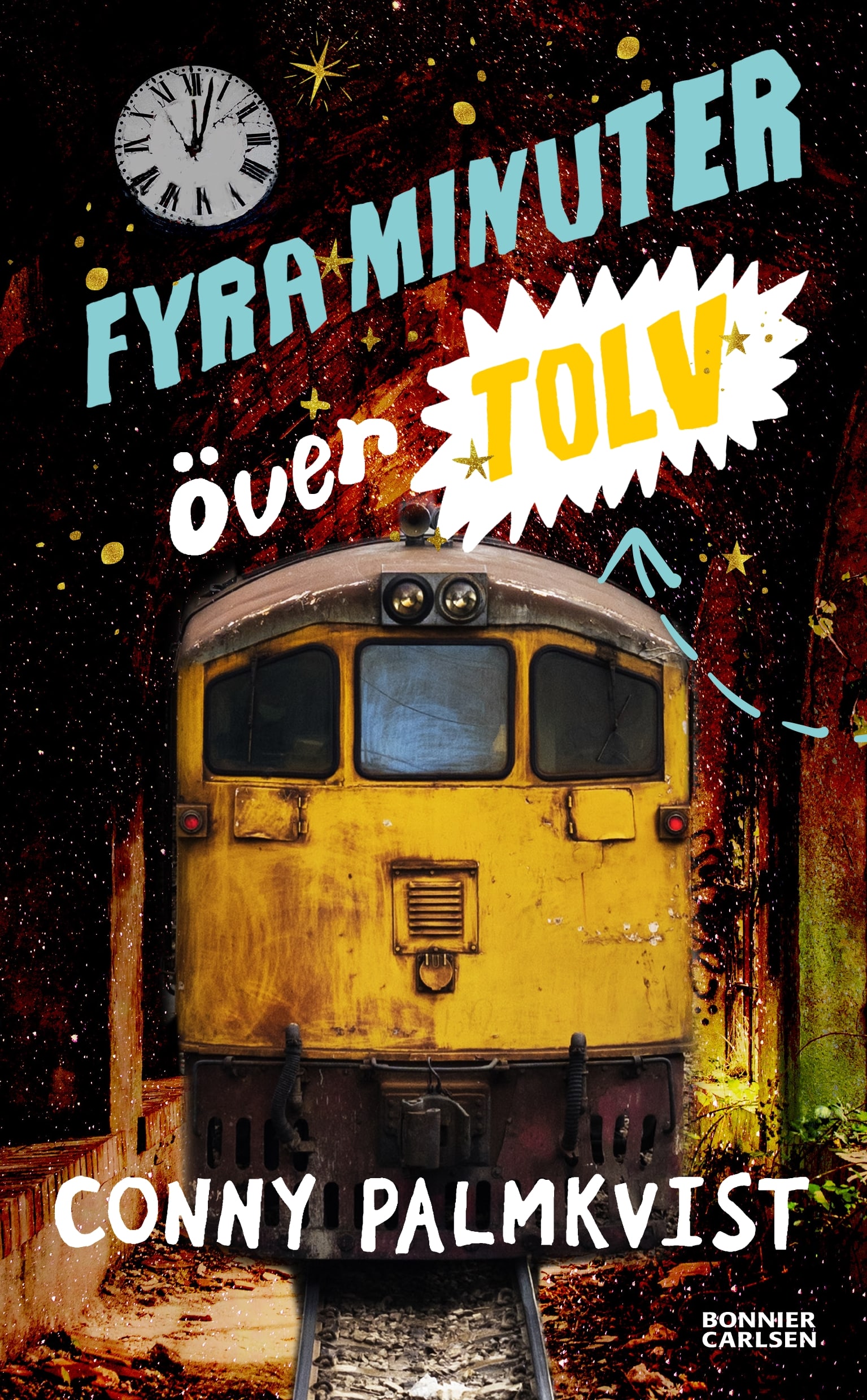 Fyra minuter över tolv
Four Minutes Past Midnight
Why do parents die? How can it even be allowed to happen? Nicolaus is still only a child and parents shouldn't die. But on this night in July, nothing is as it should be.
Twelve-year-old Nicolaus watches over his mother's sick bed alongside his father. It's nighttime and all is quiet on ward thirty-four as Nicolaus is growing restless. He realizes he can't stand to just sit around and wait for his mum to die; he needs to get away. In the elevator he sees a button that wasn't there before. When he presses it, the elevator doors close and transport him to a very different kind of place.
It's four minutes past midnight when he arrives to the Final station. It's where everyone goes at some point. Or is it? Somehow, Nicolaus has stopped time two minutes before his mom will die. But what do you do if you discover that you can stop time, and even travel in time? Can you change the past – or the future?
Four Minutes Past Midnight is a unique, heartfelt, and beautiful children's novel written in a sensitive, warm tone with a sprinkling of subtle humor.
Reviews
"Four minutes past midnight is a unique, heartfelt novel about the loss of a parent – a love letter from the author to anyone, but especially children, experiencing loss. It is quite unlike anything I've read before. It weaves a peculiar magic around the reader, employing magical realism and a text that sits somewhere between poetry and prose as it builds to a powerful denouement that ultimately offers comfort and hope. The author's empathy and respect for his young readers is palpable and delivers the most poignant and important message to those experiencing grief: You Are Not Alone."

"I don't know if I've ever read such a hard hitting and crystal-clear script. "

"Conny Palmkvist's new book is a fantasy about the fight against the inevitable. Very powerful and touching about life, illness, and the love of a family. "

"Palmkvist has written a suggestive and sad story that contains both hope and humor. It mostly revolves around Nicolaus' thoughts and feelings during a short period of time. The visits to the past serve as an inner journey where the main character processes his grief and great fear in the face of his mother's death. He is finally able to face the inevitable end with a completely different kind of courage. The prose has a short and rhythmic character that creates intensity. "

"A very moving and beautiful story about losing a parent at a young age. /…/ The story is believable and vividly depicted, and you can feel Nicolaus' pain and sorrow."

"I barely have words to describe this book, because it hit me right in the heart and brought tears to my eyes, which is a rare thing to happen to me. It is an incredibly moving and sad story that touches one deeply. /…/ It is a very sad story, but there is also something very beautiful and vulnerable about it. /…/ At the same time, the book invites you to reflect on how you would react if you, like Nicolaus, were able to travel back in time. /…/ It is an absolutely outstanding story, and even though it is aimed at a younger audience, it is equally moving for the adult reader, and therefore it receives the warmest recommendation from here on out."
Author

Conny Palmkvist

Published

2022

Genre

Pages

116

Reading material

Swedish edition

English translation

Rights sold

Albania, Ombra GVG

Denmark, Forlaget Carlsen

Japan, Say-Zan-Sha

Korea, Lime

Netherlands, Kluitman

Norway, Det Norske Samlaget

Sweden, Bonnier Carlsen

UK, Hachette Children's Group (World English)