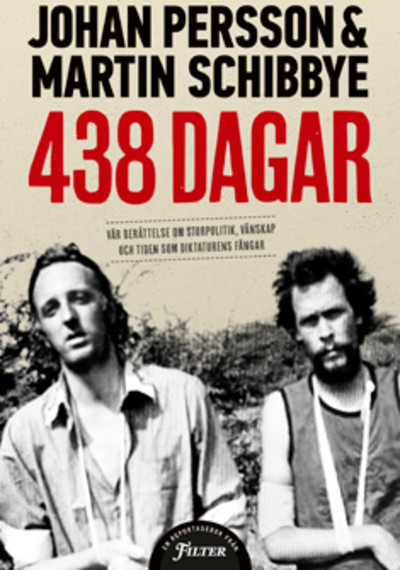 On the eve of June 28th, 2011 Swedish journalists Martin Schibbye and Johan Persson put everything at stake by illegally crossing the border from Somalia into Ethiopia. After months of research, planning and failed attempts, they were finally on their way to report on how the ruthless hunt for oil effected the population of the isolated and conflict-ridden Ogaden region. Five days later they lay wounded in the desert sand, shot and captured by the Ethiopian army. But when their initial reportage died, another story began. A story about lawlessness, propaganda and global politics. After a Kafkaesque trial they were sentenced to eleven years in prison for terrorism. And they were far from alone. Their cellmates were journalists, writers and politicians persecuted for not bowing down to dictatorship. Their reportage about oil was transformed into a story about ink, and their daily lives turned into a fight for survival inside the notorious Kality prison in Addis Ababa. Exposed to deadly diseases, daily beatings and fierce repression - deprived of their shoelaces and their freedom of speech - they fought to preserve the most valuable thing of all: the freedom to determine who you are and what you believe. This is their story of 438 days of hell.
Visit the book's Swedish website. A selection of English-language reports about Schibbye & Persson and the misuse of anti-terror laws:
Al Jazeera
New York Times
Wall Street Journal
Huffington Post
BBC News
Committe to Protect Journalists
Pen International
International Women's Media Foundation
The Telegraph
The Guardian
Reviews
A crisp and extremely well-written reportage, ceaselessly suspenseful. As prison memoir it ought to instantly rank among the classics. It is pretty much impossible not be gripped by the effective, dialogue-heavy text... The dialogues are the book's great strength, they draw you into a reality you can't shake off. ... You are left with a horrifying insight into the situation in Ethiopia and with a human story that is deeply moving. That the book shines a light on the conditions of foreign reporting is equally significant.

The story is propelled by unshakeable faith in the power of truth. Martin Schibbye and Johan Persson's commitment to press freedom comes across as utterly authentic and altruistic. /.../ 438 Days is alternately narrated by 'Johan' and 'Martin'. It's a surprisingly effective device... and soon one gets to know two different personalities: the prudent Martin and the irascible Johan, whose different ways of dealing with the situation gives the story a dramatic dynamic... Genuinely fascinating

Together [the authors] have created a ceaselessly gripping portrayal, and they are almost ridiculously suitable as literary characters... They left their desks and took great risks for little money in order to devote themselves to the core of journalism: finding answers to things we don't know. /.../ It's inconceivable that 438 Days will become anything other than a Swedish nonfiction classic... Rebels, car chases, and prison friendships raise hopes for an unusually large audience. Perhaps that can promote a broader understanding for the importance - and vulnerability - of freedom of speech.

Holds the reader in a breathless grip

Outstanding... At times I read their book as a modern take on Dante's divine comedy. They descend into every circle of hell and suffer the pains that authority has prescribed. They go through purgatory, psychological torture, isolation, mock executions, and bullet wounds... the book about those 438 days exposes a delicate male friendship between two completely different characters: the romantic idealist Martin, and Johan - always on the verge of exploding, often because of global injustice and corruption, but sometimes because he's out of tobacco. /.../ Persson and Schibbye illustrate, with such brilliant beauty, the deeply existential dimension of survival: How does one cope with a descent into hell?

A brilliant text that above all is about journalism itself – its possibilities and conditions. /.../ The suspense is notched up by the present tense form, the careful portrayal, and the extensive dialogue. The alternate narration creates a three-dimensional experience as their personalities collide. Against Schibbye's calm, diplomatic pitch stand Persson's eruptions. Even though we know how it ends, the suspense is maintained throughout... A requiem that demonstrates the potential of documentary literature when it is written from an equal perspective.

A powerful depiction by two intrepid journalists in pursuit of the truth... A thriller-like story. /.../ Martin Schibbye and Johan Persson's story will be a future classic in the genre. It is a fascinating and instructive reportage.

A tense thriller... Extremely well-written, enthralling, and fascinating

One can read it as a good thriller... very well-written

A vital document in defense of freedom of speech and freedom of the press. Frightening, challenging and very, very important

Effective and crisp... The book is undeniably captivating, a real page-turner, even though we know it has a happy ending /.../ It reminds us of the importance of looking for answers without asking permission first.

With 438 Days Johan Persson and Martin Schibbye prove that the long, narrative reportage in book form – tenderly and patiently written – is still superior to all other channels when it comes to immersion and the ability to move and engage.

The story grabs hold. /.../ Dramaturgically effective...a breathless read.

An unusually gripping reportage... 438 Days has already been labeled a reportage classic and been praised as a prison memoir. One could also argue that the duo reinvents the Swedish reportage with their literary yet raw and direct style, which is combined with sharp political and existential analysis. The text has a fantastic flow. /.../ Not least fascinating and moving is the depiction of a friendship formed under extreme and absurd circumstances... In addition, it is unbearably suspenseful: really, really sweaty.
Author

Martin Schibbye & Johan Persson

Published

2013

Genre

Pages

368

Reading material

Swedish edition

Rights sold

Finland, Like

Poland, Czarne

Sweden, Filter

Turkey, Pegasus

US, Offside press (World English)

Film rights sold

Sweden, Miso