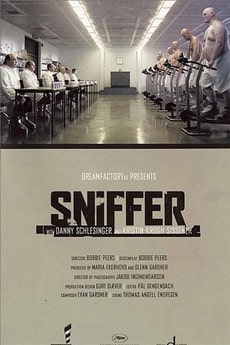 Morning dawns in a surrealistic gravity-less world and a "sniffer" at a deodorant factory finally decides to break free from the restraints of this conform society and takes to the sky.
Sniffer was awarded with a Palme D'Or for 'Best Short Film' at the 2006 Cannes film festival.
Written and directed by Bobbie Peers.
Awards
Amanda Awards Nominee

(Best Short Film) Norway
2006

European Film Awards Nominee

(Best European Short Film)
2006

Norwegian Short Film Festival

(Prix UIP Grimstad) Norway
2006

Cannes Film Festival

(Norman McLaren Award) France
2006

Palme d'Or, Cannes Film Festival

(Best Short Film) France
2006
Close award list
Director

Bobbie Peers

Premiere

2016

Genre